NHL free agency: 10 notable UFAs to watch on July 1
Here's a look at 10 of the top free agents (plus a few extras) available in a thin free agent market for the 2015 NHL offseason.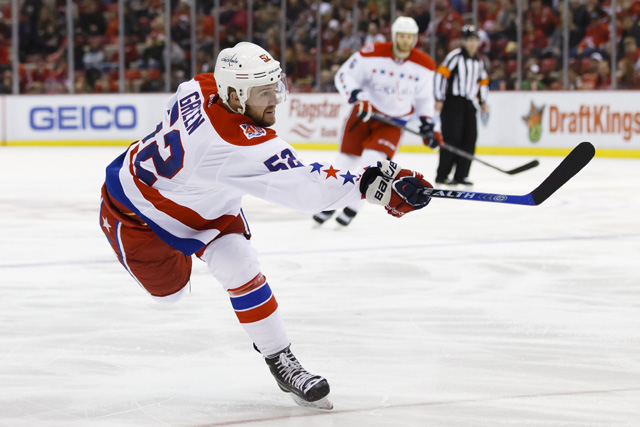 NHL teams can start talking to unrestricted free agents now and they're probably not going to like a whole lot of what they see. The opportunity to improve teams through free agency seems to get slimmer by the year. This year, however, is exceptionally shallow.
Soft markets are much more beneficial to the players than they are for the teams. This field is ripe for overpayment as teams battle over the same handful of truly coveted players. With that in mind, here's a list of 10 free agents to watch come July 1.
Mike Green, Defenseman: It appears that Mike Green's days in Washington are numbered and he'll enter the market with the highest previous cap hit of any free agent. The Capitals defenseman is just finishing up a three-year deal that came with an annual average a hair under $6.1 million. He was a very expensive fifth defenseman this year, but he also excelled in that role with 45 points in 72 games. The issue now is how can a team pay him? At 29, Green should have plenty of good years left, but he's not the 70-point defenseman he was six years ago. Perhaps contending teams can knock his price down, but in a weak market, someone might be willing to pony up a big figure to bring Green into the fold.
Matt Beleskey, Right Wing: With all due respect to Beleskey, it's saying something that he is one of the best forwards available and that a reported $4 million-a-year offer wasn't going to cut it from the Ducks. This market is perfect for Beleskey who had a breakout season in 2014-15. The forward scored 22 goals in the regular season and added another eight in the Stanley Cup Playoffs, but his 32 points in 65 games this season ranked 222nd in the NHL. At 27, he's one of the youngest players available as a UFA, but it is only appropriate to question if what he did last season is an aberration or a sign of things to come. His ultra-high shooting percentage in the regular season and playoffs suggests the former. Beleskey is going to get paid and he absolutely deserves a raise, but this market appears to be set to give him one that will be difficult to live up to.
Justin Williams, Right Wing: With the arrival of Milan Lucic, the Los Angeles Kings appear set to part ways with the 2014 Conn Smythe Winner. Though he'll be 34 just before the 2015-16 season starts, Williams still provides a heck of a lot of value. He's a proven playoff performer with his name on the Stanley Cup three times. On top of that, he's one of the better possession forwards in the league and continues to produce at a decent clip. The only real concern with signing a guy like Williams is the term. He's still going to be effective, but teams won't want to over-extend themselves, especially if cap-conscious contenders are in the mix.
Andrej Sekera, Defenseman: The Los Angeles Kings initially wanted to re-sign Sekera, but plans changed when Lucic entered the fold. Now the veteran defenseman has his first real shot to cash in. Coming off of a four-year deal in which he had a $2.75 million annual average, the 29-year-old should see his salary go up. As a top-pairing defenseman with the Hurricanes in 2013-14, he had a career-best 11 goals and 44 points. His production fell back to earth with 23 in 73 games last season, having his season cut short by injury. He remains an intriguing offseason addition, however. What he did in parts of two seasons with Carolina will linger in the minds of GMs.
Christian Ehrhoff, Defenseman: When healthy this year, Ehrhoff was a solid performer for the Pittsburgh Penguins. He just wasn't healthy very often. The 32-year-old defenseman had 14 points in just 49 games with Pittsburgh and a concussion kept him out of the playoffs. The year before, he had 33 points in 79 games for a bad Sabres club and is a one-time 50-point defenseman. It's only prudent to be concerned about the health issues Ehrhoff faced last season, but it's also important to remember he's still being paid by the Buffalo Sabres as part of the compliance buyout from last summer. That could lead to a more affordable deal amid the risk.
Antoine Vermette, Center: After helping the Chicago Blackhawks win the Stanley Cup with some huge goals during the playoffs, Vermette is likely to head elsewhere. He'd be a valuable veteran for a lot of teams given his two-way value and fair production. After putting up 24 goals in 2013-14, Vermette had just 13 this season (all during his 63 games with the Coyotes before the trade). That light production may have something to do with the Coyotes being anemic as a team at even strength and his limited role upon arrival in Chicago. He did have four goals while centering Chicago's third line in the postseason. Having his name on the Cup will help in a market that is starved for centers. Vermette should be able to command a raise from his $3.75 million AAV from his last deal, though term may be more difficult to come by for the 32-year-old.
Paul Martin, Defenseman: Over five seasons with the Penguins, Martin has been through quite a bit. If he wasn't hurt, he was having to log massive minutes for others that were. There are a lot of miles on the 34-year-old defenseman to be sure. That said, he's been a pretty steady defenseman for the bulk of his career. Not overly flashy offensively, he still manages to produce at around a 20-plus-point clip annually. He's never won a Stanley Cup, which means contending teams may have the advantage in getting him at a more affordable rate. He's still a top-four caliber defenseman and could be for a few more years if he can manage to stay healthy.
Michael Frolik, Right Wing: Frolik's career arc has been fascinating. He entered the league looking like a young winger with high-scoring potential after back-to-back 20-goal seasons, then the offense dried up. However, Frolik elevated his defensive game in the process and became a valuable low-lineup forward. Now he's back to scoring again, with back-to-back 42-point seasons with the Jets. He still has two-way value and is likely to get a nice raise from his $3.3 million AAV.
Joel Ward, Right Wing: Though there is a chance the Caps re-sign Ward, he has as good an opportunity as anyone else to capitalize on the shallow market. After falling just short of collecting his second straight 20-goal season, the power winger had a nice performance for the Caps in the postseason as well. He has the versatility to play in a lot of different roles and is a good fit for a contender. Ward will turn 35 in the middle of next season.
Mike Ribeiro, Center: After an impressive season in Nashville, looking like a reformed player following the ugly buyout situation last offseason with the Arizona Coyotes, Ribeiro could be a free agent again. Apparently seeking a multi-year deal, he has rejected recent offers from the Predators. Ribeiro had 62 points in an impressive bounce-back season while helping lead the Preds to a tremendous season and playoff berth. However, there's way more to this story. Ribeiro currently faces serious allegations of sexual assault brought forth in a civil suit from a former nanny. The incident dates back to 2012 and Ribeiro was not criminally charged, but this is a situation that can and probably should give GMs pause. The Predators have refused to comment on the lawsuit, though Ribeiro's agent says the veteran center and his wife (also named in the suit) deny the allegations and will vigorously defend themselves.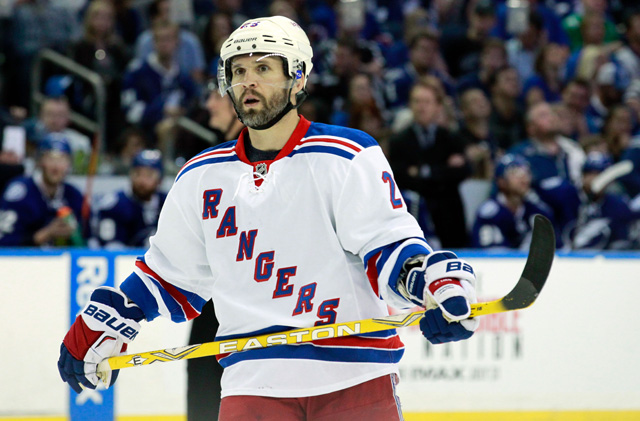 Others to watch ...
Martin St. Louis, Right Wing: At 40 years old, St. Louis isn't ready to give up. He had 52 points for the Rangers last year, but struggled in the playoffs with only one goal for the Eastern Conference finalists. It sounds like the number of teams he would sign with are limited.
Drew Stafford, Right Wing: After finishing the 2014-15 season on a high note with 19 points in 26 games for the Jets, Stafford may have turned some heads. The 29-year-old winger has been fairly inconsistent over these last few years, but he might even end up staying in Winnipeg anyway.
Francois Beauchemin, Defenseman: It looks likely he'll be back with the Ducks, but just in case he isn't teams could look at a nice short-term deal for Beauchemin who proved he can still be a top-pairing guy even at age 35.
Antti Niemi, Goalie: It appears likely he will sign with the Dallas Stars after his negotiating rights were moved by the San Jose Sharks. Niemi's days as a starter could be numbered, but he'd be a nice option for teams looking for a tandem situation (which may now include the Stars as well).
Johnny Oduya, Defenseman: A two-time Stanley Cup champion with Chicago, Oduya is a quality top-four defenseman with experience. He's more of a shutdown guy these days, but has shown with Chicago he can play that role expertly. Last season was up-and-down for Oduya, but he played extremely well under a heavy workload in the playoffs.
CBS Sports HQ Daily Newsletter
Get the best highlights and stories - yeah, just the good stuff handpicked by our team to start your day.
Please check the opt-in box to acknowledge that you would like to subscribe.
Thanks for signing up!
Keep an eye on your inbox for the latest sports news.
Sorry!
There was an error processing your subscription.
The U.S. and Russian presidents exchanged sports memorabilia at their Monday summit in Fin...

Emery, 35, spent time with the Senators, Flyers, Ducks and Blackhawks

The 33-year-old veteran goalie signed a three-year, $21 million extension to stay in Vegas
Chicago frees up immediate cap space to use in another deal, but it comes at a price

Hellebuyck, a restricted free agent, has a deal that will be worth $37 million

The new Maple Leafs star penned an essay explaining the struggle of making a decision in free...