NHL Free Agency: Five storylines to watch when the bidding begins
The goalie market should actually be active again this year, plus four other things to watch in free agency.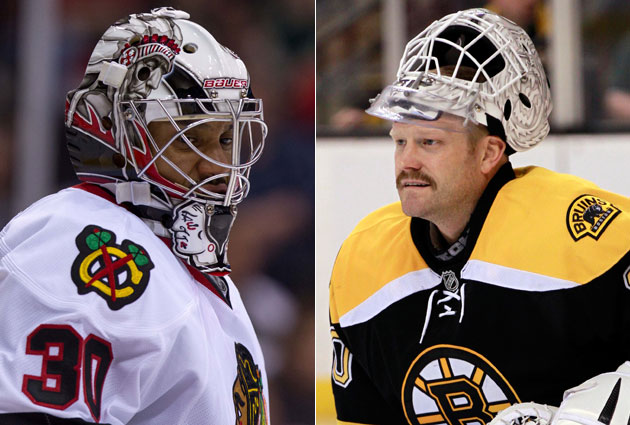 More NHL offseason: Rumors | Top 50 Free Agents 
Free agency is nearly upon the NHL. Already. Indeed, there is no rest for the weary as the NHL schedule plays hopscotch from one event right to the next.
This is such an interesting time on the calendar, a chance for teams to upgrade their rosters in the push for next year's Cup. Though it hardly ever seems to work out that well. The old adage is that you build through the draft, and you supplement through free agency. It feels like. more often than not, teams end up with overpaid, aging players instead of true difference-makers.
But it's such an alluring time. Who doesn't want to dream of their team adding a guy like Vincent Lecavalier or Jaromir Jagr ? Not to say all free-agent signings result in failure; they sometimes do truly prove to be the missing pieces. It's a boom-or-bust experience.
Which makes it an awfully intriguing experience and makes NHL free agency still one of the most exciting days in sports that don't involve actually playing the sport.
So, without any further delay, here are five storylines to watch in free agency in no particular order.
Goaltending market
It has been a while since we had a really intriguing goaltending market in free agency. Most teams have been pretty settled at the position in the last few years. It's going to open up some this season.
Goalies are such an interesting commodity. They are fickle and hard to predict. It's why they aren't coveted in the draft like other positions. At the same time, it's hard to argue against it being the most important individual on any team. A great goalie can make an average team a good team.
I see three teams that are in the market for a No. 1: The Philadelphia Flyers , Calgary Flames and New York Islanders . The available options consist of Ilya Bryzgalov (excluded from Philadelphia, of course), Ray Emery , Jose Theodore , Evgeni Nabokov . Oh, and Tim Thomas . He threw his hat into the ring on Monday to make things oh so much more intriguing. You figure the Flyers are going to be the team dictating the action on this front, and they could very well come down to Emery or Thomas.
The Isles have said goodbye to Nabokov, so they will need a No. 1 as well. Given their history, they could go the cheaper, more veteran route, but we'll see. As for Calgary? Well, they have to do something on this front, but I'm still not sure trying to solve the long-term issue in free agency is the best way to do that.
Then you have the backup market, which isn't quite as fun but you have a few teams in that hunt. Some of the above in the starter race will have to fall into the backup roles. I see Arizona Coyotes , Winnipeg Jets , Edmonton Oilers , Nashville Predators , Chicago Blackhawks , Boston Bruins , Vancouver Canucks and San Jose Sharks all in need of a second goalie. Some of them will probably re-sign the outgoing backups before it's done or just stay in house.
Let's not forget Rick DiPietro . Will anybody even nibble on his line after he was bought out?
Goaltending is a story worth watching this summer, and it should be pretty fun.
Will the free-agent frenzy return?
That was the term that you always used to hear the NHL's first day of free agency called, a frenzy. The past few years have been much less frenzy and much more fuzzy. Action was much less frequent than NHL fans had become accustomed to. There's a reason why so many puckheads managed to get sick the very first week in July for one day. Those 24-hour bugs are vicious, I tell you.
For the first time, we will have a two-day window before players can sign for teams and players to talk. It should bring about a return of the 24 hours of craziness this Friday, July 5, when free agency is open for business.
Ideally from an entertainment standpoint, deals won't be reached in principal before Friday. It can serve as a National Signing Day similar to college football once again. It's a lot of fun watching the signings roll in one right after another with the suspense hanging over the procedures. Hopefully, that will be back.
Vincent Lecavalier sweepstakes
As soon as the Tampa Bay Lightning bought out Lecavalier's contract, he instantly became the biggest name on the free-agency block. Adam Gretz took note of this and detailed all the teams that have expressed interest in the forward. I'll save you some time if you'd like: it's a lot.
Lecavalier is this year's Brad Richards or Zach Parise and Ryan Suter; he is the marquee name. If the above frenzy returns, then Lecavalier's decision could once again be the domino effect. It has been one of the downsides of the delays in recent years. A lot of teams want the top guys. But if they had to wait, then the secondary market wouldn't. You need the top guys to make their decisions first. It allows for the bigger chases to go on in the wake of the decision.
In Lecavalier's case, he has had some time to prepare and has talked about narrowing down a list to a couple of teams. He has already chatted with many of them as it is, so the courtship shouldn't be a long affair.
If I were to handicap the race for his services, I'd put the Montreal Canadiens and Detroit Red Wings at the fore but really, who knows? The Dallas Stars seem to be one team that's very keen on him as well.
One of the ironies is that his contract was so cumbersome in Tampa Bay that they bought him out even if they didn't want to, but now he will probably get a deal around the same monetary value. The only difference -- and really the big stumbling block for Tampa Bay -- will be the term. Still, he'll probably be looking for four or five years.
By the way, Daniel Briere could be in a similar situation, just at a slightly lower level. Buyouts really aren't so bad, are they?
Who will be the biggest overpayment?
There's at least one every year. Or in the case of two summers ago, there was a whole roster of them in Florida. One of the favorites for the title was going to be Bryan Bickell, but the Blackhawks re-signed him before he hit free agency. It still cost them to the tune of $4 million annually -- and they had to trade Michael Frolik and Dave Bolland to free up the space to do it. That was on the strength of one big postseason more than anything else.
We're left with a couple of pretty likely options then; David Clarkson , Nathan Horton and Stephen Weiss . Guys such as Lecavalier and Mike Ribeiro will be close to being worth what they will get, in my view, keeping in mind normal prices on the free-agent market and all.
A darkhorse here could be Valtteri Filppula . He's a top-six center, and he has that Red Wings pedigree. A handsome payday could be awaiting him as well. Remember: Cap hits will likely be higher this summer with fewer years being offered and the end of back-diving deals.
Unresolved issues
Will some guys really even get to free agency? You have certain players such as Daniel Alfredsson who will be free to explore in a day. Same goes for Damien Brunner , Pascal Dupuis and Rob Scuderi . To varying degrees, their teams are still trying to re-sign those players, how late will they go?
If they were to really hit and test the open market, then there would undoubtedly be interested suitors. But first things first. Can their current teams finish deals to prevent that? Especially in the case of Alfie, wouldn't it be unthinkable to see him in a different jersey?
Bonus fun
Where will Jagr and Jarome Iginla go? Iginla seems like a really good fit with the Los Angeles Kings , but Jagr? He goes to the beat of his own drum and is always a wild card. But he showed he can still play.
The 40-year-old center is returning to the Wild after a successful run in Pittsburgh

Edmonton locks up its 21-year-old RFA a month after McDavid's historic extension

Even with a new coach and added veteran help, the Canucks have a long road ahead
Unlike expansion teams before them, the Knights have enough talent to entertain right away

Brian Lawton says he 'would not be surprised' if Boston deals its young star to end contract...

It turns out Phil does love his hot dogs, especially when they're in a Stanley Cup