NHL Free-Agency Rankings: Top forwards
Zach Parise is the headliner of not only the forward free agents, but the entire class. But what other forwards will teams be targeting come Sunday?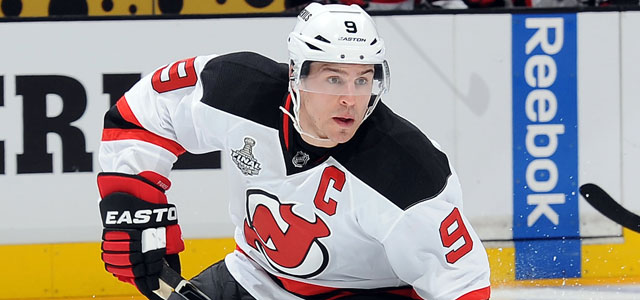 Parise is the apple of every team's eye. (Getty Images)
You have probably heard it by now. This is a weak free-agent class. You probably heard it last year, too. And you'll probably hear it next year as well.
2012 NHL Free Agency
| | |
| --- | --- |
| | Free Agency starts July 1 |
More NHL coverage
At some point you'll stop hearing that. Not because the classes will get better, but because people will realize it's the norm with the way the system is and the way teams all lock up their players when they're young.
So with that qualifier in mind, we're going to take a look at the top wingers available in free agency. Feel free to compare it to last year where Brad Richards was the big fish and I'll leave it up to you to decide which crop was stronger. I'll say this year's group at least has a few bigger names, if that means much.
A few housekeeping notes: These rankings might differ a bit from the top 50 free agents as those were compiled by consensus while these are my personal rankings. The predictions are just that, my best guesses. I'd rather go on the limbs and look like a fool than not step on the limbs at all. Point being, have your grains of salt handy.
Also, some guys don't appear here like Teemu Selanne because they aren't true free agents, if he comes back it will be with the Ducks. Otherwise Teemu would be tops on any list.
The feeding frenzy that is free agency opens on Sunday, July 1.

1. Zach Parise , New Jersey Devils
Age: 27
2011-12 stats: 82 games played, 31 goals, 38 assists, -5
2011-12 cap hit: $6 million
Potential suitors: Every team, but the top contenders are New Jersey, Pittsburgh, Minnesota and Detroit
Everybody knows that Parise is the headliner of this free-agent class. He is a goal-scorer who is one of the better players in all of hockey. When the guy is healthy enough to play a full or close to full schedule, he scores at least 30 goals. It's pretty much a guarantee. And 30 is just the minimum. It was only four years ago that Parise scored 45 in one season.
There isn't a single team out there that wouldn't love to have Parise, and that includes the team that has had him since he was drafted, the Devils. Parise has made it no secret he would like to stay in New Jersey, but at some point the money does have to talk. And the concern with the Devils is their financial situation and if they can afford Parise. It appears that they can't because he's going to command some big bucks from the big boys in hockey.
Prediction: Parise will sign with the Penguins. I'm really starting to buy into that after the draft and the talk that started to come out after Ray Shero's plethora of moves. But watch out for Minnesota, which will throw a ton of money at him and Minnesota is home for Zach.

2. Alexander Semin , Washington Capitals
Age: 28
2011-12 stats: 77 games played, 21 goals, 33 assists, +9
2011-12 cap hit: $6.7 million
Potential suitors: Washington, Detroit, Dallas, Buffalo, Teams that miss on Parise, KHL
Semin is one of those unfortunate Russian players that has been saddled with the label of enigma. But really, Semin is the same player he's been for years. He still has one of the absolute best shots in the game and can snipe some ridiculous goals that make you shake your head in disbelief. That's the allure of a guy who has otherwise been much maligned.
Semin isn't known for his defensive abilities and while I'm not going to call him the second coming of Pavel Datsyuk in that regard, he does get a bit of a bum rap. He indicated that he likes playing in his own end and wanted to get more penalty-killing time in Washington. The worst part in his game though in my opinion is a penchant to take a lot of minors, usually stick penalties. For the right price there should be interest in a player that can score the way Semin does.
Prediction: Dallas. For a while I thought the Stars would be the best fit for him and now their owner has said he wants to make a splash. Semin isn't a cannonball of the 10-meter platform, but he's at least your uncle off the diving board at the family reunion.

3. Shane Doan , Phoenix Coyotes
Age: 35
2011-12 stats: 79 games played, 22 goals, 28 assists, -8
2011-12 cap hit: $4.55 million
Potential suitors: Phoenix, Rangers, Canucks, Toronto, Any team really
This is weird to be talking about, but Doan might finally be done with the Coyotes/Jets franchise for which he has been a mainstay for years. Their longtime captain has stuck it out through a lot but apparently the ongoing uncertainty around the franchise has finally brought him to the point of seeing what else is out there beyond the desert. He might be blown away by the offers he'll get, too.
In Doan you have a veteran player who knows a thing or two about that fabled leadership having been a captain for the last eight seasons. He continually trains as hard or harder than everybody else on his team. Oh, and he's still a productive player too, as evidenced by his 50 points last season. He is a player that a lot of teams would love to have, bringing a lot of intangibles to go with solid tangibles.
Prediction: While the Coyotes are definitely still in the picture and might retain their captain, I get a sneaky suspicion that he'll be a Ranger next season. But he hasn't been available long enough for much interest around the league to spread, I think most were expecting him to stay in the desert.

4. Ray Whitney , Phoenix Coyotes
Age: 40
2011-12 stats: 82 games played, 24 goals, 53 assists, +26
2011-12 cap hit: $3 million
Potential suitors: Phoenix, Los Angeles, Dallas, Carolina
The Wizard is still at it. It's almost like he has some magic up his sleeve or something.
After turning in a nearly point-per-game campaign as a 39-year-old, there's zero reason to think that Whitney isn't still worth a good contract. You have to go back to 2003-04 to find a season in which he didn't break 50 points. Obviously anything he gets probably won't have a lot of length to it, but the money should be pretty good and likely more than he made on his recent deal with the Coyotes.
The question I have is what is Whitney looking for at his age? Does he want the best deal he can get, does he want somewhere he likes or does he want somewhere he can legitimately make a run at another Stanley Cup? He's that grizzly veteran who is still going and could either be a mentor to a young and growing team or that veteran leader on a contender. Either way, he's going to produce more than we typically see out of those roles. So more basically we can say that he can fill the talented veteran role.
Prediction: Phoenix. Hey, just because he gets to the open market doesn't mean he can't stay with the same team. Phoenix will have to find a way to get to the salary floor so signing a guy like Whitney to a nice deal makes sense because a) they spend money and b) they spend money on a player who they know is going to contribute for them.

5. P.A. Parenteau , New York Islanders
Age: 29
2011-12 stats: 80 games played, 18 goals, 49 assists, -8
2011-12 cap hit: $1.25 million
Potential suitors: Islanders, Montreal, Florida, Carolina, Ottawa, Parise runner-ups
Parenteau is a late bloomer in his career, not really finding his footing in the NHL until he was 27. Now he is coming off two strong seasons with the Islanders to put himself in demand. He is your typical play-making forward, except he doesn't play center. But he has been an assist machine the past two years with the Isles and while he was playing with some good top-line talent, you wouldn't figure a move to a team not named the Islanders is going to hurt that production level.
The very real concern with Parenteau is that he's a mirage, a guy with not enough of a track record to warrant feeling secure in giving him a long, rich contract. But some team's trepidation might be another's gain as it's very likely he just took a little longer -- and needed the chance -- to reach his potential.
Prediction: What the hey, Montreal. Parenteau is a Quebec-born player who would probably enjoy the opportunity to play for the Habs. It might be pretty fun to watch him setting up Montreal's goal scorers Erik Cole and Max Pacioretty. Whoever gets him will make him a pretty rich man, I presume.
The next 10
6. Jiri Hudler
7. Jaromir Jagr
8. Olli Jokinen
9. Andrei Kostitsyn
10. Kyle Wellwood
11. Paul Gaustad
12. Brandon Prust
13. Dustin Penner
14. Alexei Ponikarovsky
15. Brad Boyes
For more hockey news, rumors and analysis, follow @EyeOnHockey and @BrianStubitsNHL on Twitter and like us on Facebook.
Washington, Nashville and Tampa Bay are still rolling with winning streaks atop the NHL

Saturday's showdown will serve as a rematch of one of the NHL's first-ever regular season...

Stacia Robitaille says Donald Trump told her in an elevator that she was coming home with...
Vladislav Yeryomenko was the Teddy Bear Toss goal scorer for the Calgary Hitmen

The Golden Knights are finally getting their No. 1 goalie back after a 25-game absence

Washington has won four straight, and the Kings are also on a tear right behind the Lightn...