NHL Free Agency: Things will look a little different this time around
Free agency in the NHL is starting later than normal, but that's hardly the only change this year.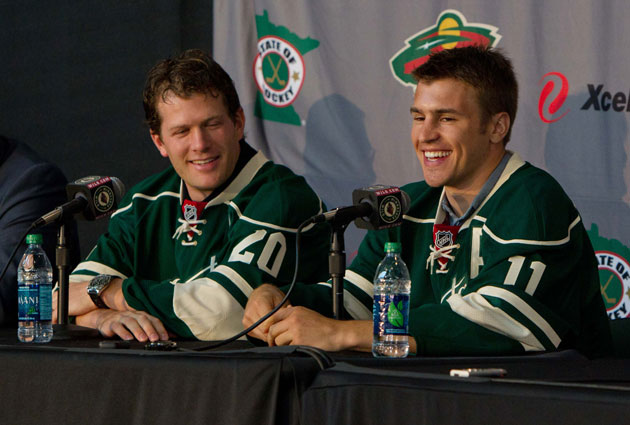 Today is July 1, Canada Day. This day has become synonymous with the start of NHL free agency. But right now the hockey world is still getting over the hangover of the champagne party that was the NHL Entry Draft marathon on Sunday. And, as you probably know, champagne hangovers are the worst.
You can thank the lockout for altering the NHL's customary schedule. The free agency period instead will open on July 5, this Friday. However, that's not the only way free agency will be different this year. The new CBA has brought forth a few other changes to the over-spending session that finishes the NHL calendar.
First off, while free agency doesn't technically begin until Friday at noon ET -- that's when players can actually sign with new teams -- there is a new window that will open on Wednesday, when free agents can flirt with teams. If a player and a team find a fit by 5 p.m. ET Wednesday, for example, they can announce an agreement is in place. Unless players suddenly adopt the definition of commitment used in the world of college recruiting, all that should be left is to do the I's and cross the T's.
This is an introduction with the new CBA that will stick around and should make for a more exciting first official day of free agency. You remember what July 1 used to be like, right? It was incomparable in sports. The signings would come fast and furious, a process that takes weeks in other sports would almost always happen in just one day in hockey. 
In the past couple of years, the fun has largely been sucked out of the day. The biggest free agents haven't signed on the first day. Instead, they were exploring their options. So, two years ago, Brad Richards was fielding suitors and signed with the Rangers on July 2 while Zach Parise and Ryan Suter took their time last year and didn't actually sign with the Wild until July 4. The excitement of free agency was drained from it like air from a leaky tire. It wasn't a good look for the voices on TSN in the NHL's free-agent television special to have few deals to actually discuss.
Now the courtship can be done before the wedding day and though perhaps some of the suspense will be taken away come Friday (it will go back to July 1 in the future; the dates changed only for the lockout), it should be a positive process for the league overall. It also reduces the pressure on the players to make a decision right then and there. You couldn't blame guys for taking their time to make such a huge decision, could you?
Further, you will not be seeing any deals like Parise and Suter signed, and that's two-fold. The first and simpler difference is that free agents can only sign seven-year contracts at max -- eight if the player re-signs with his current club. Parise and Suter each signed for 13 years last summer.
The second difference is that the era of back-diving deals is done. The NHL put in measures to try to curb that practice. Year-to-year variance has been limited to 35 percent. There were also recapture penalties added. Considering almost all players in free agency are at least 27 years old, there is a risk of a player retiring early. Should the contract be back-diving -- as in the actual salary goes down at the end to reduce the annual salary/cap hit -- the team will be hit with penalties against the cap going forward. The rules regarding 35-plus contracts remain in effect.
It's all going to lead to another change: Players should be receiving more money on average. Because you don't have those extra years at the ends of deals to tack on, the cap hits will be higher. Get used to it. Free agency is already a time in which players are given exorbitant amounts of money, it's going to look more pronounced. So, might as well save yourself the outrage and accept it.
For example, while they weren't free agents, when the Ducks re-signed Corey Perry and Ryan Getzlaf, a lot of people shook their heads at cap hits exceeding $8 million. That's the new reality; cap hits are going to be higher now.
In the case of this year's spending spree, that's going to make things all the more interesting. You won't have all of the same teams acting as the big players that you typically see in free agency. That phenomenon should be exclusive to just this year with the salary cap going down next season. You have teams that are tight against the cap, teams that are usually pretty active on FA day. The Flyers, Rangers, Canucks; teams that often spend a lot but can't really afford to this year.
I for one will be intrigued to see the juxtaposition of the concern of over-spending for next year's cap against the spending orgy that free agency always proves to be. We have been hearing about a ton of trades that could happen but haven't because teams are afraid to add salary. Maybe that was to leave some for free agency. So it will be spent now, or maybe it's a legitimate concern. How that impacts the market will be something to watch. It could certainly be the "underdog's day."
The other big difference won't actually happen when the free agency period begins but has already begun. That's the extra induction of talent into the market. You hear all the time how the "free-agent market is down this year." It seems to be the case every year. At some point, people will realize that's what the free-agent market is; players who are really worth it very rarely get to free agency. They are either re-signed or traded.
This year, though, there is an influx of talent with the use of the amnesty buyouts. Things got a lot more interesting when Vincent Lecavalier, Ilya Bryzgalov and Danny Briere were added to the pool. This class isn't full of all-stars for years to come, but there is talent to be had, perhaps a little more than usual.
Overall, the beast that is NHL free agency will be mostly the same; teams will sign contracts that they will almost surely instantly regret while publicly playing it up as landing the player whom they needed to get to the next level. But this year, and especially just this year, it's going to be different. Different isn't always bad.
Stacia Robitaille says Donald Trump told her in an elevator that she was coming home with...

Vladislav Yeryomenko was the Teddy Bear Toss goal scorer for the Calgary Hitmen

The Golden Knights are finally getting their No. 1 goalie back after a 25-game absence
Washington has won four straight, and the Kings are also on a tear right behind the Lightn...

The NHL says it's only interested in expanding to Seattle, but here's a look at all the moving...

The NHL says it is only looking toward Seattle for the next expansion team