NHL Free Agency Winners & Losers: The West was busy
The Minnesota Wild are pretty obvious winners of free agency with their one-two coup. But what about the others -- and the losers?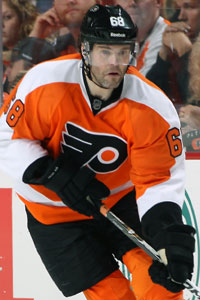 Jaromir Jagr had 19 goals, 35 assists last season. (Getty Images)
When you sit down to evalutate free agency and who did well, it's tough to find a consensus. Some people will look at how well a team did filling its needs. Others will see the money figures and most often be repulsed -- the lower the level of repulsion, the better the deal is.
However that's not entirely the case. Sometimes there are a lot of other factors to take into consideration as well. You want an example? Take the Dallas Stars.
In the first week of free agency they committed $13.5 million to two players who are each on the wrong side of 40. On the surface that seems pretty grotesque, giving so much dough to veteran players can be a very risky proposition.
But the potential rewards are worth it for Dallas, and I don't mean just on the ice. The signings of Ray Whitney and Jaromir Jagr should help the Stars win games, especially Whitney if he can come close to producing the same numbers he had for the Coyotes last season. In my estimation Jagr is certainly an overpayment but again, it's about more than just the contract sometimes.
The Stars needed a jolt. The franchise, which has drawn well since moving to Texas two decades ago, finally sagged in the attendance marks last season. Badly, too. The financial future of the team was in question and the team seemed destined to fall short of the playoffs again -- which it did.
Now enter a new owner who wanted to make some headlines and this is what you have. Jagr is certainly not the player he used to be but he proved in Philadelphia last season he can still produce on the ice and he's still a big name in hockey. If this were 15 years ago it would be a coup for the Stars. As it is it's still a great signing in my mind.
2012 NHL Free Agency
| | |
| --- | --- |
| | Free Agency starts July 1 |
More NHL coverage
Whitney doesn't fit the same bill on the excitement meter, but he should bring production that meets the money. If he was able to tally 77 points with the Coyotes last season, it's more than reasonable to expect roughly the same this season with some of the guys he will be playing with.
You can add the addition of Derek Roy to the conversation too. Sure, it wasn't a free-agency signing but it was a trade during the first week of free agency, so it counts just the same in our books here. Now you have a top six in Dallas that includes Jagr, Whitney and then Loui Eriksson and Jamie Benn. Put that group together and it's looking pretty good for Dallas.
Did Dallas spend its money as wisely as some of the other teams out there? Probably not. However, they did themselves a lot of good, especially considering they didn't hand out long terms in any of their deals. The longest contract was given to defenseman Aaron Rome for three seasons, so any mistakes made can soon be corrected simply by the contracts expiring.
So yes, Dallas, welcome to the winner's circle. My colleague Adam Gretz put together the list of losers, something there never seems to be a shortage of in free agency.
(Note: Subject to change based on remaining unsigned free agents.)
Winners

Wild: Well this is the obvious one, right? The Wild just raised their profile about 10 levels in one afternoon by signing both Zach Parise and Ryan Suter to identical 13-year contracts. Is the length of the deals worrisome? Well sure, but the deals are long to get the cap hit down with less salary in the final years.
The Wild had a few problems facing them that these signings aim to fix. The first is an obvious lack of offense, something both of these guys can help. Don't underestimate Suter's offensive impact from the blue line even if he isn't the highest-scoring defenseman out there. Moreover, it gives the Wild some juice for a franchise that has been pretty sleepy for a few seasons. This was a wakeup and a half.
Minnesota had to do what it had to do to sign these guys and they just did it.

Canucks: The Canucks didn't have a lot of room to do much and they didn't. But what they did -- signing Jason Garrison for $4.6 million annually -- was solid in my book. When it came to defensemen, Garrison was certainly one of the best options and based on what the other players were getting and $4.6 million per year for Garrison seems like a good deal, comparatively of course.
I have said how much I like Garrison and it goes beyond the offensive numbers he put up last season in Florida. Take that 16-goal outburst out of the equation and you still have a solid defenseman.
Even better, Garrison really wanted to play in Vancouver. He grew up in British Columbia and took a little less money to return home. It's always a bonus when a free agent really has his heart set on playing for you, not just for the money.

Avalanche: The Avs came into the summer with a lot of money to spend to reach the salary cap floor and while they might not have done it with the most secure names on the market, the moves seem good to me.
Signing P.A. Parenteau for $4 million on an annual basis seemed like a pretty good deal based on the market. He's a guy who has surpassed the 50-point mark each of the past two seasons with 67 points last season with the Islanders.
They also added some physical grinders in John Mitchell and Greg Zanon. Maybe a bit expensive on Zanon, but they had to spend some cash.
Losers

Predators: Let's face it, losing a player like Suter is a huge blow to any team, especially when you have nothing to show for him coming back the other way. Combine that with the uncertainty surrounding Nashville's other franchise defenseman, Shea Weber, and it has been a difficult offseason for the Predators.
Nashville has lost two top defensemen over the past three years for little to no return (Dan Hamhuis and Suter) and could soon be forced to say goodbye to another one (Weber) whether it be by trade or free agency.
A team that had nothing but optimism surrounding it heading into the playoffs just a few months ago now has a lot of question marks.

Flames: The Flames have spent a ton of money so far this offseason not only by bringing in new players (Dennis Wideman and Jiri Hudler) but also keeping together a large part of the team that missed the playoffs once again this past season.
The concern is that they may not be all that much better, but also may have saddled themselves with a couple of questionable contracts in the long run (the aforementioned deals for Wideman and Hudler).
On top of that they also lost one of their better forwards from last season, veteran center Olli Jokinen as he signed a two-year deal with the Winnipeg Jets.

Red Wings: They still have a ton of salary cap space to work with right now so there's still time to work out another move (and it would almost certainly have to be a trade given the current state of the free-agent market, outside of Alexander Semin) but the Red Wings have a couple of areas that still need addressing right now, and a huge hole on the blue line. With Nicklas Lidstrom gone it was long assumed (at least in this corner of the Internet) that Suter would be the guy to slide in and fill that void.
They had the cap space, they made competitive offers (for Suter and Parise) but came up short.
It seems every couple of years everyone waits for the Red Wings machine to slow down and it never happens. But with Lidstrom no longer anchoring the blue line, and quite a bit of turnover at the position over the past few years (Brian Rafalski and Brad Stuart are also gone) this might be when it really starts to happen.
Incompletes
Bruins, Sabres, Maple Leafs, Capitals, Kings, Oilers and Blackhawks.
These are the teams that did very little -- or in the case of the Bruins, nothing -- and are probably winners by default because of the silly money we see thrown around this time every year.
Between these seven teams only six new free agents were signed (not including players who were re-signed). The Oilers and Kings joined the Bruins in not bringing in any new faces via free agency.
For more hockey news, rumors and analysis, follow @EyeOnHockey and @BrianStubitsNHL on Twitter and like us on Facebook.
The former Boston Bruin was the first black player to play in the NHL

Inclement weather led to the Charlotte Checkers and Bridgeport Sound Tigers playing in front...

The NHL chose the Detroit rocker as its All-Star Game entertainment and not everyone is th...
NHL fans from all over seem to agree on one thing: Hating Kid Rock

The team tweeted on Monday that Shaw would be re-evaluated in 7-10 days

The Montreal forward was hospitalized after taking a Zdeno Chara slap shot to the head