NHL lockout: Alexander Semin to play in Russia's VHL for league minimum
Alexander Semin is going to Russia to play, just not in the KHL -- not yet, at least. And he's playing for the league minimum.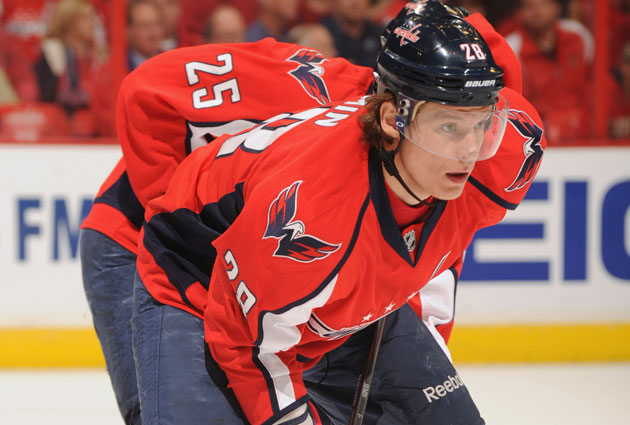 Semin had 21 goals and 54 points for the Caps last season. (Getty Images)
The list of players fleeing to Europe keeps growing during the NHL lockout. Now you can add Alexander Semin.
Semin, who some thought would bolt to the KHL instead of signing with an NHL team this past summer (eventually he signed with the Carolina Hurricanes, you'll remember), is going back to Russia to play. But he isn't in the KHL, not yet. From Pavel Lysenkov of Sovietsky Sport:
Alex Semin's salary in Sokol will be about $1600 US per month (min for VHL). You could be proud if your salary higher. #canes #caps

— Pavel Lysenkov (@plysenkov) September 25, 2012
Basically it's as if Semin signed with Russia's version of an AHL te ... wait a second; playing for the minimum? Well I'll be. Isn't this the same guy who has been criticized over and over again in North America for being a selfish, cancerous player, who doesn't care about playing the game? THAT Alex Semin? Yup, sure is.
Before you get too worked up about him playing for basically nothing (in relative terms), keep in mind Semin is still trying to reach a deal with a KHL team.
"My son needs to play. If he plays, he'll get a KHL deal," Semin's dad said.
This could turn out to be a shorter deal than any other signed overseas by locked-out NHL players because if and when he gets an offer from a KHL team, Semin is gone. In the meantime, he'll be playing for the team in his hometown of Krasnoyarsk.
Or he could be sticking around the VHL longer because one of the reasons Semin signed in the VHL was family-related.
Semin told Russian paper Sport-Express he signed w/ Krasnoyarsk & not in KHL was bc he wanted to play in front of his 90yr-old grandmother.

— David Pagnotta (@TheFourthPeriod) September 25, 2012
Regardless of why he is going to play in the VHL, it is pretty amazing that Semin hasn't received and/or accepted a KHL offer to this point. It's almost like he is the second coming of Sean Avery or something: too much baggage and nowhere near enough skill. Except Semin has plenty of skill and much of his baggage is questionable to whether it's really even packed.
One has to think that, assuming Semin is ready to play from the start, he should find his time in the VHL to be very fruitful from a production standpoint. Maybe he'll get the chance to play on the PK unit like his agent said he wanted to in Washington.
For more hockey news, rumors and analysis, follow @EyeOnHockey and @StubitsCBS on Twitter and like us on Facebook.
Buffalo is in the midst of contract extension talks with Jack Eichel, and the payout could...

Los Angeles isn't rushing to sign the 45-year-old forward any time soon

The University of Denver star and Hobey Baker Award winner is drawing interest
Intrigue is high in Arizona after a wild offseason, but expectations should still be tempe...

Players are set to give personalized messages for Adidas' former hockey equipment brand

The 40-year-old center is returning to the Wild after a successful run in Pittsburgh