NHL lockout: Amnesty buyout talk reportedly finds way to negotiating table
Not much is coming out on the talks in New York between the NHL and union, but this did: it appears the amnesty buyout might be in play.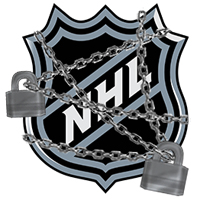 The past few days have yieled a ton of talks between the NHL and NHLPA but little public discourse from them. The sides, probably wisely, have decided to clam up and not have grandstanding sessions with the media after every meeting. As a result, there has been a lot less information coming from those meetings.
But based on the simple fact that the two sides have talked for about 12 hours in the past two days, it's obvious they are really discussing some things, not just shooting the breeze. Naturally, it's hard to keep all of it under wraps.
That's where the New York Post's Larry Brooks comes in, delivering a few nuggets from Wednesday's meetings in New York. The most intriguing, at least to me, is the inclusion of the following, which has been missing altogether from these talks it seemed.
Also told that amnesty buyouts are on table.

— Larry Brooks(@NYP_Brooksie) November 7, 2012
To that I say it's about time. The amnesty buyout conversation was thrown around a lot before the negotiations ever began. It was assumed it would be at least discussed, but there had been no mention of it for months. It was a shame because it seemed to make so much sense to include, and it could help solve the biggest problem of all at the same time.
Who knows if the amnesty talk will actually have any traction, but it's a good sign to see it being discussed -- it seems like it would be a welcome addition to the new CBA. The NBA included it and that worked out well.
That wasn't all that came out of the talks, according to Brooks.
Told by several sources NHL is not committed to contract term limit but is committed to ending dramatically front-loaded deals.

— Larry Brooks(@NYP_Brooksie) November 7, 2012
Two sources report NHL would assume entire make-whole with at least a portion deferred but unclear whether that applies only to first 2 yrs

— Larry Brooks(@NYP_Brooksie) November 7, 2012
If these reports are indeed true, than it all bodes well for the negotiations and would just add a little more to the rising sense of optimism. If there is some give on these items, which seem to be sticking points in the negotiations, it would be good news.
Without the leaders on both sides talking publicly, we can't know for sure if these indeed make up some of the goings on in New York. But it all sounds pretty good. Let's hope so.
Previously from Eye on Hockey
Where has talk of amnesty clause gone?
Make Whole a topic of Wednesday talks
NHL, union to meet again on Thursday
For more hockey news, rumors and analysis, follow @EyeOnHockey and @StubitsCBS on Twitter and like us on Facebook.
Saturday's showdown will serve as a rematch of one of the NHL's first-ever regular season...

Stacia Robitaille says Donald Trump told her in an elevator that she was coming home with...

Vladislav Yeryomenko was the Teddy Bear Toss goal scorer for the Calgary Hitmen
The Golden Knights are finally getting their No. 1 goalie back after a 25-game absence

Washington has won four straight, and the Kings are also on a tear right behind the Lightn...

The NHL says it's only interested in expanding to Seattle, but here's a look at all the moving...