NHL lockout: Bettman says sides still far apart; NHLPA says 'no reciprocity' to offer
The NHL gave its answer to the NHLPA's latest proposal and the sides still aren't close to a deal.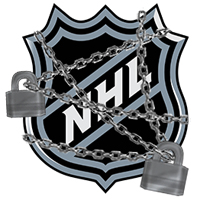 After Wednesday morning's meeting between the NHL and the NHLPA in which the union presented an offer that moved significantly toward the owners, there was a sense of cautious optimism. All that was needed was the NHL's response to confirm or destroy it.
It was destroyed.
"Nothing on significant economic issues," union head Donald Fehr said after a second meeting on Wedensday afternoon. "No reciprocity.
"We got the reaction we got. We'll see what happens."
In a somewhat surprising twist, Gary Bettman spoke of some potential, but did acknowledge the two sides aren't near a deal.
"We're still far apart. But hopefully there's some momentum so we can bring this to a conclusion," Bettman said. "There was some movement in our direction and it was appreciated."
So at least Bettman said there was "some momentum."
The players union presented a new proposal Wednesday morning in a meeting that lasted roughly an hour. The two sides broke to give the league time to review the NHLPA's proposal. When the union returned to the league offices to hear the NHL's response -- details of the new proposal leaked -- hopes of a settlement were quickly dashed.
The proposal saw a distinct shift toward the owners' side, but it still wasn't enough to the owners' liking.
Players won't be happy with how the league is responding to proposal. No meaningful give-backs according to PA source."Disappointing day."

— Darren Dreger (@DarrenDreger) November 21, 2012
Close on rev sharing, but no contract concessions and league remains firm on $211 mil Make Whole. Talks will continue, but may not meet Thur

— Darren Dreger (@DarrenDreger) November 21, 2012
"The players have done an awful lot here," Fehr lamented. Still, it doesn't appear to be enough."
The question now is where do we go from here? Each side has submitted what it believes is its best deal and there is still no agreement. Making matters worse is Bettman's statement Wednesday about what the NHL is losing every day.
He estimated the league is losing $18 million-$20 million every day there is no hockey. The players are losing about half that amount. Bettman pointed out it's hard to imagine the league is going to be able to back off further from its stance as its financial situation worsens.
One bit of positive news? Apparently there was one agreement reached on Wednesday.
One movement on part of NHL, they did move on term of entry level to 3 years#TSN

— Aaron Ward (@aaronward_nhl) November 21, 2012
It's easy to be disappointed by what happened, but truth be told there was some level of progress. Again, you have to look past the rhetoric. The NHLPA made some moves toward the league and started to accept the prospect of going with a revenue split based on a percentage, not a fixed dollar amount. That's certainly a step in the right direction.
Further, as even Bettman points out, there is the potential for growth from today's events. They might not have struck a deal, but I don't think anybody expected that to happen. They continue to take baby steps toward the end goal. That goal is probably going to be much more of the owners' vision, but they're still trying to find that middle ground.
However, it is absolutely maddening to see how small the difference is preventing a deal. The NHLPA offer included an increase in the amount of money the NHL will put forth in the Make Whole part of the new CBA, which guarantees all previously-signed contracts will be honored. The difference in the NHL's offer and the NHLPA's was $182 million in Make Whole money -- all that seems to separate them on the economic side of things. Naturally the league didn't like the increase in that money and it still needs to be figured out, but they are shrinking the gap every day.
The question is if the gap is shrinking fast enough and for everyone, and the answer is obviously no. And now it could soon cost the owenrs, players and fans another signature event. It's expected that the All-Star Game festivities set for Columbus will be canceled on Friday.
"We are mystified why we are not playing," said Bettman, presumably speaking for every single NHL fan in the world at the same time.
Cynically, it's easy to look at all of this and say the NHL isn't looking for a deal with the union, it's looking for the union to take its offer. If an offer by the NHLPA, which did move closer to the league, was dismissed almost wholly, what are we left to conclude? The NHL believes its deal is all that is needed, so why continue negotiating.
"Quite frankly we have proposed a long-term agreement that we think is fair and balanced," Bettman said. "Assuming we can dig our collective way out of the hole that we're digging ourselves into we expect that the players would make under the seven-year term that we proposed between $12 and $14 billion.
"We're having a tough time understanding why what we have proposed and what we have proposed previously hasn't been accepted."
As you can see, the NHL continues to believe its offer is the right offer and that it should be taken, but there are parts which the NHLPA doesn't agree with. Thus, we wait. Longer.
Just to make matters a little worse: There are currently no plans for the NHL and NHLPA to meet again. At least there are expectations they will talk again on Friday to see where to go from here. Yay, talks on Black Friday should be promising!
For more hockey news, rumors and analysis, follow @EyeOnHockey and @StubitsCBS on Twitter and like us on Facebook.
Saturday's showdown will serve as a rematch of one of the NHL's first-ever regular season...

Stacia Robitaille says Donald Trump told her in an elevator that she was coming home with...

Vladislav Yeryomenko was the Teddy Bear Toss goal scorer for the Calgary Hitmen
The Golden Knights are finally getting their No. 1 goalie back after a 25-game absence

Washington has won four straight, and the Kings are also on a tear right behind the Lightn...

The NHL says it's only interested in expanding to Seattle, but here's a look at all the moving...