NHL Lockout: Bill Daly says league waiting to hear from NHLPA in 'meaningful way'
Are there any CBA negotiations on the horizon? Despite saying it's 100 percent committed to not missing games, the NHL is waiting for the NHLPA to make a move.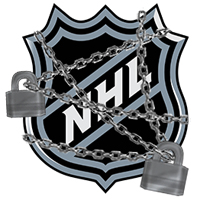 The NHL and NHLPA met on Monday, but it wasn't to discuss the CBA. Instead they were figuring out how to split last year's money, not next year's.
More specifically NHL deputy commissioner Bill Daly and Steve Fehr from the NHLPA side met in Toronto to go over the escrow numbers from last season and what the players will be due in their checks. As for the talks that we all want to hear about? Those are still on hold, but they do appear to be getting closer.
After Monday's session in Toronto, Daly spoke with the media and gave an update on where things stand with future meetings and the union (Via National Post.
"No bargaining sessions scheduled," Daly said Monday. "But we have kept in close contact and, obviously, it's fair to say both sides are working. But they're working internally right now."

...

"Obviously, we've got to talk before you can get a deal," Daly said. "So I think it's important to get the talks going again. But you also have to have something to say -- and I think it's fair to say we feel like we need to hear from the players' association in a meaningful way, because I don't think they've really moved off of their initial proposal, which was made more than a month ago."
It feels like that was the last time the sides talked, too. In actuality they haven't met since the lockout was put in place by the NHL, and considering this is Day 9, that's far too much time.
NHL Lockout
| | |
| --- | --- |
| | |
More NHL coverage
That's especially the case if Daly is serious when he says this:
"We're 100 percent focused on not missing any regular-season games," Daly said. "And hopefully we can achieve that objective."
Looking at Daly's words and parsing them a bit -- hey, what else are we left to do right now? -- they can be translated to waiting for the NHLPA to come back with another offer on the table. That makes it pretty easy to poke fun at the NHL's message when it locked out the players to being available for negotiations "around the clock." It seems to have some stipulations attached to that offer.
At this point I'm thinking some friends need to get together and set up a meeting like a surprise birthday party. Innocently tell Daly and Gary Bettman to meet somewhere and, "Hey look! It's Donald and Steve Fehr! I'm sure you guys have some things to talk about," before locking the door and throwing away the key.
Or they could all willingly agree to doing that themselves. That would show everybody that they are "100 percent focused on not missing any regular-season games." Until then, I think everybody will look at those comments and call them 100 percent something cattle make.
For more hockey news, rumors and analysis, follow @EyeOnHockey and @StubitsCBS on Twitter and like us on Facebook.
Pittsburgh finds itself a new third-line center as it looks to make a third straight run at...

The All-Star is one of the biggest names in the rumor mill, and reports say a move is on the...

SportsLine's Mike McClure, a DFS pro with more than $1M in winnings, gives optimal lineup...
The 38-year-old Luongo has been a longtime Parkland resident and is a father of two

This might be the new norm at the Winter Olympics, so here are three reasons why

It isn't a surprise to anyone, but an NBC executive acknowledged the ratings