NHL lockout: Bill Daly says no talks scheduled, NHL done making proposals
It's been a few days since the last meeting between the NHL and the union and there are still no formal talks planned. Oh, and the NHL is done making offers.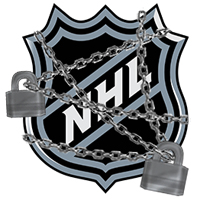 It's now been a few days since the last formal meeting was held between the NHL and the union. To be precise, it was on Sunday and it ended with the two sides returning to singing some sour notes with no plans set for the resumption of negotiations.
After they met almost every day for a week with multiple hours per session, this break is beginning to feel like an eternity. Are they going to get together and try to hammer out a deal so we can get hockey come Dec. 1? There are still no plans to do so.
From Bruce Garrioch of the Ottawa Sun:
With all games cancelled until Dec. 1 and the possibility of a 60-game season starting to fade, Bill Daly, the NHL's deputy commissioner, told QMI Agency Tuesday the two sides haven't decided on when more talks may be held.

And if union officials are waiting for the NHL to make another move to try to save the season, it's not going to happen. Daly said in an email the league isn't going to be tabling any new offers.

"We're done making proposals at this point," said Daly.
Well, that's encouraging. Sigh.
While there's still some room for negotiating, perhaps Mark Recchi was right when he recently said the owners' deal was as good as it's going to get and the players only risk losing more the longer they wait. If the NHL is done making offers then any deal is probably only going to get marginally better from the union's standpoint, whatever can be negotiated.
Daly wasn't done with the good news to Garrioch. There has been a lot of optimism lately that at least progress was made and a deal was nearly set on the financial aspects of the new CBA. Well Daly doesn't really agree with that assessment.
"Maybe you can explain to me how close we are when the union's last offer requested a 'guarantee' of players' share dollars in excess of $1.9 billion -- and a guarantee going up in subsequent years," Daly said. "We are offering 50% of HRR this year in an environment where we estimate damage to the business of at least $400 million -- to this point? Their latest offer would have players making 65% of HRR for this year. It's a funny definition of being 'close'."
Without being in the talks, it's tough to gauge the accuracy of that. There have been mentions that the union's plan is to negotiate the first year of the new CBA as if it were a full 82-game season then adjust for prorated salaries. At this point I can't believe the NHLPA would have the gall to try to ask for 65 percent of the HRR, that's more offensive than the owners' initial proposal of the players taking 43 percent.
Although the sides have maintained an open line of communication despite the lack of formal meetings, we're still not any closer to a deal now than we were Sunday, and time is becoming of the essence again.
The last time the NHL made cuts to the schedule it went after a large chunk at one time so it wouldn't become an issue every week. But according to Sam Carchidi of the Philadelphia Inquirer we're running out of time before more games are called off.
In order to start the season Dec. 1, it is believed a collective bargaining agreement will have to be in place by Nov. 20 to give players time to return from Europe and have a one-week training camp.
Yup, don't worry guys, no rush or anything.
For more hockey news, rumors and analysis, follow @EyeOnHockey and @StubitsCBS on Twitter and like us on Facebook.
The North American love affair with Edmonton's superhuman center continues to grow

The defending Western Conference champion Predators are also heating up early in the year

The Oilers' young star remains seriously unfair
David Kelly, a Toronto-born hockey analyst, has strong advice for Edmonton vs. Chicago game...

Gary Bettman says otherwise, for the time being, but Houston could be primed for a team

Here's what you might have missed across the NHL on Wednesday night