NHL lockout: Fans planning old fashioned protest outside NHL headquarters
Fans have protested the NHL lockout every which way, now they're going to go back to the old-fashioned way, outside the NHL headquarters this Saturday.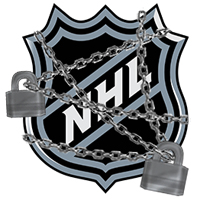 Fans are angry and each day that passes without a deal makes them angrier. You know that, most likely from firsthand experience.
As a result, we've heard about a bunch of protests. There's a fan in Philadelphia who wants the Wells Fargo Arena to be empty when the Flyers play their first game. Others have made their own personal protests on YouTube (too many to count). And somebody even suggested you send the NHL your beard.
Those are all well and good but what about the classic way of protesting with picket signs and chants outside the headquarters? Those worked with some success in the '60s, why not now?
Well, we'll get a chance to find out this weekend in New York. Some fans are trying to organize a protest outside the NHL headquarters, so if you happen to be in the Big Apple and want to protest to the people in the NHL offices who are probably relaxing at home, enjoying their weekend, you can do it.
If you want to see a bigger copy of the protest notice, here you go.
If they really want pie they would take advice from Eric Cartman and make sure to include "Punch and Pie" on the invitation. Half of Manhattan might show up then.
Now the classic protest was tried already, way back in September, but very clearly that didn't do much good. Then comedian and Flyers fan Trey Galyon tried a one-man protest at the NHL offices, and, well, he didn't have a ton of success, either (via Puck Daddy).
Perhaps the third time is the charm? I wouldn't hold your breath, but a few catchy chants and picket signs wouldn't hurt. "Hell no, we won't show, reach a deal and then we'll go." Surely they can do better than that, but you get the point.
H/t to Darren Pang
For more hockey news, rumors and analysis, follow @EyeOnHockey and @StubitsCBS on Twitter and like us on Facebook.
SportsLine's Mike McClure, a DFS pro with more than $1M in winnings, gives optimal lineup...

Smith-Pelly confronted the fans from inside the penalty box before they were escorted out

The NHL will be a no-show in Pyeongchang, and it could be the norm for future Olympics
David Kelly has nailed his past 15 NHL picks and 23 of 26 predictions

Tampa Bay has been a little too goalie dependent lately, but it remains the head of the pa...

It appears New York's leadership is waving the white flag on this current group