NHL lockout: Gary Bettman loves the players, calls dissension story 'fabrication'
In a wide-ranging interview with the Winnipeg Free Press, Gary Bettman said he loves the players; he just doesn't love what's happening right now, and he called a story of Flyers owner Ed Snider dissenting a ''fabrication.''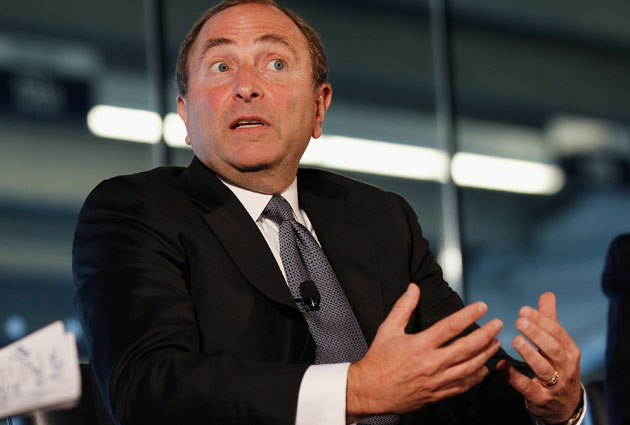 Gary Bettman admits the lockout is very damaging and that they will make this right with fans. (Getty Images)
Gary Bettman's job as NHL commissioner isn't an easy one. We know that well enough. He is tasked with taking orders from really rich people and executing them while, at the same time, taking the constant flak from fans and players. I would call it a thankless job except for the fact he gets paid very handsomely.
Considering this the NHL's third work stoppage in the past 18 years under his watch, he's the easy and obvious target for a lot of frustration. Players like Ian White call him an idiot, and fans spit vitriol in his face. The only people who seem to be firmly in his corner are the people who can't talk -- team owners and executives. It can get a bit lonely at the top.
Bettman recently had a sit-down interview with Gary Lawless of the Winnipeg Free Press. One of the things that Bettman addressed was that very issue, the fact that he serves more as a punching bag than the referee.
I work for the owners but I work for the game. What I do transcends what I do for the owners. I do work for the game and I try to do the best I can for the game. You'll find in the course of labour disputes, there's always a lot of rhetoric. Most of it is just noise. Most of it is misinformed. There's propaganda. It's just a fact of life that you live with. By the way, I love the players. Nobody should think for a moment that I don't. If I didn't I wouldn't do this job. I couldn't do this job. I believe in the players. I don't believe in what's going on right now. It's part of the business of the game. The least attractive part of the game.
Let's start with the propaganda stuff. Is Bettman secretly admitting that he soils the water from time to time as well, or is the rhetoric about rhetoric just in reference to the other side, the union? I suppose we can't know. But if Bettman were being honest, he would have to recognize that he and the league are as guilty of it as the union, if not more so.
You want an example? The league has said multiple times already that they are done making offers, or that this is the best offer they can make. We heard that when the 82-game season was on the line, yet the NHL came back and made another offer with further concessions. The well is poisoned; at least Bettman will admit to that.
Then we get to the part about loving players. It's rich, I tell ya. I don't doubt for one second that Bettman does care for the sport and the players. You don't run a business for 20 years without caring for it, so I won't buy that.
But it is akin to saying you don't mean for this to be offensive and then say something completely offensive. It's hard to accept that Bettman has all this love for the players, even if they are the driving force behind his big salary.
But Bettman admits he knows everybody is just trying to do what's right by them. The owners want what is in their best interests and, of course, the same holds for the players. That's why you have negotiations. This price to pay for it and the lockout, though, is tough.
It's horrific for the simple reason that we as a business are in business to put on our game and engage with our fans and to grow our game. This entire process is absolutely inconsistent with that. Having said that, any sports league needs a system that works and makes the game and the business of the game healthy.
The cynic in me asks, "Healthy for how long?" We heard the same stuff in the last lockout, and it didn't work so well. What's to say that whenever the next CBA expires, we won't be stuck in this same spot? I think what's most frustrating is that, even when a new deal is reached, it won't feel like the cycle is ending unless there are drastic changes. Going through this every few years is not good for anybody.
The interview is very wide-ranging. And while Bettman didn't answer in much detail too many questions regarding the negotiations, there were some that he addressed besides the ramifications of it all. He said the sides still have a fundamental difference in opinion on the big issues and, perhaps interestingly, talked about the small markets. He didn't deny they have no role in this lockout even happening but refuted that making them equitable is the reason for the lockout.
As far as dissension amonb the owners' ranks? Bettman summarily dismissed that notion, as he has done time and time again.
Over the weekend, Frank Seravalli of the Philadelphia Daily News reported that Flyers owner Ed Snider was no longer behind Bettman's agenda in this lockout and was falling out of step. That would be a pretty significant development if true, Snider is one of the bigger power players among NHL owners. Before Saturday ended, though, both Bettman and Snider released statements saying it was not true. Bettman discussed it further with Lawless.
It was a fabrication. Ed Snider is the one who told me about the article when he found out about it and he was terribly upset. He's in Europe and it was his idea to put out a statement. Anyone who doubts the resolve of ownership is either uninformed or (being) intentionally misleading.
It's one thing to question the story's accuracy; it's another to question its integrity. Perhaps Seravalli was given some bad information -- although he stands by his reporting -- perhaps he didn't. But I sincerely doubt he simply fabricated the news. While NHL writers are pretty hard up for news at this point, I don't think they are inventing it.
Bettman is a smart man. Fans might not always feel that way considering their anger toward him, but he is very smart. The entire interview is certainly worth reading because there is a lot more that he addressed. Thankfully, somebody on the league's side is willing and able to speak.
In a more immediate sense, this is part of the backdrop for the resumption of meetings on Monday afternoon in New York. It has been about a week since the sides talked. Let's see how much love they have for each other now.
For more hockey news, rumors and analysis, follow @EyeOnHockey and @StubitsCBS on Twitter and like us on Facebook.
David Kelly has nailed 35 of 42 NHL picks and he just locked in a selection for the Ottawa-Nashville...

SportsLine's Mike McClure, a DFS pro with more than $1M in winnings, gives optimal lineup...

Vegas ascends to the top of the league, but plenty of formidable contenders are right on their...
SportsLine's Mike McClure, a DFS pro with more than $1M in winnings, gives optimal lineup...

Smith-Pelly confronted the fans from inside the penalty box before they were escorted out

The NHL will be a no-show in Pyeongchang, and it could be the norm for future Olympics