NHL lockout: Gary Bettman, NHLPA have always had trouble 'speaking the same language'
Gary Bettman and the NHLPA have always had a hard time speaking the same language.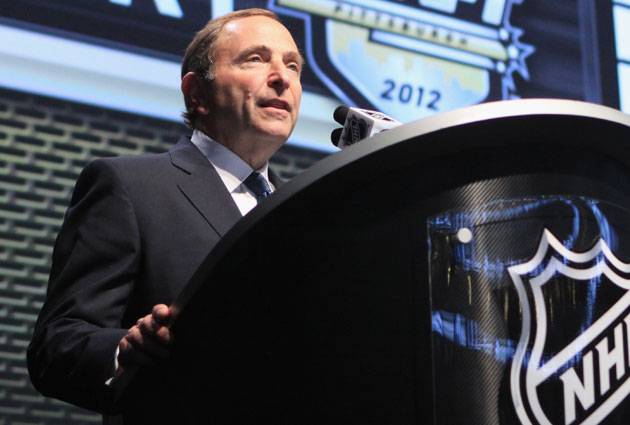 Speaking the same language has been an issue for Gary Bettman and the NHLPA over the years. (Getty Images)
When the NHL and NHLPA met last Thursday in Toronto, the players made three proposals to the league, all of which were rejected.
What followed was a gloom and doom press conference from commissioner Gary Bettman. He not only talked about his disappointment with the meeting, but also added "It's clear we're not speaking the same language."
That can be a problem, and it's not the first time the two sides have needed a translator.
If you kindly step into Dr. Emmett Brown's Delorean and go back in time to the last NHL lockout -- the one that canceled an entire season -- you will notice that even then Bettman and the NHLPA were having trouble "speaking the same language."
From Sept. 9, 2004 (via ESPN's crosschecks blog), here is Bettman's response to the NHLPA's initial offer that included a 5 percent salary rollback: "We're not even speaking the same language."
It's like we've already been here before. Over and over and over again.
Hopefully, this lockout has a happier ending than the one in 2004-05.
The league has already canceled 135 regular-season games and if there is any hope for a full 82-game season, a deal will have to be reached this week. At this point hockey fans would probably be satisfied with a 65- or 70-game season.
For more hockey news, rumors and analysis, follow @EyeOnHockey and @agretz on Twitter and like us on Facebook.
The University of Denver star and Hobey Baker Award winner is drawing interest

Intrigue is high in Arizona after a wild offseason, but expectations should still be tempe...

Players are set to give personalized messages for Adidas' former hockey equipment brand
The 40-year-old center is returning to the Wild after a successful run in Pittsburgh

Edmonton locks up its 21-year-old RFA a month after McDavid's historic extension

Even with a new coach and added veteran help, the Canucks have a long road ahead