NHL lockout: Gary Bettman says 82-game season may not be a reality
Gary Bettman said Wednesday it looks like an 82-game season is not going to be a reality.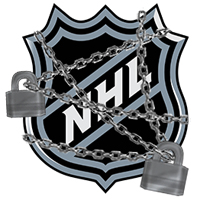 During Wednesday's press conference to announce the New York Islanders move to Brooklyn, there was at least one lockout question that worked its way into the discussion. And the answer from commissioner Gary Bettman wasn't exactly encouraging if you're still holding out hope that the NHL can play a full season.
"The NHL Players' Association has chosen not to engage on our proposal or make a proposal of their own," said Bettman on Wednesday. "Unfortunately, it looks like an 82-game season is not going to be a reality."
The NHL had hoped to start a full season schedule Nov. 2, but for that to happen a deal would have to be reached by Thursday. With no talks scheduled at this point, that obviously doesn't look likely. Especially since the NHLPA attempted to set up a meeting Tuesday night only to have the NHL decline.
"They have indicated a willingness to meet, but they also told us they had very little interest in the proposal we tabled last Tuesday," said NHL deputy commissioner Bill Daly to The Canadian Press. "[They] also said they weren't making a new proposal. What would we be meeting about?"
At this point an 82-game season not only seems unlikely, it also may be for the better as far as some players are concerned. Specifically the players (more than 100) who have spent the past month playing overseas in Europe during the lockout. A lot of them have already played 10-15 games this season. When you add another 82 at the NHL level on top of that, plus any potential deep playoff runs, you're looking at guys playing more hockey in one year than they ever have before, which can only add to the risk of injury or guys simply being worn down by the end of the year. The NHL season is long enough as it is, and this would only add to it.
The league has already canceled 135 games through Nov. 1, but would be willing to reschedule them if a deal is reached before Thursday's deadline. Since that doesn't seem likely at this point, the question becomes how many games the next round of cancellations will involve, and whether or not events like the New Year's Day Winter Classic in Ann Arbor, Mich., and the All-Star game in Columbus on Jan. 27 will also be on the chopping block.
Cancellation of the Winter Classic is a threat that has been hanging around for a few weeks, and Bettman added to it Wednesday.
Bettman said decision on Winter Classic would have to be made "sometime soon" because sometime in Nov. significant $$$ have to be committed

— Tom Gulitti (@TGfireandice) October 24, 2012
The Detroit Red Wings are scheduled to host the Toronto Maple Leafs at Michigan Stadium.
For more hockey news, rumors and analysis, follow @EyeOnHockey and @agretz on Twitter and like us on Facebook.
The former Boston Bruin was the first black player to play in the NHL

Inclement weather led to the Charlotte Checkers and Bridgeport Sound Tigers playing in front...

The NHL chose the Detroit rocker as its All-Star Game entertainment and not everyone is th...
NHL fans from all over seem to agree on one thing: Hating Kid Rock

The team tweeted on Monday that Shaw would be re-evaluated in 7-10 days

The Montreal forward was hospitalized after taking a Zdeno Chara slap shot to the head