NHL lockout: Hockey fix for Day 90
This is Day 90 of the NHL lockout, 2012 edition. Every day, we'll serve up some CBA talk and help you get your hockey fix.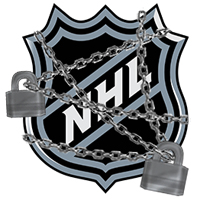 This is Day 90 of the NHL lockout, 2012 edition. Every day, we'll serve up some CBA talk and help you get your hockey fix. Let's begin, shall we?
CBA roundup
• That's right, folks. It's another round-number milestone in NHL lockout version 3.0 as Friday marks Day 90 of the latest round of stupidity. So, um, let's celebrate!
So far, this lockout has cost us 526 regular-season games, the Winter Classic in Ann Arbor, Mich., and the All-Star Weekend in Columbus, Ohio.
• After two days of mediation (mostly taking place in separate rooms), the expectation for Friday -- according to Pierre LeBrun -- is that the two sides will speak over the phone. Hopefully, that doesn't result in more voicemail breakups like last Thursday's NHL rejection.
• Scott Burnside has the framework for a deal from one NHL governor who insists it will be "pallatable" for both sides. It's a pretty interesting read and is another offering of hope. Of course, somebody from the NHL side thinks their deal is good; just like the NHLPA thinks all of their deals will work. The important thing is what the other side thinks of the offer.
Still, the author of the Do This Deal deal felt that both owners and players would support such a framework.

It appears he's correct.

When the proposal was described to one high-profile veteran player, he agreed it was the kind of offer that at the very least could be put to a vote by the players' association.

Another player familiar with the often-tumultuous nature of the negotiations agreed that the governor's offer should prompt a vote. He wasn't certain it would pass, but at least it would give an accurate gauge of the union membership's feelings about settling. Such an offer would also show that the owners were negotiating as opposed to merely making demands, which is the perception many players were left with after a second attempt at mediation Wednesday in New Jersey.
The question, of course, is: if this potential deal is so pallatable for both sides, and there's a feeling that it could be accepted, or even simply put to a vote, why the hell hasn't it been made yet? [ESPN Cross Checks blog]
• The NHL merchandise sales have to be terrible. I was Christmas shopping in a sports retailer on Monday (in a hockey-loving city), and the cashier told me that people not only aren't buying NHL merchandise, they're not even looking at it. Just another revenue stream that takes a hit during a work stoppage. Another: Local bars and restaurants around arenas. [Tribune-Review]
• Whenever a lockout happens in sports, there's always a flood of articles and stories about arena workers being impacted. That hasn't really been the case this time. If you're wondering why, James Gordon of the Ottawa Citizen said on Thursday, via Twitter, employees are telling him they were sternly warned to not speak to the media about the lockout. They fear that speaking, even off the record, will burn bridges with the teams when hockey does return. [James Gordon, Twitter]
• Sidney Crosby is still disappointed with the current state of the labor talks.
"They didn't even have a face-to-face meeting," said Crosby on Thursday, via the Tribune-Review. "It is discouraging. For me, it just doesn't make any sense. Why can't they get in the room and keep talking? I don't know what that mindset is or how that's going to help things progress." [Tribune-Review]
Hockey fix
The unothodox goaltending of Dominik Hasek in on display in today's fix.
For more hockey news, rumors and analysis, follow @EyeOnHockey and @agretz on Twitter and like us on Facebook.
SportsLine's Mike McClure, a DFS pro with more than $1M in winnings, gives optimal lineup...

Smith-Pelly confronted the fans from inside the penalty box before they were escorted out

The NHL will be a no-show in Pyeongchang, and it could be the norm for future Olympics
David Kelly has nailed his past 15 NHL picks and 23 of 26 predictions

Tampa Bay has been a little too goalie dependent lately, but it remains the head of the pa...

It appears New York's leadership is waving the white flag on this current group