NHL lockout: How frustrated are fans? Detroit is booing Wings GM
As Red Wings GM, Ken Holland has helped give Detroit three Stanley Cups. But even he can't escape the wrath of locked-out fans.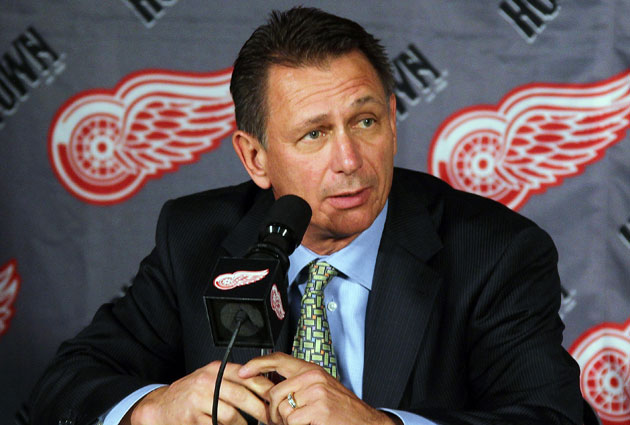 Holland has built an awfully nice resume as Red Wings GM. (Getty Images)
When it comes to Detroit sports figures, Ken Holland is pretty high on the list. He has overseen the Red Wings for close to two decades now. Under his time as general manager, the Red Wings have won three Stanley Cups and have not missed the playoffs once.
So you know fans have had enough with all things NHL when Holland is being booed off Ford Field in Detroit as if his name were Gary Bettman (via Fox Sports Detroit).
In case you didn't already know, the NHL brand is awfully toxic these days. The way the NHL's image has been tarnished resembles the image of BP after the oil spill; at least that was the conclusion of a survey conducted in Canada. Thanks to Detroit, (and probably some fans from Windsor, Ontario) we have some further evidence.
Think about it: fans in Detroit have little reason to boo Holland. He has been fantastic as the GM of the Wings and is hardly a controversial figure. In terms of the labor negotiations, he has little to nothing to do with them. It's not a dispute that involves GMs (although they will be left to deal with the effects of a new CBA) but between the owners and players. Still, Holland was booed. I'd say fans are frustrated.
While Bettman probably thinks this means nothing, the rest of the league should probably take it as a sign from the fans that they are serious with their frustrations. If Hockeytown, USA, is booing their successful GM, you know it's bad.
For more hockey news, rumors and analysis, follow @EyeOnHockey and @StubitsCBS on Twitter and like us on Facebook.
The former Boston Bruin was the first black player to play in the NHL

Inclement weather led to the Charlotte Checkers and Bridgeport Sound Tigers playing in front...

The NHL chose the Detroit rocker as its All-Star Game entertainment and not everyone is th...
NHL fans from all over seem to agree on one thing: Hating Kid Rock

The team tweeted on Monday that Shaw would be re-evaluated in 7-10 days

The Montreal forward was hospitalized after taking a Zdeno Chara slap shot to the head