NHL lockout: Kris Versteeg says Bettman, Daly 'polluting' game; wants to cut 'cancers'
Kris Versteeg took the players' attacks on Gary Bettman a step further, saying he and Bill Daly have been polluting the game and saying "you gotta cut the cancers."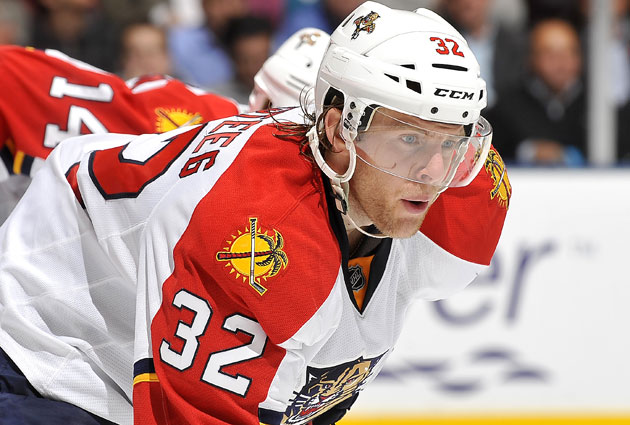 Versteeg had some strong words about the commissioner and deputy commissioner. (Getty Images)
From the onset of this lockout, the players have been pretty open about their contempt for NHL commissioner Gary Bettman. They have used their Twitter feeds or public appearances and interviews to get their message out there.
To sum it up, the message has essentially been: "Bettman is a big meanie," or something to that effect.
It's starting to get worse. First, you had Red Wings defenseman Ian White calling Bettman an "idiot." Now, Florida Panthers winger Kris Versteeg has taken it a step further. Here's what he had to say about Bettman -- and NHL deputy commissioner Bill Daly, for good measure -- in an interview with TSN 1050 radio.
"You gotta cut out the cancers. And I think when you look at Bill Daly and Bettman, they've been polluting this game for far too long," Versteeg said. "I think in order to get a good taste in [the fans'] mouths going forward, I think you have to look at that, especially when the CBA is over."
Versteeg was then asked if he believes both Bettman and Daly should be gone when this is all wrapped up.
"I do believe so. You have to look at the fans, right? And the fans have been left with too many bad tastes in their mouths for too many years. And I think when this is all said and done, it will be a good time to finally make that happen," he said.
Ouch. That's taking it perhaps a little too far -- the opening salvo, that is. The name-calling and personal attacks are getting ramped up and aren't helping anything other than perhaps taking a little pressure off the voices by venting. Beyond that, it just poisons the water in the well. And right now, that's about the last thing these talks need -- an increased sense of hostility that, from the account of the negotiators, hasn't really been present in these talks.
Versteeg is taking a beating already, and it's understandable; cancer can be a touchy subject. But I don't think Versteeg meant it in anymore than a casual sense, the same way that people in sports mention cancers in the locker room.
Well, it's that and the fact that Versteeg has seemed to benefit pretty well in life under Bettman. He just signed a four-year extension with the Panthers that pays him almost $4 million per season, not too bad for a guy who just hit a career high with 23 goals. Oh, and to be fair to Bettman, the commish is the one who most ardently supports the continued existence of markets like Florida, where Versteeg now plays. Bettman is trying to ensure that franchise's viability. But that's neither here nor there; it's a matter of throwing around insults.
The players have been holding an open season on Bettman from the beginning, and it did seem to curry some favor for a time. But, at some point, enough is enough. It starts to take away from the cause, not add to it. Further, does anybody doubt the constant hammering of Bettman will only help the owners keep a united front? I don't.
It had been suggested this was part of the NHLPA's plan under Donald Fehr, that he encouraged the players to initiate what equates to a smear campaign. The union denied that, but perhaps it would be wise not to muzzle the players -- just ask/encourage them to tone it down.
What's more is that Versteeg takes it one step further by calling for the ousting of both Bettman and Daly as soon as this is done. It's very unlikely to happen, especially seeing Daly go. He does a good job of staying above the fray in things like this, perhaps because Bettman absorbs all of the negativity. Either way, I don't know how much appetite there would be to remove both men. That's not to imply there is even an appetite to remove Bettman, just extrapolating.
So to recap: Ian White thinks Bettman is an idiot, Versteeg doesn't like him or Daly and thinks they're polluting the game, and Gary Bettman still loves the players. All of this before meetings resume on Monday. This makes for one heck of a soap opera: As the Puck Stops.
For more hockey news, rumors and analysis, follow @EyeOnHockey and @StubitsCBS on Twitter and like us on Facebook.
NHL fans from all over seem to agree on one thing: Hating Kid Rock

The team tweeted on Monday that Shaw would be re-evaluated in 7-10 days

The Montreal forward was hospitalized after taking a Zdeno Chara slap shot to the head
Tampa Bay is still No. 1 and Vegas is still up there, but a few others are finally catching...

Army filed an opposition to the use of 'Golden Knights' on the last day that it was permitted...

The NBC rinkside reporter is hoping to return in time for the 2018 Olympics