NHL lockout: Labor talks could resume Tuesday
The NHL and NHLPA will continue negotiations on a new collective bargaining agreement Tuesday. The topic and location of the meetings will be determined Monday.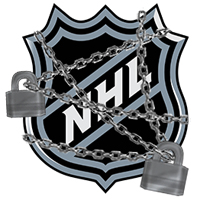 After speaking last week and making little progress toward a new collective bargaining agreement, the NHL and NHLPA could meet again Tuesday.
Deputy commissioner Bill Daly told the Associated Press that there is "nothing firm" scheduled for Tuesday but the potential is there to meet again.
The topic and location of the potential meetings will be determined on Monday according to USA Today.
While the two sides had what can only be described as unproductive meetings last week, they still didn't spend much time addressing the core economic issues (how to divide up the pie that is the NHL's hockey related revenue) that are preventing the two sides from reaching a new deal. It's a topic that not only wasn't discussed last week, it hasn't been discussed much at all since the old collective bargaining agreement expired a month ago.
Last week's meetings had a heavy focus on the NHL's drug testing policy and other secondary issues.
The lockout has already forced the cancellation of the first two weeks of the regular season (which was supposed to start Thursday). So far that's a total of 82 games, including what was supposed to be the banner-raising for the Stanley Cup-champion Los Angeles Kings (along with a few other interesting opening weekend matchups).
Based on the current pace of the talks it seems inevitable that more games will be canceled in the coming days.
For more hockey news, rumors and analysis, follow @EyeOnHockey and @agretz on Twitter and like us on Facebook.
Players are set to give personalized messages for Adidas' former hockey equipment brand

The 40-year-old center is returning to the Wild after a successful run in Pittsburgh

Edmonton locks up its 21-year-old RFA a month after McDavid's historic extension
Even with a new coach and added veteran help, the Canucks have a long road ahead

Unlike expansion teams before them, the Knights have enough talent to entertain right away

Brian Lawton says he 'would not be surprised' if Boston deals its young star to end contract...