NHL lockout: League cancels games through Jan. 14
The NHL is expected to cancel more games before the week ends.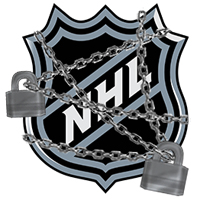 The NHL is fast approaching the point of no return when it comes to salvaging what's left of the 2012-13 season.
On Thursday, the league announced the cancellation of games through Jan. 14.
The next likely stop after that: The entire season.
The NHL hasn't announced a final date to save the season (deputy commissioner Bill Daly said it's around mid-January), but commissioner Gary Bettman has said he can't see the league playing fewer than the 48 games that they played during the 1994-95 season that was also cut short by a lockout. That season was salvaged when a new CBA was reached on Jan. 11, with the season starting on Jan. 20.
This latest round of cancellations should have been expected because the league had previously wiped out the schedule through the end of December. With no agreement in place (and talks not taking place at the present time), there's no way a season could have been started by the new year. Furthermore, the schedule as currently constructed would be meaningless, anyway, because a shortened season would have an entirely different look than the one that was originally planned for the 2012-13 season.
Daly said on Wednesday that more cancellations would be coming. When pressed on whether there would be a season (with "I don't know" not being an option), he responded with "Yes."
Any season that is played at this point would no doubt be an intraconference schedule, similar to the one that was played in 1994-95.
As of Thursday, the ongoing lockout, which is more than 90 days old (it reaches 100 on Christmas, so Happy Holidays from the NHL!), has cost the league 625 regular-season games (half of the season), the Winter Classic in Ann Arbor, Mich., and the NHL All-Star weekend in Columbus, Ohio.
For more hockey news, rumors and analysis, follow @EyeOnHockey and @agretz on Twitter and like us on Facebook.
Rage is all the rage in Montreal

Buffalo's 20-year-old phenom pulls off the highlight of the night against Vancouver

The North American love affair with Edmonton's superhuman center continues to grow
The defending Western Conference champion Predators are also heating up early in the year

The Oilers' young star remains seriously unfair

David Kelly, a Toronto-born hockey analyst, has strong advice for Edmonton vs. Chicago game...