NHL lockout: League proposal would punish teams that circumvent cap with long-term contracts
The NHL's latest proposal would punish teams that circumvent the salary cap with long-term contracts.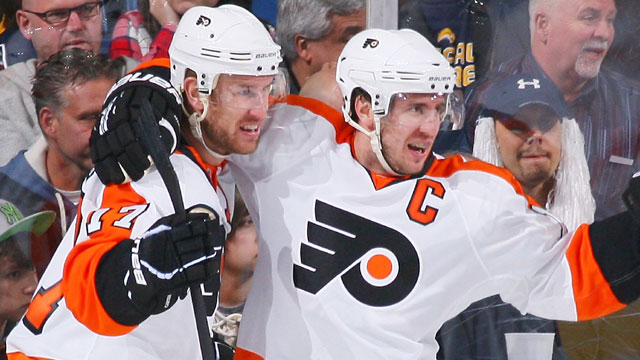 The NHL's newest proposal would punish teams that signed players to long-term contracts that circumvented the salary cap. (Getty Images)
It's becoming obvious that the NHL's latest proposal is not going to be accepted as is by the NHLPA. It's been described by some players as a "starting point," and perhaps provides the two sides with a spark to get going in the right direction that will lead to a settlement before more games (and signature events) are lost.
Even if the two sides are able to come to an agreement in relatively short order, the final settlement is going to be different than what the league posted on its website Wednesday morning.
But one of the more interesting aspects of the league's proposal is its obvious intention of closing the loophole from the previous collective bargaining agreement that allowed teams to sign players to long-term, front-loaded contracts in an effort to reduce the salary-cap hit over the duration of the contract.
The Buffalo Sabres, for example, signed defenseman Christian Ehrhoff last summer to a 10-year, $40 million contract that came out to a pretty reasonable cap hit of $4 million per year for a defenseman who can work the power play and provide some offense from the blue line. They were able to do this due to the structure of the contract that made it so Ehrhoff will receive 93 percent of the money ($37 million) over the first seven years of the deal. The final three years pay him just $1 million per year in base salary.
This allowed Ehrhoff to make $10 million last season and $8 million in 2012-13, but only count $4 million against the Sabres' cap. The Sabres were not the only team to take advantage of this obvious loophole (the Detroit Red Wings might have been the ones that took advantage of it the most with Pavel Datsyuk, Henrik Zetterberg and Johan Franzen).
A few of the other more notable deals around the league:
Ilya Kovalchuk, New Jersey Devils, 15 years, $100 million
Roberto Luongo, Vancouver Canucks, 12 years, $64 million
Marian Hossa, Chicago Blackhawks, 12 years, $63.3 million
Johan Franzen, Detroit Red Wings, 11 years, $43.4 million
Mike Richards, Philadelphia Flyers, 12 years, $69 million
Jeff Carter, Philadelphia Flyers, 11 years, $58 million
As we mentioned on Wednesday morning, the league's proposal would limit contract length to just five years, eliminating a team's ability to sign a player for 10 years.
NHL Lockout
More NHL coverage
There's also the addition of a rule that would not allow a contract to increase or decrease in value by more than 5 percent from one year to the next (Ehrhoff's deal, to continue using it as an example, decreases from $8 million in year two all the way down to $4 million in year three -- that couldn't happen if the new offer went through).
But while that would limit the future signing of such contracts, there would also be a punishment for teams that already handed them out (and had them approved by the league) over the years.
The league's proposal states that all existing contracts with terms in excess of five years will be "accounted for and charged against a team's Cap (at full AAV) regardless of whether or where the Player is playing. In the event any such contract is traded during its term, the related Cap charge will travel with the Player, but only for the year(s) in which the Player remains active and is being paid under his NHL SPC."
This could potentially impact a team like the <span data-shortcode=, and perhaps the Vancouver Canucks" data-canon="Vancouver Canucks" data-type="SPORTS_OBJECT_TEAM" id="shortcode0"> if they decide to trade Roberto Luongo when a new CBA is completed.
The Flyers, as you no doubt recall, signed Mike Richards and Jeff Carter to long-term, front-loaded contracts a few years ago, and as they've done numerous times in recent years. Richards was sent directly to the Kings, and Carter was eventually reunited with him in Los Angeles after a brief failed stop in Columbus.
If either one (or both) of those players were to retire before their contract expires, the salary cap hit would still be on the books, according to this latest proposal. But it wouldn't belong to the Los Angeles Kings (or whatever team they were playing for at that time). The cap hit would instead fall back on the Flyers as they were the team that signed them to those contracts.
Perhaps the player most likely to have this become an issue would be Luongo.
With the emergence of former first-round pick Cory Schneider in Vancouver, combined with Luongo's massive contract, his name has been a big one in trade rumors for months with teams like Florida and Toronto (most likely Florida at this point) listed as possible landing spots.
Considering that he's currently 33 years old and his contract runs through the end of the 2021-22 season (which would make him 42 years old at that point) it's not only entirely possible, but extremely likely that he will retire long before that contract expires. And at that point, the remaining cap hit goes back to the Vancouver Canucks.
(Keep in mind, last season there were only four goalies in the NHL over the age of 38 (Johan Hedberg, Martin Brodeur, Nikolai Khabibulin, and Dwayne Roloson), and only one (Roloson) over the age of 40)
So the question for debate: Is that fair? Do you like this part of the proposal by the NHL? Should teams be retroactively punished for taking advantage of an obvious loophole that existed in the previous CBA?
The only team that was punished at the time for handing out such a contract was the New Jersey Devils for their initial 17-year contract with Kovalchuk. They were fined and lost several draft picks (one of which they have yet to forfeit) and had to rework the deal to its current 15-year length.
For more hockey news, rumors and analysis, follow @EyeOnHockey and @agretz on Twitter and like us on Facebook.
The former Boston Bruin was the first black player to play in the NHL

Inclement weather led to the Charlotte Checkers and Bridgeport Sound Tigers playing in front...

The NHL chose the Detroit rocker as its All-Star Game entertainment and not everyone is th...
NHL fans from all over seem to agree on one thing: Hating Kid Rock

The team tweeted on Monday that Shaw would be re-evaluated in 7-10 days

The Montreal forward was hospitalized after taking a Zdeno Chara slap shot to the head