NHL lockout: 'No progress' made Sunday; no future meetings planned
The NHL and the union talked for a little less than an hour Sunday in New York to discuss contract issues. They got nowhere, and now Donald Fehr says he doesn't know when they'll meet again.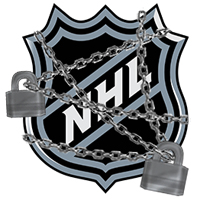 The NHL and NHLPA put aside their apparent differences following Friday's round of negotiations and met for roughly an hour Sunday in New York.
Coming out of a long week of talks, there was a return to some harsh words and further exasperation. It felt like we might be on the verge of another long stretch without formal meetings until word came Sunday morning that a meeting was set despite commissioner Gary Bettman being in Toronto for Hall of Fame festivities.
The result was a session in which NHL deputy commissioner Bill Daly and NHL lawyers represented the league opposite Donald Fehr and other union representatives. The plan was to change subjects and discuss the contractual issues instead of the economic ones.
The result? It didn't go very well.
Fehr explained to the media why it didn't go so well (courtesy of Katie Strang of ESPN New York).
#CBA Meeting lasted less than an hour. NHL completely unwilling to budge on any player contracting issues, according to Don Fehr

— Katie Strang (@KatieStrangESPN) November 11, 2012
As a result, Fehr said he doesn't "see a path to an agreement" after the talks and that they might be past the time of give-and-take with the league on such matters.
Not to be outdone, Daly spoke for the league in equally depressing comments. Hey, at least they are singing the same tune about something here. OK, it's not really a positive thing in this case. Uggghhh.
"It was a candid discussion, but their was no progress," Daly said of Sunday's meeting.
In case you weren't already inspired by the great news overflowing here, Fehr talked about the future plans for more talks. Or the lack thereof, we should say.
"I don't know when we'll get back together," he explained. However, Fehr did say he doesn't think it will be too long before talks do resume; it's just right now there are no specifics.
This meeting is a sobering reminder that there is a lot more to these discussions than just the economic split. The contractual rights the league is trying to take away from the players could prove to be as much of a sticking point as the money has been thus far.
The league has sought a cap on contract lengths, allowing them to go no longer than five years. The NHL also wanted to increase the age/years played requirement for unrestricted free agency and reduce the length of entry-level contracts. Those were all detailed in the league's offer in October that was posted on its website.
These are issues the players are going to be willing to fight. And, as Daly said Sunday, they are ones that the league is more than willing to fight for.
"The contract rights issues are very important to the clubs," he explained.
We just went through a little more than a week of intense meetings during which very little ground, if any, was actually made.
In fact, it sounds as though the stances are starting to harden. That's not good news. We had seen both sides begin making concessions and, you know, actually negotiating. But if Fehr is to be believed at his word -- and that's always a dangerous proposition; he obviously has an agenda -- that's what is happening. The league is starting to give up on the give-and-take.
It's amazing how the news never seems to get better in this.
For more hockey news, rumors and analysis, follow @EyeOnHockey and @StubitsCBS on Twitter and like us on Facebook.
The former Boston Bruin was the first black player to play in the NHL

Inclement weather led to the Charlotte Checkers and Bridgeport Sound Tigers playing in front...

The NHL chose the Detroit rocker as its All-Star Game entertainment and not everyone is th...
NHL fans from all over seem to agree on one thing: Hating Kid Rock

The team tweeted on Monday that Shaw would be re-evaluated in 7-10 days

The Montreal forward was hospitalized after taking a Zdeno Chara slap shot to the head