NHL lockout: Report: NHLPA to give players $10,000 stipends
The NHL lockout is now into its 11th week and the players have missed pay checks, so the NHLPA is reportedly going to give players stipends.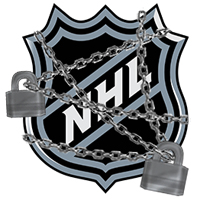 The NHL lockout has now entered its 11th week and it seems like a long time ago that the players received their escrow checks from last season. Since then their income has dried up unless they have found work in other leagues, and even then it likely hasn't been a ton of money.
So now to help out, the NHLPA has reportedly decided to go ahead and give all of its players a $10,000 stipend, according to Katie Strang of ESPN New York. That's why the NHLPA had a bunch of money saved up, for a rainy day just like this.
The news of the stipend comes just a day after the players missed what would have been their fourth check of the hockey season, and that's likely no coincidence. At this point players are probably starting to feel the squeeze, at least as much as professional athletes can feel squeezed.
Of course the easily pessimistic view point here is that the NHLPA is handing out these stipends to players in what could be seen as anticipation of a long, cold winter. It's not much -- by their pay standards, not most people's standards -- but it's a little more than grocery money. If the players union saw a deal coming around the corner, you wonder if they would be handing out cash now.
At this time the first scheduled games won't come until mid-December but without a deal soon the NHL could cancel another chunk of games from the calendar and at this point it seems like an inevitability, so this stipend might have to stretch for another month at least.
No meetings are scheduled at this point but the NHLPA continues to mull over a suggestion from commissioner Gary Bettman for a meeting solely between the players and owners without any league officials or union representation. A decision is expected soon from the union. Also on the horizon is the Board of Governors meetings on Dec. 5 where there could be some movement, one way or the other, when all of the teams are represented.
For more hockey news, rumors and analysis, follow @EyeOnHockey and @StubitsCBS on Twitter and like us on Facebook.
Stacia Robitaille says Donald Trump told her in an elevator that she was coming home with...

Vladislav Yeryomenko was the Teddy Bear Toss goal scorer for the Calgary Hitmen

The Golden Knights are finally getting their No. 1 goalie back after a 25-game absence
Washington has won four straight, and the Kings are also on a tear right behind the Lightn...

The NHL says it's only interested in expanding to Seattle, but here's a look at all the moving...

The NHL says it is only looking toward Seattle for the next expansion team