NHL lockout: Report suggests lockout to end this week; Bill Daly denies
It took a whole 79 days but we finally have a report that the end of the NHL lockout is imminent. We'll play the wait-and-see game.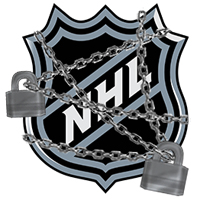 It took a whole 79 days but we finally have a report that the end of the NHL lockout is imminent.
With the players and owners set to meet on Tuesday followed by the Board of Governors meeting on Wednesday, a report out of WBZ in Boston by Steve Burton suggests an end to this long charade is right around the corner.
Take the following for what you will.
WBZ's Steve Burton reports that a deal to save the #nhl season could be announcement tomorrow or Wednesday- @joegiza

— WBZ Boston Sports (@wbzsports) December 3, 2012
WBZ's Steve Burton reports #nhl talks have made great progress behind closed doors and it looks like the season will be salvaged- @joegiza

— WBZ Boston Sports (@wbzsports) December 3, 2012
Fans everywhere want it to be true but until it happens, the best bet is to stay guarded. There have been no indications that a deal is around the corner and the next two days are full of meetings, but sometimes these things can come clear out of the blue.
The lockout is going to end at some point so it could potentially be in the coming days. It just seems tough at this point. You'll recall that just a few days ago federal mediators bailed on their roles in the labor talks because the sides were too far apart. They then spent a few days haggling over how to set up the next meeting which was finally set for Tuesday. If they couldn't agree on how to set up a meeting in the past few days, it seems tough to accept they could work out problems they have had for months now.
But maybe some back-door talks were finally able to close a deal and the next two days will be vetting the process and then the Board of Governors approving it. Hey, it could happen.
However NHL Deputy Commissioner Bill Daly denied the report's accuracy to Patrick Caisse of TVA Sports.
"I'm aware of the reports making the rounds," Daly wrote. "Unfortunately, there is no truth to them."
He made a similar and perhaps strong denial to Sarah Kwak of Sports Illustrated.
Asked if there was ANY MORSEL of truth to WBZ report that deal is imminent, B.Daly: "Not even a single morsel..." Great. And now I'm hungry.

— Sarah Kwak (@SI_sarahkwak) December 4, 2012
On the record you wouldn't expect Daly to say much different but he could perhaps hint at some hope while denying it. That's not present in his statement.
Further, fellow Boston scribe Joe Haggerty of CSN New England checked with a source who shot the report down, sadly, calling it "interesting, but not true."
It would be awesome if the report from Burton and WBZ ends up being true, we all hope it does, but we'll take the wait-and-see approach. While this is the first time an imminent deal has been reported, we've had our hopes raised a few times in these negotiations and each time we've ended up back at the heartbreak hotel.
Everybody is so sick of this lockout and ready for it to be over but right now it would seem this report is the lone sense of optimism.
For more hockey news, rumors and analysis, follow @EyeOnHockey and @StubitsCBS on Twitter and like us on Facebook.
The University of Denver star and Hobey Baker Award winner is drawing interest

Intrigue is high in Arizona after a wild offseason, but expectations should still be tempe...

Players are set to give personalized messages for Adidas' former hockey equipment brand
The 40-year-old center is returning to the Wild after a successful run in Pittsburgh

Edmonton locks up its 21-year-old RFA a month after McDavid's historic extension

Even with a new coach and added veteran help, the Canucks have a long road ahead