NHL lockout: Season starts before Nov. 2? Oddsmaker puts line at 2-1
When will the NHL return? You can bet on it with odds saying 2-1 it resumes before Nov. 2.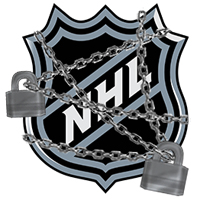 Hockey isn't being played in the NHL right now, but you better believe there is still hockey to bet on. There are always bets to be made.*
(*Note: Insert standard statement that we at Eye on Hockey don't condone gambling, yadda, yadda, yadda.)
Well to put it more correctly, there are always bets to be made ABOUT hockey, like when it will begin and such. So without further ado, here are the latest odds from Bovada.
When will the NHL Lockout end?

Before Nov. 2, 2012 -- 2-1
On or After Nov. 2, 2012 -- 1-3

When will the NHL Lockout end?

Before Jan. 1, 2012 -- 1-1
On or After Jan. 1, 2012 -- 4-7

Will Sidney Crosby play in Europe at any point in the 2012-2013 Season?

Yes -- 4-7
No -- 1-1

Will Alex Ovechkin stay in the KHL after the NHL and NHLPA come to a new agreement?

Yes -- 6-1
No -- 1-10
Without a doubt the worst bet on the board? Taking Ovechkin to stay in the KHL after an agreement. He still has a contract with the Capitals, and thanks to an agreement between the NHL and the KHL, he'll be obligated to come back to Washington, DC when a deal is done. So just a word to the wise: Stay away from that bet.
The Crosby bet is another one I wouldn't touch because of the issue of insuring his contract. The assumption here is he won't leave, but you never know when some team looking to make a splash will agree to pay for the insurance.
The real meat and potatoes here are in the first betting line, about the season starting before or after Nov. 2. The odds at 2-1 starting before Nov. 2 show there remains a good deal of optimism that a CBA can be reached within the next couple of days. That's a relatively aggressive line.
Where would you put your Monopoly money on these lines?
For more hockey news, rumors and analysis, follow @EyeOnHockey and @StubitsCBS on Twitter and like us on Facebook.
Rage is all the rage in Montreal

Buffalo's 20-year-old phenom pulls off the highlight of the night against Vancouver

The North American love affair with Edmonton's superhuman center continues to grow
The defending Western Conference champion Predators are also heating up early in the year

The Oilers' young star remains seriously unfair

David Kelly, a Toronto-born hockey analyst, has strong advice for Edmonton vs. Chicago game...