NHL lockout: Talks to resume, players want mediators back
The NHL and NHLPA will resume their talks at 5 p.m. ET Thursday. The players would like to see the return of federal mediators.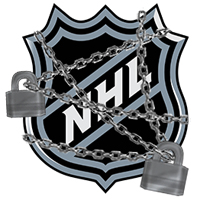 The vibe coming out of New York on Thursday seemed to be way more cynical and pessimistic than it had been over the previous two days when it comes to the next round of talks between the NHL and NHLPA.
Those talks are supposed to resume about 5 p.m. ET Thursday after the two sides spent the day in their own internal discussions.
We already know that NHL commissioner Gary Bettman and NHLPA leader Donald Fehr are expected to return to the room after sitting out the Tuesday and Wednesday sessions. Not only that, word started to surface Thursday afternoon that the players would like to see federal mediators return along with them.
Mediation took place last week and produced few positive results.
Even though the NHLPA woud like to see the mediators return, the NHL has not agreed to their involvement.
NHL deputy commissioner Bill Daly, who has been involved in the talks over the last two days, told Liz Mullen of the Sports Business Journal on Thursday afternoon that the league is scheduled to meet with the players and that they "won't know what our position might be on mediators (or whether we even need mediators) until the conclusion of that meeting."
Following Wednesday's talks, which ended well after midnight and were described as "candid" by both sides, Daly said they were waiting to hear back from the players on several critical open issues.
According to multiple reports, Toronto Maple Leafs owner Larry Tanenbaum and Winnipeg Jets owner Mark Chipman have left New York. Both were among the group of six owners who were involved in the discussions on Tuesday and Wednesday. That leaves Pittsburgh's Ron Burkle, Boston's Jeremy Jacobs, Calgary's Murray Edwards and Tampa Bay's Jeff Vinik. While those four remain in New York, they are not expected to take part in Thursday's talks.
Along with continuing to close the gap on the NHL's make-whole proposal and player contracting rights, the two sides are also at odds over how long a potential new collective bargaining agreement should be, with the league prefering a 10-year deal and the players seeking one that is closer to five years in length.
For more hockey news, rumors and analysis, follow @EyeOnHockey and @agretz on Twitter and like us on Facebook.
The former Boston Bruin was the first black player to play in the NHL

Inclement weather led to the Charlotte Checkers and Bridgeport Sound Tigers playing in front...

The NHL chose the Detroit rocker as its All-Star Game entertainment and not everyone is th...
NHL fans from all over seem to agree on one thing: Hating Kid Rock

The team tweeted on Monday that Shaw would be re-evaluated in 7-10 days

The Montreal forward was hospitalized after taking a Zdeno Chara slap shot to the head