NHL lockout: Thursday talks result in little action, will continue Friday
The two sides continued talks through mediation on Thursday but not much happened. However they will stay in communication on Friday.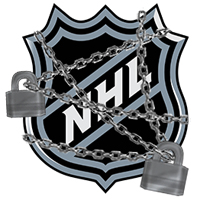 Would there be a meeting on Thursday or wouldn't there be? That was the question. The answer was ... sort of.
The federal mediators remained involved in the process on Thursday, shuttling between the two sides like a puck on an air hockey table presumably lifted up by hot air. All the while, neither the league's representatives (in this case, only the league's top lawyer -- who is relaying info back to the bosses -- Bob Batterman) nor Steve Fehr for the union did much face-to-face talking.
"Too early to say whether we will be meeting," NHL deputy commissioner Bill Daly wrote in an email to The Associated Press earlier Thursday. "Ultimately up to the mediator."
The decision was to treat things like Wednesday. Eventually the pow-wow came to a close when the NHLPA left the office at the "undisclosed location" in New Jersey.
Shortly after, Fehr gave a very brief address to the gathered media and said not a whole lot happened. For the second consecutive day, business was done through the mediators.
"There was contact between the parties at the mediators office," Fehr said. "We're done for tonight. Expect contact tomorrow by phone or in person."
The gist: It doesn't appear much was accomplished on Thursday -- as if you expected much else.
At this point, what is there to really say? The owners have an offer that might still be on the table. If it is, they have made it pretty clear it is to be taken as is. The players have already said no to the offer as it stands. If a mediator keeps asking if either will re-evaluate their stance, the answer is likely going to remain the same: no.
In other words, instead of having the sides rejecting each other in face-to-face meetings (or via voicemail), they get to do it through a mediator. Sounds just like middle school dating all over again.
Why is it so hard to even gather the two sides just to have a meeting? It's a great question, and the answer is probably indicative of why we're on the 89th day of a lockout. Frankly, there is no answer at this point that would be good enough. It just makes no sense. Sidney Crosby agrees, as he explained to Josh Yohe of the Pittsburgh Tribune-Review.
"For me, it just doesn't make any sense," Crosby said. "Why can't they get in the room and keep talking? I don't know what that mindset is or how that's going to help things progress."
It's a good question that we're all wondering. Perhaps it's because there is no real need to meet right now. Neither side is showing it's willing to budge anymore at the moment, and the only thing that's likely going to make them move will be a deadline. There's no pressure yet. They are all worse procrastinators than 13-year-old me with a book report. "There's still time. Why rush?"
Or it could also have to do with the fact that, for the first time in these negotiations -- rather remarkably I might add -- there actually seems to be a little ill will. These labor talks have been arduous and full mostly of stumbling blocks, but the sides have actually stayed more or less amicable. But Daly and commissioner Gary Bettman were very clearly upset when talks broke off last Thursday, and frustration is bound to mount when each side feels they have a fair and equitable offer out there that the other side won't accept. There's bound to be some built-up anger.
For that reason, and probably that reason only, mediation seems like a good idea at the moment to Eric Macramalla, a sports lawyer and contributor to CBSSports.com.
Mediator caucusing with sides separately rather than having them meet face to face is clear admission how volatile things are - impasse

— Eric Macramalla (@EricOnSportsLaw) December 13, 2012
I've said it before, and I'll say it again. Now isn't the time to hold grudges or let emotions get in the way. When it gets down to serious business like this -- and, man, does the business side of hockey stink -- you have to treat it as such: business.
But at least the lines of communication are staying open. Without that, the hopes of a deal are pretty much null (hopefully, they're not null regardless).
For more hockey news, rumors and analysis, follow @EyeOnHockey and @StubitsCBS on Twitter and like us on Facebook.
The NHL says it's only interested in expanding to Seattle, but here's a look at all the moving...

The NHL says it is only looking toward Seattle for the next expansion team

The 33-year-old defenseman hopes to help find a cure for serious head injuries in athletes
Chicago becomes the latest NHL club to earn an evaluation of $1 billion or more

The city council has approved a $600 million redevelopment project for KeyArena

Arvidsson took off his glove to reveal an engagement ring for one lucky fan