NHL lockout: Your daily hockey fix for Day 107
It's Day 107 of the NHL lockout. The NHLPA is expected to counter to the NHL on Monday, and Donald Fehr might reach for just a little more.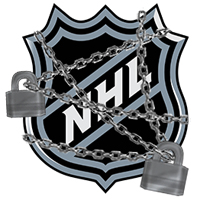 This is Day 107 of the NHL lockout, 2012 edition. Every day, we'll serve up some CBA talk and help you get your hockey fix. Let's begin, shall we?
CBA roundup
•  We should be getting ready for the NHL Winter Classic between the Toronto Maple Leafs and Detroit Red Wings in Ann Arbor, Mich., but that was canceled as a result of the lockout. The NHL All-Star Weekend also has been scrapped, as well as 626 regular-season games.
•  Meetings are going to finally resume formally in New York on New Year's Eve. It's not like midtown Manhattan is crazy this time of year or anything.
There was some uncertainty whether they would resume the meetings on Sunday evening or Monday until it was made clear late on Sunday. Why the delay? Well, the NHLPA needed a little more time to formulate a response to the league's recent proposal. And Bruce Garrioch said it could be because the union is still seeing how much it can grab.
Though the players finished their due diligence with a series of conference calls and face-to-face meetings Sunday morning, Fehr was huddled with his closest advisors working on a counter-proposal that will be tabled Monday.

"I'm sure you're going to see Fehr try to squeeze the league for more," predicted a league executive Sunday. "He still feels he has time to push a few more buttons."

Several players were expected to start arriving in New York late Sunday and early Monday to accompany Fehr to the bargaining session, which is certainly the most pivotal of this 107-day lockout -- the season is hanging by a thread.

"We're going to find out how bad the NHL wants a season," said a union source.
Hey, there's still two weeks or so until a deal needs to be reached, so why get serious now? (Ottawa Sun)
•  At the same time, John Shannon isn't getting his hopes up one bit for what awaits the first face-to-face meetings in a few weeks.
There's always something, isn't there. And you really have to ask, will there always be something? One can only hope there's pressure on both sides to get this deal done.

I have my doubts.

I truly expect very little to happen in the New Year's Eve negotiations. If the Players' Association puts forward major differences from what the NHL proposed on Thursday night, we will see this league go down a path that no one could ever have foreseen.
You have to hope the union knows how precarious this situation is and that they put forth an offer in good faith to try to reach this deal. They have gone this far, so they will probably take it to the wire. But no sense in jeopardizing the situation with an offer that could come across as insulting. (Sportsnet)
•  Why could it go bad on Monday? One word: Escrow. From Elliotte Friedman:
One source said Sunday there were worries that escrow could hit 30 percent if the NHL's proposal of a $60 million US cap was accepted (that includes the one compliance buyout counting against the players' share of hockey-related revenue, as currently proposed). No doubt the league would dispute that (saying that the lower the cap, the less they'd have to pay) but this is why both sides' accountants make money. (CBC)
•  Whether the NHL likes it or not, they are going to have to deal with Fehr to get this deal done, Bruce Arthur says.
Now, though, it's clear: The NHL has to make a deal with Fehr, or lose a season. He set this up from the beginning to ensure that instead of a Ted Saskin as his deputy, perhaps concealing a knife, there was his brother. The negotiating committee wasn't allowed to be a side door, or a back door. The league's attempts to circumvent Fehr -- releasing entire proposals one day after saying they would not negotiate publicly, the Edwards threat, the player-owner meetings themselves -- haven't worked. This is the guy they have to deal with. There was never another option.
Feeling nervous now? (National Post)
•  Here's an interesting quote from NBC Sports Network's president of programming, Jon Miller, concerning the lockout.
"It's been very challenging and very frustrating," Miller said. "We never had any indication that this situation with the NHL was going to last until January. It was always our understanding that this was going to be a tweak and a fix."
It wasn't just you, Miller. It was everybody's understanding. I'm not sold it wasn't the NHL's understanding, either, but then again, with an initial offer like the one it tables, perhaps it was.
Regardless, Miller doesn't seem happy and it's not a really good idea to upset as big a partner as NBC if you're the league. Then again, they did just sign a 10-year TV deal. (Boston Globe)
Hockey fix
We're going to turn our attention to the college game and Minnesota Gophers star (and Florida Panthers prospect) Nick Bjugstad for this pretty awesome dangle and finish on a breakaway. By the way, Minnesota thrashed No. 1 Boston College 8-1.
•  Games have been canceled, and your favorite players are overseas, but you can still see how your team would be doing. PredictionMachine.com uses its play-by-play technology to simulate each game from the original schedule and predict the outcomes. Just because the NHL isn't playing on the ice doesn't mean we can't play the games. So, here are the "results" from the games that were scheduled for Monday.
Monday's schedule
Winner
Winner record
Loser
Loser record
Devils 8
19-16-4
Islanders 0
7-30-7
Senators 4
18-18-3
Sabres 0
14-22-3
Lightning 12
10-24-4
Jets 4
12-21-5
Oilers 2
17-19-9
Wild 1 (overtime)
14-23-7
Penguins 1
28-9-3
Capitals 0
19-19-3
Blackhawks 2
25-11-3
Blue Jackets 0
8-28-6
Rangers 5
25-9-5
Panthers 4 (overtime)
11-25-9
Hurricanes 5
17-22-7
Canadiens 2
15-22-4
Avalanche 5
13-22-4
Ducks 4
13-24-3
Predators 2
25-13-4
Stars 1
10-28-4
Bruins 6
28-8-1
Flames 0
11-24-7
Flyers 8
27-9-3
Coyotes 5
23-11-4
Canucks 2
27-11-2
Blues 1
28-8-1
For more hockey news, rumors and analysis, follow @EyeOnHockey and @StubitsCBS on Twitter and like us on Facebook.
Rage is all the rage in Montreal

Buffalo's 20-year-old phenom pulls off the highlight of the night against Vancouver

The North American love affair with Edmonton's superhuman center continues to grow
The defending Western Conference champion Predators are also heating up early in the year

The Oilers' young star remains seriously unfair

David Kelly, a Toronto-born hockey analyst, has strong advice for Edmonton vs. Chicago game...