NHL lockout: Your daily hockey fix for Day 110
It's Day 110 of the NHL lockout. So mediators are back in the picture and the union could still file a disclaimer of interest down the line.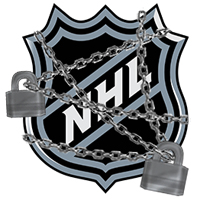 This is Day 110 of the NHL lockout, 2012-13 edition. Every day, we'll serve up some CBA talk and help you get your hockey fix. Let's begin, shall we?
CBA roundup
•  In total, the NHL has wiped 626 games off the schedule, including the Winter Classic, which should have been played Tuesday, and All-Star weekend in Columbus.
•  Negotiations continued well into the morning hours overnight between the NHL and the NHLPA as the deadline for the NHLPA to file a disclaimer of interest came and went. That means they can't do so in the immediate future, but that doesn't mean it can't happen.
The players can once again vote to authorize the executive board to file the disclaimer and if it does, likely won't be just for show this time. Without a deal soon, expect the disclaimer to be filed. Also without a deal soon, you can expect the season to be canceled, so why not blow up the union at that point anyway? (Darren Dreger)
•  While that was the big piece of news everybody was waiting for on Wednesday night, there was a mildly surprising bit that came out in the post-meeting media sessions.
Both Fehr and Bettman said there was progress on some issues but they are still a long way from forging a new collective agreement that would end the 110-day lockout.

It was also revealed a U.S. federal mediator, Scot Beckenbaugh, joined the talks this week as the result of a joint request by the union and the league. The two sides will meet again at 10 a.m. Thursday morning at Beckenbaugh's request.
Ah yes, the return of the mediators. This would mark the third time they have been involved and you have to at least say this for them; when they're involved in the process, the leaks stop and the comments in the media are much more measured. Perhaps the mediator's presence was also enough to convince the union to not file the disclaimer of interest. (Globe and Mail)
•  There clearly remain hurdles for the sides to try to jump before a new deal is reached, it's not just going to come to fruition immediately. But what are they? Elliotte Friedman lists the two biggies: Pensions and what the actual salary cap would be.
It's tough to believe the pensions could be what's holding things up right now but that's where we're at. (CBC)
•  A side product of the salary cap issue listed above is the escrow. Many had suggested the players were seeking to put a cap on escrow but Chris Johnston reported Wednesday night that's not the case.
I'm told one item that hasn't been part of the NHLPA's offers is a cap on escrow.

— Chris Johnston (@reporterchris) January 3, 2013
•  Here's a little dose of optimism in case you were running out of it. It's not so bad that it's impossible to see a deal from here. In fact, all four writers at ESPN think we'll have a season. (ESPN)
Hockey fix
Jan. 3 is a pretty great day in hockey for birthdays; this is the day the great Bobby Hull was born. Here's a spotlight of the Hall-of-Fame legend with plenty of old-school hockey highlights.
•  Games have been canceled, and your favorite players are overseas, but you can still see how your team would be doing. PredictionMachine.com uses its play-by-play technology to simulate each game from the original schedule and predict the outcomes. Just because the NHL isn't playing on the ice doesn't mean we can't play the games. So, here are the "results" from the games that were scheduled for Thursday.
Thursday's schedule
Winner
Winner record
Loser
Loser record
Panthers 7
12-25-9
Sabres 6
14-23-3
Maple Leafs 3
9-26-8
Lightning 2 (overtime)
10-25-5
Capitals 4
20-20-3
Hurricanes 3 (overtime)
17-24-8
Devils 2
20-16-4
Canadiens 1
15-23-4
Flames 2
13-24-7
Wild 1
15-24-7
Flyers 4
28-9-3
Kings 1
24-15-6
Blues 8
29-8-1
Sharks 0
19-17-4
For more hockey news, rumors and analysis, follow @EyeOnHockey and @StubitsCBS on Twitter and like us on Facebook.
Saturday's showdown will serve as a rematch of one of the NHL's first-ever regular season...

Stacia Robitaille says Donald Trump told her in an elevator that she was coming home with...

Vladislav Yeryomenko was the Teddy Bear Toss goal scorer for the Calgary Hitmen
The Golden Knights are finally getting their No. 1 goalie back after a 25-game absence

Washington has won four straight, and the Kings are also on a tear right behind the Lightn...

The NHL says it's only interested in expanding to Seattle, but here's a look at all the moving...