NHL lockout: Your daily hockey fix for Day 28
This is Day 28 of the NHL lockout, 2012 edition. Every day, we'll serve up some CBA talk and help you get your hockey fix.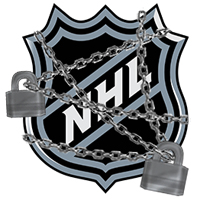 This is Day 28 of the NHL lockout, 2012 edition. Every day, we'll serve up some CBA talk and help you get your hockey fix. Let's begin, shall we?
CBA roundup

• Enjoying your NHL opening weekend? No? Neither are we. The games missed tracker remains stuck at 82 regular season games. More to come, and soon.
• Vancouver Canucks forward Manny Malhotra didn't sign overseas to play during the lockout and has instead decided to get himself involved in the CBA discussions. He considers it to be a valuable learning experience for what is an entirely different world in the NHL.
"If you just want to bury your head and just go to the rink and play hockey and do nothing else, you're missing a world of the behind the scenes of what really goes into a CBA, what goes into the makeup of the league, how the league operates," Malhotra told the Associated Press. "It's an incredible learning experience." [AP]
• Ottawa Senators defenseman Sergei Gonchar has become the latest player to suggest some Russian NHL players may not be willing to return to the league once the lockout comes to an end.
Here's what he recently told ESPN's Pierre LeBrun:
"Yeah, why not? If you think about it, maybe you can put something in the new CBA," Gonchar said. "If the guys feel like it's not fair what's on the table, they might ask [NHLPA executive director] Don [Fehr] to put something in the new CBA to allow them to stay back home. I mean, why not? We don't know where it's going with that new CBA. Everything is possible. That's why I think there is a chance that a guy like Alex might stay back home."
I can think of a reason "why not." Money.
It's big talk, and Gonchar isn't the first to do it (Alex Ovechkin also said it) but these are the kind of comments made to put fear into the other side during a tense labor negotiation. When the lockout ends Ovechkin, Evgeni Malkin, Ilya Kovalchuk, and other Russian superstars will be back in the NHL playing for their respective teams. [Pierre LeBrun, ESPN]
Hockey fix
For your daily hockey fix, a highlight package of one of the best (and in my opinion one of the most underrated and underappreciated) players from the 1990s, Eric Lindros. Is he worthy of a spot in the hockey Hall of Fame?
For more hockey news, rumors and analysis, follow @EyeOnHockey and @agretz on Twitter and like us on Facebook.
The former Boston Bruin was the first black player to play in the NHL

Inclement weather led to the Charlotte Checkers and Bridgeport Sound Tigers playing in front...

The NHL chose the Detroit rocker as its All-Star Game entertainment and not everyone is th...
NHL fans from all over seem to agree on one thing: Hating Kid Rock

The team tweeted on Monday that Shaw would be re-evaluated in 7-10 days

The Montreal forward was hospitalized after taking a Zdeno Chara slap shot to the head