NHL lockout: Your daily hockey fix for day 34
This is Day 34 of the NHL lockout, 2012 edition. Every day, we'll serve up some CBA talk and help you get your hockey fix.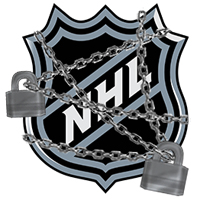 This is Day 33 of the NHL lockout, 2012 edition. Every day, we'll serve up some CBA talk and help you get your hockey fix. Let's begin, shall we?
CBA roundup

•  The games missed tracker remains stuck at 82, but that is expected to increase on Friday after Thursday's talks produced no positive results.
And speaking of Thursday's talks, there are plenty of reactions around the hockey world.
•  Sportsnet's Michael Grange argues that it's always darkest before the dawn and that the two sides have too much to lose:
"But now there's a deadline; a chance to play 82-games starting on our about Nov. 2. Now there's something to lose. Each side is aware of the risks they're taking if they do any true damage to the business they both profit from. There is room to work something out. Both sides are talking about a 50-50 split of HRR, though how to get there is a problem. They both are talking about paying out existing contracts in full -- though how to get there is a problem-- and neither side wants to detonate the business, which should spur compromise in the first two areas." [Sportsnet]
•  Yahoo!'s Nick Cotsonika says the NHL and NHLPA are wasting everyone's time with scare tactics and rhetoric instead of actually negotiating a new deal. [Yahoo]
•  Joe Haggerty of CSSNE thinks the NHL talks resemble the recent NBA labor dispute. That lockout resulted in a shortended season. [CSSNE]
• Sidney Crosby is thinking a little harder about heading over to Europe after Thursday's lack of progress. 
"I think that's something that everyone's got to figure out," said Crosby. "You try to figure out where things stand and I don't think they're in a great spot right now. [Globe and Mail]
•  Montreal Canadiens defenseman Josh Gorges was never that optimistic about the NHL's proposal from earlier in the week.
"They got everyone's hopes up when they said we could start on Nov. 2 and get an 82-game schedule in," Gorges told the Montreal Gazette. "If an 82-game schedule was so important, we could be playing now. They say they want a deal, but they're going to keep us out until they get what they want. It's not about us, it's not about the fans." [Montreal Gazette]
•  Phoenix Coyotes forward Shane Doan on the current state of the talks: "Usually it's give me your money or I'm going to hurt you. Not give me your money and I'm going to hurt you."
Hockey fix
And for your daily hockey fix: Steve Yzerman's double overtime, series-clinching goal against the St. Louis Blues in the 1996 playoffs. The player that Yzerman stole the puck from? That would be Wayne Gretzky. 
For more hockey news, rumors and analysis, follow @EyeOnHockey and @agretz on Twitter and like us on Facebook.
Vladislav Yeryomenko was the Teddy Bear Toss goal scorer for the Calgary Hitmen

The Golden Knights are finally getting their No. 1 goalie back after a 25-game absence

Washington has won four straight, and the Kings are also on a tear right behind the Lightn...
The NHL says it's only interested in expanding to Seattle, but here's a look at all the moving...

The NHL says it is only looking toward Seattle for the next expansion team

The 33-year-old defenseman hopes to help find a cure for serious head injuries in athletes