NHL lockout: Your daily hockey fix for Day 35
This is Day 35 of the NHL lockout, 2012 edition. Every day, we'll serve up some CBA talk and help you get your hockey fix.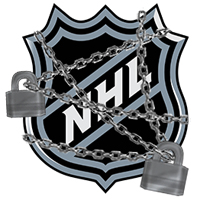 This is Day 35 of the NHL lockout, 2012 edition. Every day, we'll serve up some CBA talk and help you get your hockey fix. Let's begin, shall we?
CBA roundup

• As was expected, the NHL cancelled another week of the regular season schedule on Friday, increasing the missed-game total to 135. The question now is whether they can reach a quick agreement over the next week and end up rescheduling those games, or if they're lost for good with more cancellations to follow.
• Not all of the reactions from this week's talks were of the doom-and-gloom variety. Take, for example, Tyler Dellow, who actually thought this was a good week in the process and that there is a deal to be made. [MC79Hockey]
• TSN's Darren Dreger was also a little more optimistic, writing on Friday night: "Although NHL commissioner Gary Bettman used words like 'setback' and 'total disappointment' to describe the latest round, others around league headquarters are more optimistic -- given the players' willingness to accept a 50-50 revenue split. There's strong belief that if common ground can be found on the systemic issues such as revenue sharing, free agency, salary arbitration, entry-level restrictions and contract length, the 'make whole' concept the NHL put together earlier this week can be mutually molded to close the deal." [TSN]
• Consider Vancouver Canucks forward Chris Higgins to be one of the players disappointed with the NHL's reaction to the three NHLPA proposals on Thursday.
"It's just disrespect," Higgins told Eliott Pap of the Vancouver Sun. "I just don't understand it. We give them three proposals, and they just dismiss them outright. If you break it down, that's about three minutes on each proposal. So it seems like if we don't accept their kind of deal, it's not even something they want to discuss.

"It seems like they don't want to hear anything from our side. Maybe they are better businessmen than we are, but we know a fair deal when we see one. Imagine if we reacted to their proposal in the same way. There would be shock and horror from their side." [Vancouver Sun]
• Patrick Kane nearly signed to play in Europe but changed his mind when progress seemed to be made in the CBA talks. He could reconsider that decision next week. [CSN Chicago]
• Predators forward Paul Gaustad says he hasn't tried to get too positive or negative based on what he hears about the talks. This differs from his teammate, Hal Gill, who called Thursday's talks "a bigger letdown than Fruit Stripe gum." [Tennessean]
Hockey fix
I'd argue Pat LaFontaine was the best American-born hockey player ever. His brilliant career ended far too soon due to injury, but he was always a joy to watch. So here is six minutes of highlights ...
For more hockey news, rumors and analysis, follow @EyeOnHockey and @agretz on Twitter and like us on Facebook.
NHL players are still disappointed they won't be going to skate in PyeongChang

With Artemi Panarin in the mix and a Vezina winner headlining the defense, Columbus can be...

The league's crackdown on faceoff infractions and slashing penalties isn't without some cr...
Joffrey Lupul spent last season on long-term IR but seems to be saying he's healthy

Early playoff trouble has been evident, but the Wild tout an offense capable of making another...

Why walk with skate guards when you can rollerskate instead?