NHL lockout: Your daily hockey fix for Day 40
Let's see what's new on Day 40 of the NHL lockout. Have a look what could have been for Thursday night and a lot of guys getting "Kronwalled."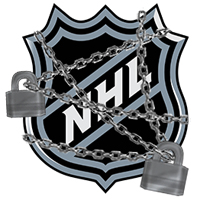 This is Day 40 of the NHL lockout, 2012 edition. Every day, we'll serve up some CBA talk and help you get your hockey fix. Let's begin, shall we?
CBA roundup
•  The lockout has eaten up a total of 232 games -- 97 preseason games and 135 regular-season games. The total is expected to go up on Friday.
•  Today is doomsday for the NHL's 82-game schedule. If a deal isn't reached by the end of today, the NHL has made it clear that an 82-game slate is off the table and thus players start losing paychecks. But not everybody sees that as a bad idea. Jesse Spector embraces a shorter schedule.
A 66-game NHL season, with home and away games against each of the other 29 teams, plus extra home-and-homes with division rivals, would provide more balance to competition than the current setup. Further, a 19.5 percent reduction in the number of regular-season games would mean fewer chances for players to get hurt, helping the league ensure that more stars are available for when the real money is made -- the playoffs.

By starting the NHL regular season on Hockey Hall of Fame weekend, the league could seize a spot on the calendar in the middle of November that is, on the major pro sports scene, fairly dull. (Sporting News)
•  The NHL is locked out, games have already been canceled and your favorite players are overseas. You can still see how your team would be doing. PredictionMachine.com utilizes its play-by-play technology to simulate each game from the original schedule and predict the outcomes. Just because the NHL is not playing on the ice does not mean we cannot play the games. So, here are the "results" from the games that should have been played Thursday night.
Thursday night's schedule
Winner
Winner record
Loser
Loser record
Bruins 5
6-1-0
Ducks 0
4-3-0
Penguins 1
6-1-1
Rangers 0
4-2-1
Flyers 11
3-2-0
Canadiens 8
3-4-2
Jets 2
3-3-1
Panthers 0
4-2-1
Avalanche 2
1-6-1
Blues 1 (overtime)
3-3-0
Stars 4
3-4-1
Canucks 3
5-3-0
Flames 4
2-4-3
Lightning 2
1-4-0
Coyotes 2
3-2-0
Predators 0
4-4-0
•  It's a bit tough to see what we could be watching tonight instead of the next episode of Grey's Anatomy with our wives, but such is life right now. However, Niklas Kronwall doesn't think it has to be much longer.
"I do think there's a deal to be made. I think a lot of guys feel that way. It's just a matter of, can we do it now, or is it going to take some time. I think everybody feels there's no need for this going on right now, but it is what it is, and we just have to stay patient and believe in what we do." (Detroit Free-Press)
•  Thankfully for Kronwall and hockey fans everywhere, Dan Oldfield is here to provide a roadmap for the NHL to find its labor peace in just four days. Now if everybody involved would just take his advice.
Day 1: Steve Fehr and Bill Daly come to the realization that neither the league's nor the player's latest proposals will resolve the outstanding issues, but agree that a combination of the offers can get it done. They will initially agree to meet in person, off the record, and not for publication. (CBC)
•  Or instead of trying to figure out how to split all that revenue up between 30 teams, perhaps they could save themselves all a little trouble -- and money -- if they took Eric Duhatschek's advice and just contracted a few of the money-bleeding teams. I'm not a fan of it, but the argument is there to be made (even if in vain). (Globe and Mail)
Hockey fix
In honor of including Kronwall in today's CBA roundup, we're going to dedicate today's hockey fix to 10 people getting "Kronwalled."
KHL update
The NHLers in the KHL were busy on Wednesday as Alexander Semin got the better of old linemates Alex Ovechkin and Nicklas Backstrom while Evgeni Malkin sniped one home and Ruslan Fedotenko teams up with Alexei Ponikarovsky.
For more hockey news, rumors and analysis, follow @EyeOnHockey and @StubitsCBS on Twitter and like us on Facebook.
NHL fans from all over seem to agree on one thing: Hating Kid Rock

The team tweeted on Monday that Shaw would be re-evaluated in 7-10 days

The Montreal forward was hospitalized after taking a Zdeno Chara slap shot to the head
Tampa Bay is still No. 1 and Vegas is still up there, but a few others are finally catching...

Army filed an opposition to the use of 'Golden Knights' on the last day that it was permitted...

The NBC rinkside reporter is hoping to return in time for the 2018 Olympics