NHL lockout: Your daily hockey fix for Day 44
This is Day 44 of the NHL lockout, 2012 edition. Today has a strong Minnesota Wild flavor, including a look back at the 2003 postseason.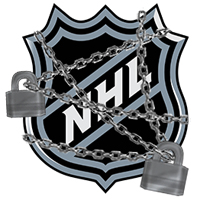 This is Day 44 of the NHL lockout, 2012 edition. Every day, we'll serve up some CBA talk and help you get your hockey fix. Let's begin, shall we?
CBA roundup
•  The lockout has eaten up a total of 423 games -- 97 preseason games and 326 regular-season games after the league announced the cancellation of the entire month of November. The good news is that we probably won't have any more games canceled for a few weeks.
•  Games have been canceled, and your favorite players are overseas, But you can still see how your team would be doing. PredictionMachine.com utilizes its play-by-play technology to simulate each game from the original schedule and predict the outcomes. Just because the NHL isn't playing on the ice doesn't mean we cannot play the games. So, here are the "results" from the games that should have been played Monday night:
Monday night's schedule
Winner
Winner record
Loser
Loser record
Panthers 2
5-3-1
Blue Jackets 1
2-6-2
Wild 6
7-1-1
Capitals 1
4-5-0
•  There remains a lockout, so players are doing what they can not only to pass the time and play some hockey but help out as well, too. I admit to being a bit cynical about athletes and charity, thinking it is something done almost always through the organization requiring it, but my opinion is changing. Over the weekend, some of the game's big names like Zach Parise got together for an exhibition game in Minnesota for 3,000 fans and raised in the neighborhood of $50,000 for Defending the Blue Line, a group that helps support military families pay for costs of hockey. Good stuff. (Minneapolis Star-Tribune)
•  That $50,000 wasn't the only thing to come out of the charity game. There was plenty of more CBA bluster to be blown. Niklas Backstrom, for example, foresees another long lockout -- as in we might still be here in a year from now -- and new Wild defenseman Ryan Suter took a step back from some comments he made recently that were critical of his new boss, Craig Leipold, basically saying his contract wasn't negotiated in good faith.
"I thought a lot about since what I said, I don't question Craig Leipold and Minnesota with regards to negotiating our contracts in good faith. I don't question that. That might have come off wrong. I don't question that. It's just frustrating. We just want to play. We support Don (Fehr) in what he's doing. Obviously you sign a contract, and you want to hold true to that. I think, and I hope, everything works out." (Minneapolis Star-Tribune)
•  If players aren't spending their free time by playing in charity games, they might be playing in the AHL. That's where Capitals goaltending prospect Braden Holtby is staying sharp, and playing in front of his new coach Adam Oates. While he'd rather be in Washington playing on the highest level, he'll take the fallback option of AHL Hershey.
"I'm lucky, I get to play hockey as a professional with the Bears, so I'm not looking at it as a negative personally, but it is tough to swallow as a fan." (SB Nation DC)
•  And for coaches? Well they can take the Claude Julien approach of keeping busy ... getting back to the basics. Julien spent the weekend coaching a team of 8- and 9-year-olds in a league game. And, yes, he led them to victory, a 3-2 win.
"I had a lot of fun today," the 52-year-old Julien said. "It certainly brought back a lot of memories." (Globe and Mail)
Hockey fix
Since today's roundup has a pretty strong Minnesota Wild flavor, we're going to keep it going with the hockey fix. We're revisiting Andrew Brunette's OT winner in Game 7 in 2003 to lead the Wild to the upset of the Avalanche in their first postseason berth. On a side note, this is the last play of Patrick Roy's amazing career.
<iframe width=
KHL update
Pavel Datsyuk being Pavel Datsyuk, need we say more? The Red Wings star playing in the KHL had himself a three-point game on Sunday. Yup, he's pretty good.
For more hockey news, rumors and analysis, follow @EyeOnHockey and @StubitsCBS on Twitter and like us on Facebook.
Stacia Robitaille says Donald Trump told her in an elevator that she was coming home with...

Vladislav Yeryomenko was the Teddy Bear Toss goal scorer for the Calgary Hitmen

The Golden Knights are finally getting their No. 1 goalie back after a 25-game absence
Washington has won four straight, and the Kings are also on a tear right behind the Lightn...

The NHL says it's only interested in expanding to Seattle, but here's a look at all the moving...

The NHL says it is only looking toward Seattle for the next expansion team