NHL lockout: Your daily hockey fix for Day 57
This is Day 57 of the NHL lockout, 2012 edition. We try to figure out where the negotiations stand while rewatching one of the most bizarre moments from last season.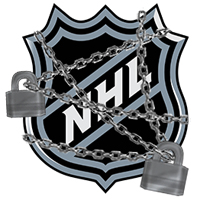 This is Day 57 of the NHL lockout, 2012 edition. Every day, we'll serve up some CBA talk and help you get your hockey fix. Let's begin, shall we?
CBA roundup
•  We're 57 days in, and the games-missed tracker remains at 326 plus the Winter Classic (that game doesn't get added to the total because it could still be played -- it would just be played at Joe Louis Arena as a regular game instead of an outdoor celebration.)
•  Games have been canceled, and your favorite players are overseas, but you can still see how your team would be doing. PredictionMachine.com uses its play-by-play technology to simulate each game from the original schedule and predict the outcomes. Just because the NHL isn't playing on the ice doesn't mean we can't play the games. So, here are the "results" from the games that were scheduled for Sunday night.
Sunday night's schedule
Winner
Winner record
Loser
Loser record
Wild 8
9-6-1
Devils 1
7-5-2
Hurricanes 3
6-10-1
Flames 0
5-8-2
Blackhawks 3
9-4-1
Oilers 2 (overtime)
5-9-4
Sabres 1
4-10-1
Ducks 0 (overtime)
5-9-1
•  Just as talks are expected resume again, Elliotte Friedman takes his best guess to see where we actually stand at the moment. He sees two major issues that still require a lot of work to be done. They have to figure out the core systemic issues such as contracts and other formalities and the first year of the new CBA.
Well, at least they've pretty much got the economic split covered ... (CBC)
As for the first year in that new CBA? It's going to be tough to figure out, even tougher now that it won't be 82 games and the revenue will be reduced.
•  Some feathers were ruffled over the weekend when it was reported the union was actually making an offer based on no income drop for its side in the first year of the CBA even with a shortened season. That's not exactly true, as the union wants to work a deal for a full season then adjust for the real situation when necessary. From Chris Johnston of the Canadian Press:
According to Fehr, the NHLPA is pushing for the sides to draft the framework of a CBA as though a full season is going to be played before later determining how to account for the shortened schedule in Year 1. The offer put forward by the union on Wednesday called for the players' share to jump in fixed increments of 1.75 per cent each season starting from the $1.883-billion they took in collectively last year. (TSN)
•  Way back when the NHLPA announced that Donald Fehr was going to lead them, I was concerned how that would turn out since he was always considered to be so good at his job (getting the best for the players) that it was detrimental to the sport itself, it usually goes nowhere. It took some time, but we're starting to see building resentment for Fehr, who is becoming a lightning rod for criticism much like Bettman. From Chuck Gormley:
But what about the issue of Fehr misrepresenting the players?

That seems like a stretch when as many as 13 players sat in on talks on Wednesday and four others, including former Capital and current Ranger Jeff Halpern, were in New York for Friday's discussions. Four NHL owners, including the Capitals' Ted Leonsis, are on the NHL's negotiating committee. (CSN Washington)
•  Naturally, Fehr isn't the only lightning rod remaining, though. THe league has been trying to make him out to be the problem but the players aren't all buying it.  Alex Ovechkin relayed that in a way that only Alex Ovechkin can.
Hahaha Whata clowns!!!....Don tell it all.Bla blah ...make a deal instead of talk about Don!

— Alex Ovechkin (@ovi8) November 10, 2012
Hockey fix
This is easy to look back at now and laugh. But it was in the heat of the ending stretch last season, when perhaps the year's most bizarre play happened between the San Jose Sharks and the Los Angeles Kings. You don't see this every day.
For more hockey news, rumors and analysis, follow @EyeOnHockey and @StubitsCBS on Twitter and like us on Facebook.
Stacia Robitaille says Donald Trump told her in an elevator that she was coming home with...

Vladislav Yeryomenko was the Teddy Bear Toss goal scorer for the Calgary Hitmen

The Golden Knights are finally getting their No. 1 goalie back after a 25-game absence
Washington has won four straight, and the Kings are also on a tear right behind the Lightn...

The NHL says it's only interested in expanding to Seattle, but here's a look at all the moving...

The NHL says it is only looking toward Seattle for the next expansion team