NHL lockout: Your daily hockey fix for Day 63
This is Day 63 of the NHL lockout, 2012 edition. Every day, we'll serve up some CBA talk and help you get your hockey fix. Let's begin, shall we?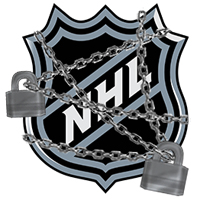 This is Day 63 of the NHL lockout, 2012 edition. Every day, we'll serve up some CBA talk and help you get your hockey fix. Let's begin, shall we?
CBA roundup
• Welcome to Day 63 of the NHL lockout. We have missed 326 regular season games and the Winter Classic. This is getting old.
• Are the owners starting to crack?
The big story of the day seems to be coming out of Philadelphia. Frank Seravalli of the Philadelphia Daily News reports that Flyers owner Ed Snider, having soured on the process and commissioner Gary Bettman, is trying to team up with other mid-market owners (including their long-time rivals from Pittsburgh) to sway the board of governors to a swift resolution.
From the Daily News:
Multiple sources confirmed to the Daily News on Friday that Snider, once seen as a supporter of the Bettman's push to rein in the players' share of revenue, has soured on the process after it became apparent that a deal would not be brokered in time for a Dec. 1 puck drop.

Put simply: Snider and the rest of the NHL's owners were promised a big win by Bettman, with player concessions on revenue division and contracting rights. The best they'll get now is a small win in revenue split - coupled with a demoralized fan base and all-important corporate sponsors that are ready to quit.

A source familiar with Snider's thinking characterized it as: "If this is the deal we are going to get, what's the point of dragging this out?"
"What's the point of dragging this out" is a question that I've been asking for quite a while. Seravalli also reports that Snider has also proposed the use of a high-profile moderator. One suggestion was reportedly former President Bill Clinton, which would be ... interesting to say the least. [Philadelphia Daily News]
• Just how far apart are the NHL and NHLPA in the eyes of the league? Take a look at some of the data obtained by Michael Russo of the Star Tribune in Minneapolis. The charts that he obtained show the league thinks they are much further apart than the players do. [Star Tribune]
• Did NHL owners really "win" the last lockout? [Cult of Hockey]
• The NHLPA wants to resume the CBA talks next week. This, of course, might differ from Gary Bettman's timeline and his proposed two-week moratorium on talks.[Renaud Lavoie on Twitter]
Hockey fix
Teemu Selanne said this week that he would "probably" retire if the season is lost. He also made our top-50 player list at No. 25. We hope we get to see him play many, many more games. In case we don't ...
For more hockey news, rumors and analysis, follow @EyeOnHockey and @agretz on Twitter and like us on Facebook.
The expansion Golden Knights officially moved into first place in the NHL on Sunday

The former Boston Bruin was the first black player to play in the NHL

Inclement weather led to the Charlotte Checkers and Bridgeport Sound Tigers playing in front...
The NHL chose the Detroit rocker as its All-Star Game entertainment and not everyone is th...

NHL fans from all over seem to agree on one thing: Hating Kid Rock

The team tweeted on Monday that Shaw would be re-evaluated in 7-10 days