NHL lockout: Your daily hockey fix for Day 66
This is Day 66 of the NHL lockout, 2012 edition. Tensions are rising and Hockeyville was canceled. It's also Max Pacioretty's birthday so we bring you some of his non-Chara moments for today's fix.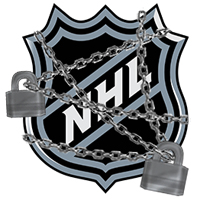 This is Day 66 of the NHL lockout, 2012 edition. Every day, we'll serve up some CBA talk and help you get your hockey fix. Let's begin, shall we?
CBA roundup
•  We're 66 days in, and the games-missed tracker remains at 326, plus the Winter Classic. (That game doesn't get added to the total because it could still be played -- it would just be played at Joe Louis Arena as a regular game instead of an outdoor celebration.)
•  The two sides ended their lockout stall by meeting for the first time in more than a week on Monday, but it was brief. That meeting is likely to yield more talks and perhaps a full offer from the NHLPA in the coming days, but right now the season is really in "grave jeopardy" per Howard Berger.
"Unless the players come off their stance on contract issues in the very near future, the prospect of a shortened schedule is unlikely," I was told. "It isn't a stretch -- in my opinion -- to say the [2012-13] season is in grave jeopardy."

That may not come as a bulletin. What I was next told, however, did catch me off guard. "I spoke on the weekend with a high-ranking player and a well-known player agent," said my source. "They echoed the same thought -- that players are willing to sacrifice the season unless the league moves off its contract demands. I'm sure they weren't speaking for the entire NHLPA membership, but they did reflect the strategy of Donald Fehr. I will tell you -- as I told them: There isn't much wiggle room on the league's part. Unless Fehr comes back with some new ideas, the players may get their 'wish.'" (Berger Bytes)
•  There is no doubt things are getting a little nastier the longer this drags on. You had Ian White calling Gary Bettman an idiot then Kris Versteeg referring to Bettman and Bill Daly as cancers who need to be removed after this lockout ends. Then there's what's actually going on INSIDE the negotiating room. From Elliotte Friedman:
So what happened at the end of the Nov. 9 bargaining session, one that necessitated a meeting the next day between Bill Daly, Steve Fehr and Kevin Westgarth to calm the waters? As talks were falling apart, there was a verbal debate between Wild owner Craig Leipold and unsigned free-agent defenceman Chris Campoli, both of whom were upset by how things were going. Concerned things were going to escalate, Bettman stepped in. Then, some words were exchanged between him and Winnipeg Jets defenceman Ron Hainsey.
For the record, Friedman reported that Campoli said it was being blown out of proportion, but clearly frustrations are only mounting. (CBC)
•  Of course one simple solution to end the frustrations would be to just get back on the ice and play again, sans a new CBA. Donald Fehr suggested it from the beginning but the owners balked. However Jesse Spector has a few wrinkles to add that could make that idea palatable, and equitable, for everybody.
The obvious question about how to start a new season is how to make the financial system work, but the NHL already has a mechanism to handle this: the escrow system of the last CBA. It's pretty simple, really. Pay all players according to their current contracts, which already are tied to the NHLPA's share of hockey-related revenue, and put everything into escrow above the 50 percent threshold of HRR that is the NHL's baseline in negotiations. Once a new deal is negotiated, pay the players what they are owed, including "make-whole" shares, out of that escrow pool.

In addition to their quest to pay players less money, NHL owners have sought stricter rules for the way contracts are written. For an intermediate deal to play now and sort out the CBA later, the best solution would be to put those rules in place for the players who still have to sign 2012-13 contracts, then give them the chance to opt out after a new CBA is signed. (The Sporting News)
•  Andre Richelieu, a professor at Laval University, doesn't like what he's seeing in the lockout in regards to the way the NHL is treating the fans, as he told Roy MacGregor.
"The message the NHL has sent is that 'we are stupid,'" he says. The NHL cannot possibly have any other opinion, he says, because the league has previous proof -- two earlier lockouts -- that the league can treat its fans in a cavalier way and they will always come back.

"That is the calculation they make," Richelieu says. "When they say 'We have the best fans in the world' the presumption is that the fans will come back. That is the best example of insult and marketing myopia I know.

"From a sports-marketing point of view I think the NHL is about to realize that the last word is what the fans have. It is consumer power. When the consumers decide to act, to send a message to the organization, then the organization has no other choice but to change things." (Globe and Mail)
•  We don't always remember all the people who rely on the NHL for work, there are the announcers as well. Sure, they probably don't struggle the way other employees will without hockey but they still have a hard time filling their time. Take Capitals announcer Joe Beninati, for example. Dan Steinberg writes it's not all cocktails and beaches. (Washington Post)
• Add another casualty to the lockout: Kraft Hockeyville for next year. The yearly expedition that includes an NHL exhibition game in smaller towns across Canada won't happen because of the lockout uncertainty. Kraft will still give to minor hockey across Canada, though. (Newswire)
Hockey fix
Monday was Patrick Kane's birthday so we brought to you one of his finest moves. Tuesday is Max Pacioretty's 24th birthday so we bring you something from his vault. And no, it's not the incident with Zdeno Chara. How about his hat trick against the Islanders last season?
Simulated scores
•  Games have been canceled, and your favorite players are overseas, but you can still see how your team would be doing. PredictionMachine.com uses its play-by-play technology to simulate each game from the original schedule and predict the outcomes. Just because the NHL isn't playing on the ice doesn't mean we can't play the games. So, here are the "results" from the games that were scheduled for Tuesday night.
Tuesday night's schedule
Winner
Winner record
Loser
Loser record
Devils 2
10-6-2
Canadiens 1 (overtime)
7-12-3
Oilers 4
8-9-4
Stars 0
4-16-3
Wild 7
10-9-1
Flames 2
6-11-2
Sharks 3
8-9-3
Blackhawks 1
11-6-1
For more hockey news, rumors and analysis, follow @EyeOnHockey and @StubitsCBS on Twitter and like us on Facebook.
Saturday's showdown will serve as a rematch of one of the NHL's first-ever regular season...

Stacia Robitaille says Donald Trump told her in an elevator that she was coming home with...

Vladislav Yeryomenko was the Teddy Bear Toss goal scorer for the Calgary Hitmen
The Golden Knights are finally getting their No. 1 goalie back after a 25-game absence

Washington has won four straight, and the Kings are also on a tear right behind the Lightn...

The NHL says it's only interested in expanding to Seattle, but here's a look at all the moving...