NHL lockout: Your daily hockey fix for Day 7
This is Day 7 of the NHL lockout, 2012 edition. Every day, we'll serve up some CBA talk and help you get your hockey fix. Let's begin, shall we?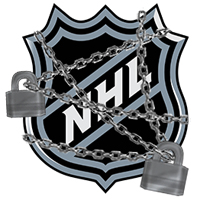 This is Day 7 of the NHL lockout, 2012 edition. Every day, we'll serve up some CBA talk and help you get your hockey fix. Let's begin, shall we?
CBA roundup
•  The games-missed counter, for the time being, remains at 60 exhibition games.
•  NHL deputy commissioner Bill Daly spoke with a couple of Tampa Bay reporters on Friday and, when asked if public opinion matters, insisted that, yes, the league does indeed care what its fans think.
"Yeah, we care what our fans think," said Daly via Damian Cristodero of the Tampa Bay Times. "Ultimately, we have to do an agreement that makes sense for the league and from which the league can grow and from which our franchises can be healthy and stable, and ultimately that will benefit the fans and will benefit the players. But of course we care what our fans think, and we are cognizant of that and that's why they need to hear our message as well as the Players' Association's."
Of course, the cynic might counter by saying if they really cared they would be back at the negotiating table and not throwing around threats of canceling the Winter Classic as early as November. As we've said before: Fans will always come back because fans always do. The NHL knows this. The players know this. And that's why all the angry fist-shaking the fans do isn't going to make much of an impact in these talks. [Tampa Bay Times]
•  And, speaking of that Winter Classic threat, Jesse Spector of The Sporting News thinks the threat from commissioner Gary Bettman is cruelly brilliant from the owners' perspective because the players would absolutely use the game as leverage in any talks. [Sporting News]
•  The NHLPA presented its case to the Alberta Labor Board on Friday as to why the lockout should be illegal (this path already proved futile in Quebec), and it produced what has been perhaps our favorite line from this entire mess.
Presented without any additional comment:
Honest to God: After Daly tells NHL lawyer that 23 of 30 NHL teams are in US, lawyer asks "how many does that leave in Canada."

— Rob Tychkowski (@SUN_TYCHKOWSKI) September 21, 2012
•  Carolina Hurricanes players are still working out with one another, and they're doing so in some fancy NHLPA gear. [Canes Country]
Hockey fix
For your daily hockey fix, we go back to 1980 and this bench clearing brawl between the Pittsburgh Penguins and Edmonton Oilers at the old Civic Arena. You don't see this anymore in the NHL (and that's not a bad thing).
For more hockey news, rumors and analysis, follow @EyeOnHockey and @agretz on Twitter and like us on Facebook.
The University of Denver star and Hobey Baker Award winner is drawing interest

Intrigue is high in Arizona after a wild offseason, but expectations should still be tempe...

Players are set to give personalized messages for Adidas' former hockey equipment brand
The 40-year-old center is returning to the Wild after a successful run in Pittsburgh

Edmonton locks up its 21-year-old RFA a month after McDavid's historic extension

Even with a new coach and added veteran help, the Canucks have a long road ahead