NHL lockout: Your daily hockey fix for Day 81
It's Day 81 of the NHL lockout. A little -- just a little -- cold water on the excitement of Tuesday. Plus, simulated scores and standings.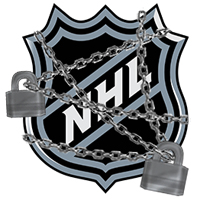 This is Day 81 of the NHL lockout, 2012 edition. Every day, we'll serve up some CBA talk and help you get your hockey fix. Let's begin, shall we?
CBA roundup
•  The NHL has now canceled 422 regular-season games, lost the Winter Classic in Ann Arbor, Mich., and the All-Star weekend in Columbus.
•  In the wrapup of Tuesday night's meeting -- described as the best day so far -- Adam Gretz shared this story about the impact the Penguins, specifically Sidney Crosby and Ron Burkle had. But it's so good we'll share it again. From Rob Rossi:
The sources said Burkle and Crosby shared the belief that players needed to hear from new owners because of the narrative that a handful of hard-line owners -- the Boston Bruins' Jeremy Jacobs has gained the most publicity in this category -- were hijacking the process.

Burkle, Lemieux and Crosby are aware they risk pushback from their respective sides for trying to establish trust, but they felt that risk was worth the reward, the sources said. (Pittsburgh Tribune-Review)
•  Just when people are starting to feel safe enough to get somewhat excited, a little cold water is necessary to keep everyone in check. While this isn't a huge bucket of glacier water, it's a small check courtesy of the NHLPA Larry Brooks.
As such, even after 7 1/2 hours of interaction between six owners and 18 players, the 2012-13 season remains in jeopardy.

"I don't know ... I've been optimistic before and nothing has come of it," a source on the NHLPA side told The Post after the meeting. "I'll feel a lot better when I actually see what the league is willing to give."
A reality check is probably best at this point. It's not like they actually struck a deal on Tuesday. (New York Post)
•  It's kind of funny to look back at this now after Tuesday's low-expectation meeting shot expectations through the roof. The tenor going into Tuesday was anything but positive, as Elliotte Friedman explained.
This is going to go down as the "What Not To Do" negotiation taught in business schools for the next 150 years. The league complains star players aren't at the bargaining table, then walks away after 10 minutes when Sidney Crosby, Iginla and Jonathan Toews show up. The players delay negotiations, then say they'll play under the previous collective bargaining agreement when they know there's zero chance the owners are going to go for that.

It's ridiculous. It's why we are where we are. (CBC)
•  One of the more interesting stories to develop in recent days was the suggestion that NHL COO John Collins, who has been absolutely instrumental in the league's rise to record revenue, was unhappy with the lockout and considering quitting. He denied it directly to Pierre LeBrun.
"Not true," Collins said in an email to ESPN.com. "No one is/will be happy until we reach a long-term agreement that returns our focus to growing the game/revenues."
The mastermind behind the Winter Classic, Collins is largely responsible for growing the NHL's revenues to $3.3 billion in 2011-12. He also guided the launch of the NHL Network in the U.S. and the NHL Network online. (ESPN.com)

Hockey fix
It's Day 81, and we like some semblance of significance around here. So we're going to show you all the goals scored last season by No. 81 of the Toronto Maple Leafs, Phil Kessel.
Simulated scores
•  Games have been canceled, and your favorite players are overseas, but you can still see how your team would be doing. PredictionMachine.com uses its play-by-play technology to simulate each game from the original schedule and predict the outcomes. Just because the NHL isn't playing on the ice doesn't mean we can't play the games. So, here are the "results" from the games that were scheduled for Wednesday night.
Wednesday night's schedule
Winner
Winner record
Loser
Loser record
Rangers 5
16-8-5
Capitals 4
13-13-2
Jets 3
9-13-4
Bruins 2
20-5-0
Coyotes 1
16-7-0
Wild 0
10-15-3
Ducks 2
10-15-1
Panthers 0
10-13-4
As previously promised, since it's Wednesday, here are the updated simulated standings in each conference.
Standings
Place
East
West
1
Pittsburgh (20-5-2)
Detroit (20-5-1)
2
Boston (20-5-0)
Vancouver (19-6-1)
3
Philadelphia (19-5-1)
Los Angeles (16-9-4)
4
N.Y. Rangers (16-8-5)
Nashville (16-9-3)
5
Ottawa (14-10-2)
Chicago (16-8-2)
6
Washington (13-13-2)
Phoenix (16-7-0)
7
Carolina (11-16-5)
St. Louis (15-7-1)
8
New Jersey (12-10-2)
San Jose (11-13-4)
9
Montreal (11-13-4)
Edmonton (10-13-5)
10
Florida (10-13-4)
Minnesota (10-15-3)
11
Winnipeg (9-13-4)
Anaheim (10-15-1)
12
Buffalo (8-15-1)
Calgary (8-14-2)
13
Tampa Bay (4-19-6)
Colorado (6-18-22)
14
Toronto (4-19-6)
Dallas (5-22-5)
15
N.Y. Islanders (4-21-5)
Columbus (4-19-3)
For more hockey news, rumors and analysis, follow @EyeOnHockey and @StubitsCBS on Twitter and like us on Facebook.
The former Boston Bruin was the first black player to play in the NHL

Inclement weather led to the Charlotte Checkers and Bridgeport Sound Tigers playing in front...

The NHL chose the Detroit rocker as its All-Star Game entertainment and not everyone is th...
NHL fans from all over seem to agree on one thing: Hating Kid Rock

The team tweeted on Monday that Shaw would be re-evaluated in 7-10 days

The Montreal forward was hospitalized after taking a Zdeno Chara slap shot to the head