NHL lockout: Your daily hockey fix for Day 94
This is Day 94 of the NHL lockout. Jeremy Jacobs sends Christmas cards, Sidney Crosby plays Dek hockey and getting in the Juniors spirit.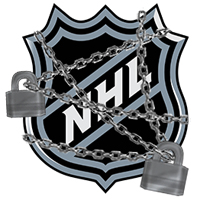 This is Day 94 of the NHL lockout, 2012 edition. Every day, we'll serve up some CBA talk and help you get your hockey fix. Let's begin, shall we?
CBA roundup
•  The NHL has now wiped out 526 regular-season games, lost the Winter Classic in Ann Arbor, Mich., and the All-Star weekend in Columbus.
•  You probably have a lot of questions right now with the lockout and where this is headed. When would the season be canceled? What are the league's sponsors thinking? Chris Botta -- who has been one of the best and most even-handed reporters in this lockout -- has the answers to the questions like this:
How about arenas? Don't arena managers need to start filling dates?

They do, but it has been nearly impossible when the NHL has, in most cases, canceled games only two weeks at a time and with little lead time. For example, the scrapping of Dec. 15-30 games came on Dec. 10; games scheduled for Dec. 1-14 were canceled only on Nov. 23. The biggest cut came Oct. 26, when the first 326 games of the season, through Nov. 30 were called off.
It's a good FAQ to catch up to speed. (Sporting News/Sports Business Journal)
•  Pierre Lebrun has had enough of the lockout frustration to the point that he's banging his head against the wall. But he doesn't blame the NHL or the NHLPA; he blames both of them.
Looking back, the NHL made a terrible strategic mistake back in July with an original offer that asked for players to accept 43 percent of hockey-related revenue, down from the 57 percent it had in the previous deal. I cannot tell you how many level-headed NHL players -- not militants but rather moderates -- have told me repeatedly how that first offer from the NHL in July felt like a punch to the head and galvanized the player membership in a way in which NHLPA executive director Don Fehr likely could have never managed on his own.

That offer set the tone for the level of mistrust that has plagued what should have been a simpler negotiation, the players knowing deep down all along that they'd be accepting a 50-50 split of revenues.

On the other side of things, Fehr is also showing his true colors of late. The longtime baseball union leader seems hard to pin down. It just seems like whenever the league moves on what Fehr deemed a critical issue -- such as funding the "make-whole" provision and then upping it to $300 million -- the NHLPA boss finds new demands to throw the league's way, the latest being his desire to cap escrow as part of the transition rules. (ESPN.com)
•  Bruins owner Jeremy Jacobs has been vilified in this lockout as the most ruthless and hard-liner owner in these talks. But who says he doesn't have a soft side, even if it's a bit, ummm, lacking in self-awareness. Check out this quick note from Fluto Shinzawa.
Bruins players recently received Christmas cards from Jeremy Jacobs. Doubt those are going on any mantles.
Christmas spirit or not, that takes a lot of gall from Jacobs with what's going on right now and how the players from all across the league feel about him. (Boston Globe)
•  We call this next batch of links "How I've spent my Winter Vacation, by NHL Players."
Maple Leafs forward Joffrey Lupul won't be spending it in the KHL anymore. He tried it out and now that he's back in North America thanks to the holiday break, he doesn't want to go back.
"I wanted to play somewhere, that opportunity came, I went. It was probably a little more difficult than I thought, with the language barrier and living in a new country. It was a little worse than I bargained for," Lupul explained.
At least he tried. (Sportsnet)
•  While Sidney Crosby isn't sitting in on the negotiations and expressing his opinions on the lockout, he is finding time to play Dek hockey ... between the pipes.
"My buddy plays in the league there. I talked to him about playing," Crosby said. "I played a lot of goalie in street hockey growing up and stuff. Just asked if he needed a goalie. He said sure and I came out. It was cool."
There is even a picture to prove it.
•  Lightning forward and the NHL's top goal-scorer Steven Stamkos has stayed in North America from the beginning, so how has he been getting his hockey in? By playing in a beer league with his dad in Markham, Ont.
"There's a couple times when I've had to take a little mustard off the shot," Stamkos said, adding that former teammate Steve Downie and Leafs alum Dan Daoust play in their games.

"But it's great for my Dad and his buddies. A lot of them haven't had the chance to skate with NHL players before. It's fun for me to get out there and skate with those guys as well."
Even still, those poor, poor guys. (Globe and Mail)
•  Lastly we have Sharks forward Ryan Clowe, who was back at the HP Pavilion on Monday night. That's because he's a coach for the San Francisco Bulls of the ECHL and they just played to a packed Shark Tank.
"It was pretty weird, actually. I think more than anything, I just miss being out there," Clowe said.
We all do, Ryan, even fans of the Kings. (CSN Bay Area)
Hockey fix
We're starting to get into the World Juniors spirit, so let's look back at an incredible save from Canadian goaltender Mark Visentin in last year's bronze-medal game vs. Finland. That's just pure instinct.
Simulated scores
•  Games have been canceled, and your favorite players are overseas, but you can still see how your team would be doing. PredictionMachine.com uses its play-by-play technology to simulate each game from the original schedule and predict the outcomes. Just because the NHL isn't playing on the ice doesn't mean we can't play the games. So, here are the "results" from the games that were scheduled for Tuesday night.
Tuesday night's schedule
Winner
Winner record
Loser
Loser record
Ducks 5
11-19-2
Islanders 4 (overtime)
6-25-6
Kings 3
20-12-6
Red Wings 2
22-8-2
Blues 5
22-7-1
Coyotes 4
20-8-0
Predators 1
19-12-4
Lightning 0 (overtime)
8-20-4
Blackhawks 7
21-10-3
Wild 0
13-18-5
Oilers 1
13-17-8
Maple Leafs 0 (overtime)
7-22-7
Sharks 2
16-14-3
Canucks 1
21-10-2
For more hockey news, rumors and analysis, follow @EyeOnHockey and @StubitsCBS on Twitter and like us on Facebook.
The former Boston Bruin was the first black player to play in the NHL

Inclement weather led to the Charlotte Checkers and Bridgeport Sound Tigers playing in front...

The NHL chose the Detroit rocker as its All-Star Game entertainment and not everyone is th...
NHL fans from all over seem to agree on one thing: Hating Kid Rock

The team tweeted on Monday that Shaw would be re-evaluated in 7-10 days

The Montreal forward was hospitalized after taking a Zdeno Chara slap shot to the head