NHL lockout: Your daily hockey fix for Day 96
It's Day 96 of the NHL lockout. Canadian Prime Minister Stephen Harper is sad, and Devin Setoguchi probably was, too, after his shootout fail last season.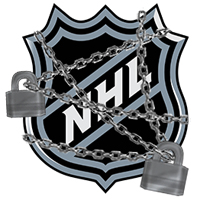 This is Day 96 of the NHL lockout, 2012 edition. Every day, we'll serve up some CBA talk and help you get your hockey fix. Let's begin, shall we?
CBA roundup
•  The NHL has wiped out 526 regular-season games, lost the Winter Classic in Ann Arbor, Mich., and the All-Star weekend in Columbus.
•  First there was President Barack Obama speaking up on the lockout, urging the owners and players to get a deal done for the fans. His Canadian counterpart, Prime Minister Stephen Harper, is just sad.
Harper says he finds the NHL's labour dispute sad for the players who've worked hard since childhood to get to where they are. But he adds he also feels bad for the team owners, who he says hold the positions they do because of their love for the sport.

The prime minister says he's especially sad to see relations between owners and players fractured to a point where the national sport could be in peril.
Come on, guys. You can't make the PM sad. (Sportsnet)
•  This will probably come as a surprise to you (sarcasm alert), but Gary Bettman is the worst commissioner in major sports. That's the case made by Jonathan Mahler, at least.
The NHL, however, is not the NBA. It's a badly broken league, and much of the damage has been inflicted by its own commissioner. By pushing teams into unnatural markets -- ice hockey doesn't belong in Phoenix any more than beach volleyball belongs in Winnipeg -- Bettman created a huge financial gap between franchises that he's now trying to redress by taking money out of the players' pockets.

Instead of viewing his job as the custodian of a sport with a long and proud tradition -- the Stanley Cup has been around since the 19th century -- and a deeply devoted fan base, Bettman is acting like the chief executive of a restaurant chain who can't stop looking for new markets to exploit, regardless of whether there's demand for his product. This hasn't worked for the NHL any better than it worked for Krispy Kreme.
Is that completely fair? Probably not, expansion to the South started before Bettman took office, but point taken otherwise. (Bloomberg)
•  So, where do we go from here in the labor talks? We wait. Yup, this has become the dumbest (my emphasis) waiting game in history, writes Elliotte Friedman.
The second thing the NHL missed was Fehr's history of waiting until the last second to make deals. Whatever mistakes the league made in this process, it wanted to be playing by now. We've talked about the Proskauer Rose playbook and how this is all scripted by "the law firm that's ruining sports." But I really believe this has gone further than Bettman wanted it to, which is why he looks so frustrated. Now Fehr is controlling the tempo and has convinced his constituency that the owners will make final concessions at the end. A lot of players don't like how long this is taking yet they seem to believe that.

Hence, the NHL's change in strategy. It's going to wait.
Go for the take on the waiting game, stay for the always insightful 30 Thoughts. (CBC)
•  The argument has been made from the beginning by both the NHLPA and various writers that the biggest key to future success in a new CBA is more robust revenue sharing. Gary Belsky took that a step further in a rather strong attack of the NHL.
More to the point, contraction might not be necessary if NHL owners would only grow up. The problem in hockey, as ESPN The Magazine's Peter Keating recently explained, is that NHL owners don't share enough of their own money with each other. And share they must, because the nature of the NHL's "popularity" in the U.S.-intense interest among small pockets of local fans, consistent disinterest otherwise—translates into paltry national TV contracts. As a result, Keating writes, NHL teams "share a far tinier proportion of their revenues than teams in other sports do, because NHL clubs rely much more on local media deals for money than on national TV contracts." So big-market teams, with lots of local TV money, spend more on player salaries, forcing small-market owners to choose between paying their players more than they can afford or putting a subpar product on the ice. Either choice has unpleasant financial consequences."
The entire argument is a little flawed, but the idea behind it remains. Revenue sharing is where the biggest impact for small-market owners will be felt, not anything else. At least Bill Daly said they are basically "there" on revenue sharing, which will be increased. (Time)
•  The lockout is starting to eat at the number of season-ticket holders in Pittsburgh. A total of 45 ticket holders have given up their season plans thanks to the impasse. But no worries, there are just 9,500 fans waiting to grab those tickets. As a whole, the league will suffer but some of the bigger, strong markets should do fine. This is pretty much proof. (Pittsburgh Post-Gazette)
•  It seems all that's left to be saved of a season at this point is 48 games. To some, it's just too short and not meaningful enough to be called a "season." But don't discount the virtues of a short season, former Senator Shaun Van Allen says.
"I think the times will be more exciting," said the 45-year-old former Senator. "I think some of the weaker teams would jump at the chance to play a 48-game season, because maybe they get off to a decent start and they can somehow get in the playoffs." (Ottawa Sun)
Hockey fix
Oh, Devin Setoguchi. This shootout attempt from last season might not have been the absolute worst we've ever seen, but it was pretty embarrassing, surely.
Simulated scores
•  Games have been canceled, and your favorite players are overseas, but you can still see how your team would be doing. PredictionMachine.com uses its play-by-play technology to simulate each game from the original schedule and predict the outcomes. Just because the NHL isn't playing on the ice doesn't mean we can't play the games. So, here are the "results" from the games that were scheduled for Thursday night.
Thursday night's schedule
Winner
Winner record
Loser
Loser record
Bruins 9
25-7-1
Jets 0
11-18-4
Rangers 1
22-9-5
Panthers 0 (overtime)
10-19-7
Capitals 5
17-15-2
Canadiens 4
13-20-4
Predators 3
20-12-4
Hurricanes 2
14-19-6
Ducks 3
12-19-2
Lightning 2
8-21-4
Red Wings 3
23-8-2
Islanders 0
6-26-6
Canucks 7
22-10-2
Wild 0
13-19-5
Blues 1
23-7-1
Coyotes 0 (overtime)
20-8-1
Oilers 6
14-17-8
Sabres 0
11-19-2
Sharks 1
17-14-3
Kings 0
20-13-6
For more hockey news, rumors and analysis, follow @EyeOnHockey and @StubitsCBS on Twitter and like us on Facebook.
The city has already received approval from the NHL to file for an expansion team

Bovada says the two nicknames are favored to be used, with Rainiers coming in third place

Here's everything you need to know to watch the NHL's marquee midseason event
The expansion Golden Knights officially moved into first place in the NHL on Sunday

The former Boston Bruin was the first black player to play in the NHL

Inclement weather led to the Charlotte Checkers and Bridgeport Sound Tigers playing in front...