NHL lockout: Your hockey fix for Day 95
It's Day 95 of the NHL lockout. We have a big game of chicken, the NHLPA strategy might backfire and could the Olympics be in jeopardy?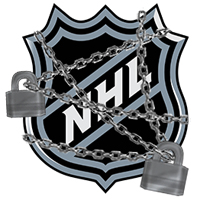 This is Day 95 of the NHL lockout, 2012 edition. Every day, we'll serve up some CBA talk and help you get your hockey fix. Let's begin, shall we?
CBA roundup
•  The NHL has now wiped out 526 regular-season games, lost the Winter Classic in Ann Arbor, Mich., and the All-Star weekend in Columbus.
•  So there hasn't been much talk about, well, many talks lately. That's because there haven't been any. On Tuesday Bill Daly and Steve Fehr reached out to one another to at least touch base but nothing furter was set up. Bruce Garrioch compares this ridiculous stalemate to a game of chicken. I love chicken (both the food and the game) but this is the worst game of chicken I've ever seen.
"It disappoints me and saddens me because it's just more days lost," wrote Daly. "But, I'm not sure what meeting does from our side. There is nothing left to give and its clear Don is aiming toward a 'deadline' showdown."

Whether the league is going to give Fehr a deadline is up in the air. There has been talk Bettman is getting ready to give Fehr a "drop-dead" date to save a 48-game schedule in the near future. It may be required to get back to the table.
Considering that all of the big pushes in negotiations have come around important calendar moments -- i.e. the 82-game schedule, the 60-game schedule -- that thinking is right on. Pretty clearly both sides need that level of pressure to get in the bargaining spirit. It's just so frustrating. (Ottawa Sun)
•  It seems like we're destined to go to court before the lockout is settled as the NHLPA continues to vote on whether to allow the executive board to file a disclaimer of interest after the NHL filed a lawsuit anticipating such a move. The NHLPA's goal is to extract leverage with an anti-trust but Rob Becker says it could backfire. Bad.
So I doubt the players' strategy will lead to a quick end to the lockout in their favour. But ironically what might happen is that Judge Engelmayer, who, unlike mediators, has the power to threaten the parties with consequences if they do not act reasonably, may take the players and their lawyers into a conference room and say, "are you kidding me? I may have only been a judge since last year, but I wasn't born yesterday. I know that you guys still look to the union to guide and lead you in this labour dispute. And that's exactly why it's the same labor dispute it's always been. So if you think that when you guys file antitrust suits in my court I'm gonna enjoin the lockout, guess again!"

If that happens, the players will be bargaining from a weaker position than they were in early December, and the only settlement that will result will be one in which they move closer to accepting the owners' terms.
As we've said before, the legal action is probably -- we stress probably -- going to bring an end to the lockout one way or the other. It's how we get there is what will be interesting to see. (Sportsnet)
•  Something we have not heard nary a peep about during these negotiations has been the status of Olympic participation in February of 2014 in Sochi, Russia. We know the players want to go and it has always seemed like a foregone conclusion/concession from the NHL side, but is it? Dave Perkins thinks the Olympics could become a casualty.
Yet how could the owners, allegedly still 100 percent behind their snarling commissioner, be thinking of inserting another three-week shutdown into their business 14 months from now? Think about it. Are they really going to settle up this time with a 48-game season, or something similar, and then agree to shoehorning in another full slate next season around another three-week stretch of darkened arenas?
This can't happen and would be another major loss of the lockout. I understand it's tough on the NHL to take a three-week break but the Olympic Games have been amazing since NHLers have been taking part and it's such a spotlight on the sport in the States, especially when the Americans are doing well. (Toronto Star)
•  The NHL's lawsuit seeked to have all player contracts declared null and void. While it wouldn't likely happen, it would be complete chaos if it did. Jesse Spector is all for it.
It would certainly stink for the players with expensive, long-term deals, but the union as a whole is looking at a major loss anyway, based on the last tabled offers, and anybody who has signed a big contract has already collected enough money to be comfortable -- even guys like Shea Weber got signing bonuses this summer that they are not going to have to return.

Immediately, there would be a surge in interest as teams and players work out new agreements. Would Sidney Crosby and Evgeni Malkin remain together in Pittsburgh? Would Brian Burke make the most of a mulligan and point the Toronto Maple Leafs on their way to a first Stanley Cup since 1967? Would the Edmonton Oilers hang on to the young core that has started to jell after years of struggles and three straight No. 1 draft picks?
Admittedly, it would be interesting but you have to think this would all but kill some the smaller markets in the NHL, something which the league is doing its best to help out right now. (The Sporting News)
Hockey fix
Remember the worst great shootout move we've seen, at least in a long time? Sure you do, it was when Linus Omark of the Oilers did a spin-o-rama ... by the red line.
It had little effect on the play but he scored what turned out to be the winner and it was his first game, so it was hailed.
Simulated scores
•  Games have been canceled, and your favorite players are overseas, but you can still see how your team would be doing. PredictionMachine.com uses its play-by-play technology to simulate each game from the original schedule and predict the outcomes. Just because the NHL isn't playing on the ice doesn't mean we can't play the games. So, here are the "results" from the games that were scheduled for Wednesday night.
Wednesday night's schedule
Winner
Winner record
Loser
Loser record
Senators 3
15-15-2
Canadiens 0
13-19-4
Devils 2
16-13-2
Flyers 1
23-8-3
Avalanche 3
10-20-4
Blue Jackets 2
6-24-6
Flames 2
11-18-3
Maple Leafs 0
7-23-7
And since it is Wednesday, here is the updated conference standings for the simulated season.
Standings
Place
East
West
1
Pittsburgh (24-8-3)
Detroit (22-8-2)
2
Boston (24-7-1)
Los Angeles (20-12-6)
3
Philadelphia (23-8-3)
St. Louis (22-7-1)
4
N.Y. Rangers (21-9-5)
Chicago (21-10-3)
5
New Jersey (16-13-2)
Vancouver (21-10-2)
6
Washington (16-15-2)
Nashville (19-12-4)
7
Carolina (14-18-6)
Phoenix (20-8-0)
8
Ottawa (15-15-2)
San Jose (16-14-3)
9
Montreal (13-19-4)
Edmonton (13-17-8)
10
Winnipeg (11-17-4)
Minnesota (13-18-5)
11
Florida (10-19-6)
Calgary (11-18-3)
12
Buffalo (11-18-2)
Anaheim (11-19-2)
13
Toronto (7-23-7)
Colorado (10-20-4)
14
Tampa Bay (8-20-4)
Dallas (9-25-4)
15
N.Y. Islanders (6-25-6)
Columbus (6-24-6)
For more hockey news, rumors and analysis, follow @EyeOnHockey and @StubitsCBS on Twitter and like us on Facebook.
Vladislav Yeryomenko was the Teddy Bear Toss goal scorer for the Calgary Hitmen

The Golden Knights are finally getting their No. 1 goalie back after a 25-game absence

Washington has won four straight, and the Kings are also on a tear right behind the Lightn...
The NHL says it's only interested in expanding to Seattle, but here's a look at all the moving...

The NHL says it is only looking toward Seattle for the next expansion team

The 33-year-old defenseman hopes to help find a cure for serious head injuries in athletes