NHL Playoff Picture: East matchups depend on Bruins-Senators
Only one of four series in the East is set, the other three awaiting the outcome of the postponed game between the Bruins and Senators on Sunday night.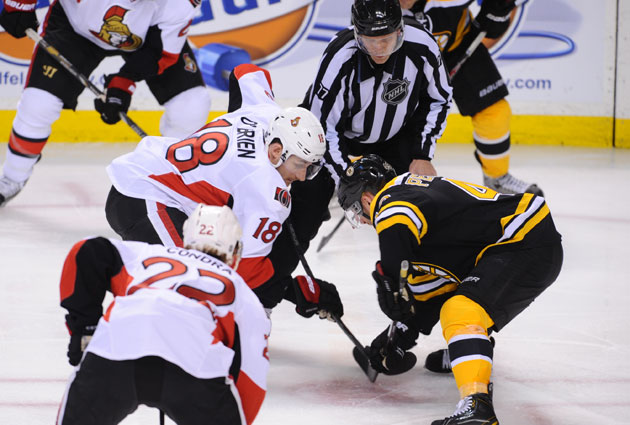 More NHL: Scores | Standings | Odds | Fight-O-Meter | League Leaders | Rumors
The original plan called for the regular season to be completed by now and all the playoff series to be set. Unfortunately, tragedy struck Boston, and one Bruins home game vs. the Ottawa Senators had to be pushed back to Sunday night.
This one game will affect three series in the East.
Each team has a lot to play for, including a possible first-round series against each other.
With that said, here is a look at how the Eastern Conference will shake out with the four possible outcomes in Sunday's game. Two outcomes are the same: any Senators win.
Bruins get two points, Senators zero
1. Pittsburgh vs. 8. Ottawa
2. Boston vs. 7. NY Islanders
3. Washington vs. 6. NY Rangers
4. Montreal vs. 5. Toronto
Bruins get two points, Senators one
1. Pittsburgh vs. 8. NY Islanders
2. Boston vs. 7. Ottawa
3. Washington vs. 6. NY Rangers
4. Montreal vs. 5. Toronto
Senators get two points, Bruins one or zero
1. Pittsburgh vs. 8. NY Islanders
2. Montreal vs. 7 Ottawa
3. Washington vs. 6 NY Rangers
4. Boston vs. 5. Toronto
From a pure entertainment standpoint, the first option might be the best result for hockey fans. It means we get a Leafs-Habs first-round series, the Penguins-Senators and Erik Karlsson mess will continue, and we would have the Milbury Bowl with the Isles and B's. As you can tell, Washington is facing the Rangers no matter what happens Sunday.
With the way that both the Bruins and Canadiens have played of late, they probably wouldn't mind getting paired with either of those teams in the first round. It sure as heck beats playing the Penguins.
The entire playoff schedule will be announced on Sunday night after the completion of this final game. Odds are that the Bruins and Sens will be part of the last series to begin, made even easier if they play each other.
Unlike expansion teams before them, the Knights have enough talent to entertain right away

Brian Lawton says he 'would not be surprised' if Boston deals its young star to end contract...

It turns out Phil does love his hot dogs, especially when they're in a Stanley Cup
The Avs have a long way to go after a historically bad 2016-17 outing

Murray died Saturday at the age of 74

Hosting an apparent TV night with his girlfriend, Murray is missing one thing -- a plugged-in...