NHL Playoff Picture Update: Detroit clinches playoff spot
The Detroit Red Wings are back in the playoffs for a 22nd straight year.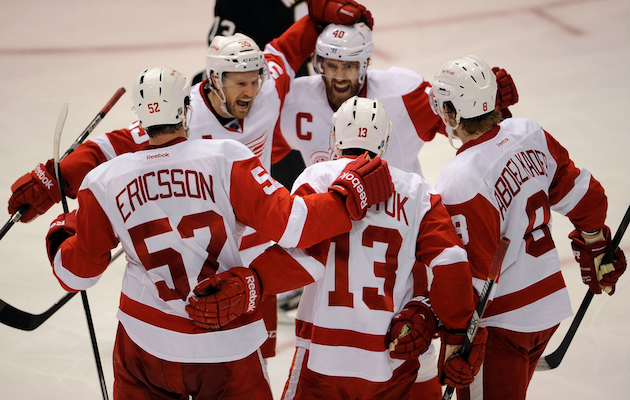 More NHL: Scores | Standings | Odds | Fight-O-Meter | League Leaders | Rumors
Breath easy, Red Wings fans, because your team is back in the playoffs for a 22nd straight year.
They didn't make it easy on themselves by losing eight of 11 games in late March and early April, but they were able to put together enough of a run down the stretch that was completed with their 3-0 win in Dallas on Saturday night.
The win secured a first-round matchup with the No. 2 seed Anaheim Ducks in the Western Conference playoffs.
This isn't one of the strongest Red Wings teams we've seen in recent years when it comes to the defense (that's what happens when you lose Nicklas Lidstrom, Brian Ralfski, and Brad Stuart over a three-year stretch), but they still have enough talent up front and an underrated goalie in Jimmy Howard that's going to make them a tough opening round matchup for Anaheim.
Blue Jackets run comes up short, Minnesota is in
It was fun while it lasted, Columbus, but the Blue Jackets' miracle late-season run came to an end on Saturday night. The Blue Jackets did their part, beating Nashville 3-1 thanks to a third period rally, but they didn't get the necessary help from Detroit or Minnesota.
The Wild were also 3-1 winners to secure the No. 8 seed, but it didn't come without a little bit of controversy thanks to that disallowed Colorado goal in the second period.
The Blue Jackets ended the season on an 18-6-3 run over their final 27 games after winning just five of their first 21. Just goes to show that the early season games are just as important as the late season games, and the old cliche of "it's not how you start, it's you finish" doesn't really mean a thing.
Playoff matchups that are set
Western Conference
1. Chicago vs. 8 Minnesota
2. Anaheim vs. 7 Detroit
3. Vancouver vs. 6. San Jose
4. St. Louis vs. 5. Los Angeles
This means two of Vancouver, St. Louis, San Jose, and Los Angeles will be done after the first round. That's crazy.
Eastern Conference
3. Washington vs. 6 New York Rangers
The rest of the Eastern Conference will be settled on Sunday as the Ottawa-Boston game determines the everything else.
With Artemi Panarin in the mix and a Vezina winner headlining the defense, Columbus can be...

The league's crackdown on faceoff infractions and slashing penalties isn't without some cr...

Joffrey Lupul spent last season on long-term IR but seems to be saying he's healthy
Early playoff trouble has been evident, but the Wild tout an offense capable of making another...

Why walk with skate guards when you can rollerskate instead?

This will not leave your memory any time soon