NHL Playoff Picture: Wings can grab eighth, Leafs still trying to clinch
The Red Wings visit Vancouver on Saturday. A Wings win means they regain eighth place in the Western Conference. A Canucks win means a playoff spot for them and maybe the Los Angeles Kings.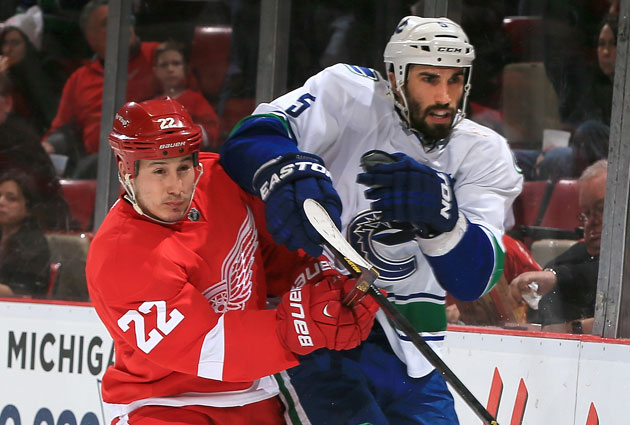 More NHL: Scores | Standings | Odds | Fight-O-Meter | League Leaders | Rumors
Normally we would be talking about the Detroit Red Wings visiting the Vancouver Canucks with a week to go in the regular season as a potential playoff preview. This year it's pivitol for the playoff picture.
The concern here isn't really with the Canucks. Once again they are primed to take the Northwest Division crown and a top-three seed. First things first, though, and that's officially entering the playoff field. The Canucks can do that with a point on Saturday night. Either way, it's only a matter of time for Vancouver so no worries.
Instead the intrigue is with the Red Wings. They have a chance to recapture the eighth seed in the West with a win and while this remains a very fluid situation, it would be a somewhat substantial lead, at least with so few games left to play. The Wings would be tied with Columbus at 49 points with a win but they would have one extra game to go to pick up points.
If the Red Wings are going to get it in gear and extend their playoff streak to another season, now would be the time to do so. I don't think anybody foresees the Wings making anything but a whimper if they get the eighth seed in the West, but they'd sure like to try. That would presumably begin by playing good, winning hockey in the final few games, starting in Vancouver.
The good news for the Wings is they have handled the Canucks well so far this season. Their first meeting in Detroit was an 8-3 beatdown in February. The Red Wings then beat the Canucks dressed as Millionaires 5-2 in Vancouver in March.
For Detroit, it really depends on the offensive production and the magical number of three. The Wings haven't been reaching that plateau with a lot of consistency lately but when they do it's pretty much a guaranteed two points. In their last 11 games the Wings are 4-0 when they score three goals, 0-5-2 when scoring fewer. In none of those games have the Wings scored more than three.
And here we thought defense was going to be the big problem for the Wings this season. Truth be told, both sides -- offense and defense -- have been a bit below par.
The Wings aren't clipped if they lose tonight in Vancouver but it gets tougher and tougher to climb back up when you remain below the cut line. The sooner that can change, the better.
Other clinching/elimination scenarios
•  In addition to Vancouver, Los Angeles Kings can book its return ticket the postseason if the Red Wings lose in regulation
•  The Toronto Maple Leafs will clinch a playoff spot with a win and a Winnipeg loss of any kind
•  The New Jersey Devils will be eliminated if they fail to pick up a point against the Florida Panthers
Key games
12:30 p.m. ET, Pittsburgh Penguins at Boston Bruins (NHL Network): Just talking about what will happen on the ice, from Pittsburgh's perspective there isn't a whole lot. The Penguins aren't going to be caught in the Eastern Conference race for the top seed and they won't catch Chicago for the Presidents' Trophy. So really it's all about Boston, which is two points behind Montreal for the Northeast lead with two games in hand.
Plus, even though it's pretty irrelevant in the playoff picture, Jarome Iginla makes his first appearance in Boston with the Penguins. Given how the trade deadline played out, it will be interesting to see how he is received in Beantown.
3 p.m. ET, NY New York Islanders at Winnipeg Jets : Opening a season-ending five-game road trip Thursday in Toronto, the Islanders moved within two points of the fifth-place Maple Leafs in the Eastern Conference with a 5-3 victory. New York is on a 7-0-2 run and 10-1-2 in its past 13 games, but it knows this isn't the time to celebrate.
The Jets were just outside the top eight in the East -- three points behind the Islanders -- but if they can extend their longest winning streak since relocating from Atlanta prior to last season, and Washington doesn't pick up a point in Montreal on Saturday night, they will tie the Capitals atop the Southeast Division with 50 points. -- AP
7 p.m. ET, Washington Capitals at Montreal Canadiens : While the Canadiens have clinched a postseason berth, they have a two-point lead atop the Northeast Division but second-place Boston has two games in hand. Washington is only two points clear of being out of playoff position while clinging to a two-point lead over Winnipeg in the Southeast, and those teams square off Monday in the nation's capital. -- AP
7 p.m. ET, Toronto Maple Leafs at Ottawa Senators (NHL Network): Here we have two teams trending in different directions at this moment and there is a bit at stake in this game. In addition to the clinching possibilities, if the Senators were to beat the Leafs in regulation, they would actually leapfrong Toronto and move into fifth in the East, for time time being. A current four-game win streak has all but erased some of those lingering doubts about reaching the playoffs.
8:30 p.m. ET, Arizona Coyotes at Chicago Blackhawks : The season is pretty much on the line for the Coyotes right here. They can't afford any more losses. While the Blackhawks have the top seed in the West already wrapped up, they still have a Presidents' Trophy to play for so Phoenix must bring its A game. The Coyotes are five points back of eighth-place Columbus, though they do have two games in hand. Lose this one and say good night.
Los Angeles isn't rushing to sign the 45-year-old forward any time soon

The University of Denver star and Hobey Baker Award winner is drawing interest

Intrigue is high in Arizona after a wild offseason, but expectations should still be tempe...
Players are set to give personalized messages for Adidas' former hockey equipment brand

The 40-year-old center is returning to the Wild after a successful run in Pittsburgh

Edmonton locks up its 21-year-old RFA a month after McDavid's historic extension