NHL Playoffs: GIFs of the week crazy bounces and Tuukka Rask falls down
It's time once again for NHL playoffs GIFs of the week. Tuukka Rask fell down, pucks defied the laws of physics, and more John Tortorella.
More NHL Playoffs: Scores | TV Schedule | Expert Picks | Odds | Mock Draft | Rumors
Because everybody likes a moving picture that repeats itself over and over again, here are some of our favorite GIFs from the past week of the NHL playoffs. Check back every Friday during the Stanley Cup Playoffs for more.
Check out the backspin on that shot

No idea how this puck initially stayed out of the net, behind Henrik Lundqvist, but Daniel Paille was there to finally put it through the force field that seemed to be keeping it out.
Valtteri Filppula can fly (and score)
The Detroit Red Wings are up 3-1 on the Blackhawks entering the weekend, and Detroit's run all started with a Game 2 win earlier in the week. That game featured this incredible backhand goal from Valtteri Filppula as he beats Corey Crawford while he's flying through the air, parallel to the ice.
Paul MacLean has no answers
Paul Maclean addressed the media for 14 seconds after Ottawa's 7-3 Game 4 loss, saying all of the answers were on the stat sheet and that they were going to Pittsburgh and they're going to play.
Erik Karlsson doesn't need a stick to make a pass
This is nice. Senators defenseman Erik Karlsson lost his stick and still managed to make a pass to set up a scoring chance in Game 3.
Dan Bylsma is very excited
Penguins coach Dan Bylsma reacts to a shorthanded goal by Pascal Dupuis in the third period of Game 4 with a pretty impressive double fist-pump.
Chris Kunitz tries to shoot without the puck
Here is Penguins forward Chris Kunitz, closing in on the net for a scoring chance, and attempting to snap a quick shot at Craig Anderson. Everything was going perfectly except for one very small, minor detail.
He forgot the puck.
Dan Cleary is OK after this
And that's good news, because this looks like it probably hurt like hell.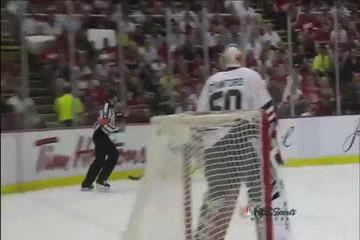 John Tortorella is angry again
And he lets a linesman have it.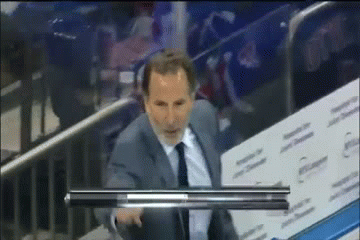 Tuukka Rask and the GIF of the week
As of this moment, this might be the GIF of the playoffs. Thank you, Tuukka Rask.
David Kelly, a Toronto-born hockey analyst, has strong advice for Edmonton vs. Chicago game...

Gary Bettman says otherwise, for the time being, but Houston could be primed for a team

Here's what you might have missed across the NHL on Wednesday night
Ovi breaks down doors in Virginia

Winger also says he will no longer raise a fist during the anthem after his protest started...

Here's what you might have missed across the NHL on Tuesday night