NHL Playoffs: GIFs of the week from lost teeth to angry Islanders fan
It's been quite a week in the NHL. Carey Price pulled out his own tooth, James Reimer's mom couldn't watch, and one Islanders fan wasn't very happy.
More NHL Playoffs: Scores | TV Schedule | Expert Picks | Odds | Mock Draft | Rumors
Because everybody likes a moving picture that repeats itself over and over again, here are some of our favorite GIFs from the first week of the NHL playoffs. Check back every Friday during the Stanley Cup Playoffs for more.
Thumbs down, buddy
Chris Kunitz scored the game-winning goal in overtime for the Pittsburgh Penguins on Sunday after Brian Strait was sent off for holding Sidney Crosby. The penalty received a great deal of attention, and it didn't make Islanders fans very happy. One Islanders fan had a unique opportunity to share his feelings on live TV as Kunitz was being interviewed on the ice after the game.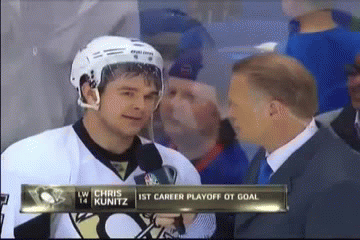 Hockey players will lose teeth

The Montreal-Ottawa series was, at times, a brutal one. Line brawls, insults in the media, and at least three lost teeth. Two of those teeth were lost by goalies, including this one belonging to Carey Price of the Montreal Canadiens.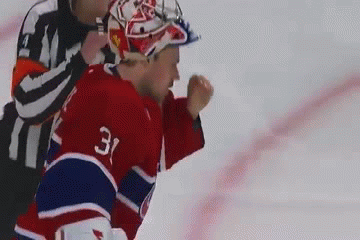 Ottawa's Jean-Gabriel Pageau also lost a tooth in this series (on the same night that he recorded a hat trick) and decided to hand his to backup goalie Robin Lehner. That was very thoughtful of him.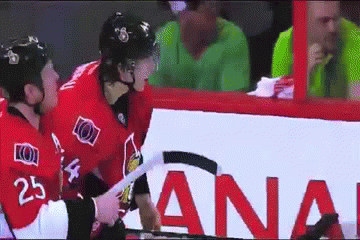 Incredible fist pump
The San Jose Sharks swept the Vancouver Canucks thanks to Patrick Marleau's overtime goal in Game 4. Check out the reaction from the Sharks' trainer in the gray sweatshirt. That guy is pumped.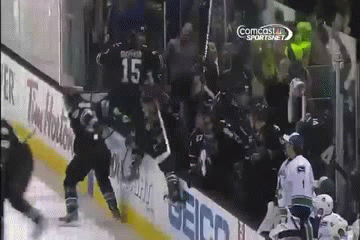 And, in case you missed it, the goal that produced that reaction (with a special twist, courtesy of the Internet. Tip of the cap to Michael Parkatti for finding this one)
That's not supposed to go in
Casey Cizikas secured the Islanders' Game 4 win over Pittsburgh with this rather baffling goal against Marc-Andre Fleury. It was at that point that it became pretty clear that Pittsburgh needed to make a switch in net for Game 5.
Sometimes the playoffs are hard to watch
James Reimer has been outstanding for the Toronto Maple Leafs this season, but overtime of a playoff game proved to be a pretty stressful moment for his family (GIF via Josh Gold-Smith).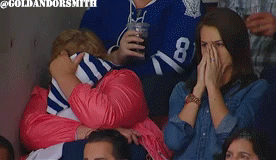 That's actually the same way that every hockey fan has watched the goaltending in the Pittsburgh-New York series.
Patrick Kane makes it look easy
The Chicago Blackhawks took care of business in their opening series against Minnesota, and Patrick Kane was his usual brilliant self. Here he is in Game 4, surrounded by every Wild player on the ice, and he somehow makes a perfect, spin-o-rama pass to Patrick Sharp, who then takes care of the easy part: Sliding the puck into an empty net.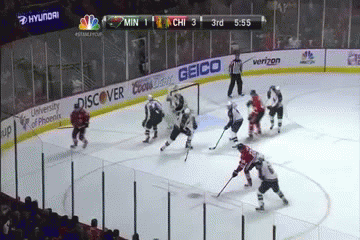 Kevin Bieksa gets mocked
Update: We just realized there was an unacceptable omission from this week, and it might have been the best Gif of the week: Kevin Bieksa, meet these San Jose fans, because they're not happy with your comments about the Sharks "embellishment" in the playoffs.
Saturday's showdown will serve as a rematch of one of the NHL's first-ever regular season...

Stacia Robitaille says Donald Trump told her in an elevator that she was coming home with...

Vladislav Yeryomenko was the Teddy Bear Toss goal scorer for the Calgary Hitmen
The Golden Knights are finally getting their No. 1 goalie back after a 25-game absence

Washington has won four straight, and the Kings are also on a tear right behind the Lightn...

The NHL says it's only interested in expanding to Seattle, but here's a look at all the moving...