NHL Playoffs: GIFs of the week with Mike Babcock, Michael Frolik
It's time for the NHL playoffs GIFs of the week, including a couple of great reactions from Mike Babcock and John Tortorella
More NHL Playoffs: Scores | TV Schedule | Expert Picks | Odds | Mock Draft | Rumors
Because everybody likes a moving picture that repeats itself over and over again, here are some of our favorite GIFs from the first week of the NHL playoffs. Check back every Friday during the Stanley Cup Playoffs for more.
Michael Frolik scores on a penalty shot, and Mike Babcock was not amused
Michael Frolik's Game 6 penalty shot for Chicago against Detroit was the topic of much debate. Good call? Bad call? Either way, it produced two great moments.
First was the goal itself, as Frolik beat Red Wings goalie Jimmy Howard with a pretty incredible backhand.
What a shot.
The second great moment was the reaction of Red Wings coach Mike Babcock as he sits on the bench, never moves an inch, and watches as Frolik skates past in celebration.
That might be my favorite image of the playoffs to this point.
Jonathan Quick is still the best
Why is Jonathan Quick once again one of the front runners for the Conn Smythe Trophy? Well, the easy answer is because he's the best goalie in the NHL and playing out of his mind for the Kings. The other answer is because of huge saves like this in the final minutes of a Game 7 with his team protecting a one-goal lead.
Joe Pavelski will probably never forget this.
Of course, if Pavelski gets any elevation at all on that shot we might be looking at a different Western Conference finals matchup right now.
Two minutes for ... wait, what?
In the first period of Pittsburgh's Game 5 win against Ottawa last Friday, Penguins captain Sidney Crosby appeared to force a turnover that would have resulted in a prime scoring chance for the best player in the world. That is, until the referees called Crosby for hooking.
Just one quick question: Where's the hooking?
Gustav Nyquist freezes Corey Crawford
Even in defeat the 2013 season was an encouraging one for the Detroit Red Wings because of the development of young players like Gustav Nyquist.
In the third period of Game 7 against the Blackhawks Nyquist set up Henrik Zetterberg for the game-tying goal with this incredible pass that absolutely froze Blackhawks goalie Corey Crawford.
Seriously, he never moved.
One more from John Tortorella
And we leave you for the week with one more reaction from former Rangers coach John Tortorella as they lose Game 5 in Boston (this gif via @CJzero)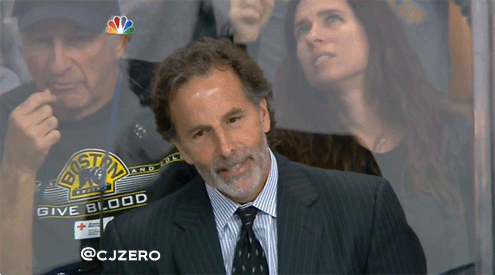 Ontario's 2017 RBC Canadian Open plays host to some puck shots from the legendary golfer

The unsigned forward, still in search of a team, is campaigning for himself

The league shoots down a report that NHL players could still be permitted to go to the Oly...
The 45-year-old forward remains unsigned but has shown little desire to hang up the skates

Pittsburgh also has been linked to Matt Duchene and could be in the mix for Tyler Bozak

Nashville extends its 24-year-old restricted free agent with what could be bargain numbers