NHL Playoffs: Grades for Night 2
Handing out grades for the NHL Playoffs on Night 2 of the postseason.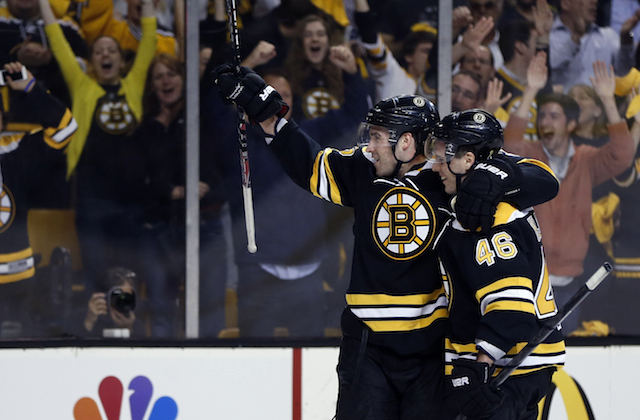 More NHL Playoffs: Scores | TV Schedule | Expert Picks | Odds | Mock Draft | Rumors
| Team | Grade | Analysis |
| --- | --- | --- |
| | A | This was a clinic by the Bruins, and the game may not have even been as close as the 4-1 final score would indicate. Boston was so dominant from start to finish that the Bruins outshot Toronto by a 14-5 margin in the third period, even though they were up by three goals. Typically when teams are ahead by that many goals that late in a game they sit back in a defensive shell to protect the lead and don't generate as many shots. The Bruins just kept coming and coming and coming and overwhelmed a Toronto team that couldn't do anything offensively. Or stop anything defensively. |
| | A | It's only one game, but the Penguins looked like every bit the Stanley Cup contender they're supposed to be as they crushed the Islanders in Pittsburgh. They did it without Sidney Crosby and eventually James Neal, who left the game in the second period with an undisclosed injury. The Penguins looked great offensively, didn't give up many quality chances defensively, and got whatever saves they needed from Marc-Andre Fleury |
| | A | Great win for San Jose to go on the road and wrestle home-ice advantage away from the Vancouver Canucks, becoming the first road team to win a game in the 2013 playoffs. The Sharks received another solid performance from Antti Niemi in net and got a couple of gritty, playoff-style goals from Dan Boyle and Patrick Marleau on their way to a 3-1 win. This Sharks team seems like it's a bit of a sleeping giant in these playoffs that isn't getting anywhere near enough attention. |
| | A | And let's give out an A for an individual performance from the Sharks and veteran defenseman Dan Boyle. He scored what proved to be the game-winning goal by crashing the net midway through the third period, finished with four shots on goal, and a team-high eight shot attempts. |
| | C | It wasn't a bad game for the Canucks, but it wasn't a particularly good one, either. Roberto Luongo, making the start in place of an injured Cory Schneider, made some big saves early on but he didn't get much help from the team around him as there were some defensive breakdowns later in the game and a couple of bounces that didn't go the Canucks' way and turned into San Jose goals. |
| | D | This was ugly. The Islanders just looked completely overmatched and outmanned. Evgeni Nabokov was pulled before he played a period and a half, and the Islanders as a team were never a threat to generate any sort of consistent offense and challenge Marc-Andre Fleury. |
| | D | It was a similar story for Toronto in its return to the playoffs. Perhaps only worse. The harsh reality when it comes to the Toronto Maple Leafs is that if James Reimer isn't great and stopping every single shot he faces, the team just isn't very good. That was pretty clear on Wednesday night during their 4-1 loss to the Boston Bruins. The defense was bad, and Reimer didn't have a particularly strong game. The high point of the game came just two minutes in when James van Riemsdyk scored on the power play to give Toronto an early 1-0 lead. It was all downhill from there. The puck possession problems that have existed all season were magnified on Wednesday as they were systematically dominated by a superior Bruins team. It also didn't help that Randy Carlyle continued to use two roster spots on Colton Orr and Frazer McLaren. |
The former Boston Bruin was the first black player to play in the NHL

Inclement weather led to the Charlotte Checkers and Bridgeport Sound Tigers playing in front...

The NHL chose the Detroit rocker as its All-Star Game entertainment and not everyone is th...
NHL fans from all over seem to agree on one thing: Hating Kid Rock

The team tweeted on Monday that Shaw would be re-evaluated in 7-10 days

The Montreal forward was hospitalized after taking a Zdeno Chara slap shot to the head