NHL Playoffs: Grades for Night 20
The Bruins pulled away from the Rangers in Game 2 on the way to a route, earning solid grades all around for the team from Boston.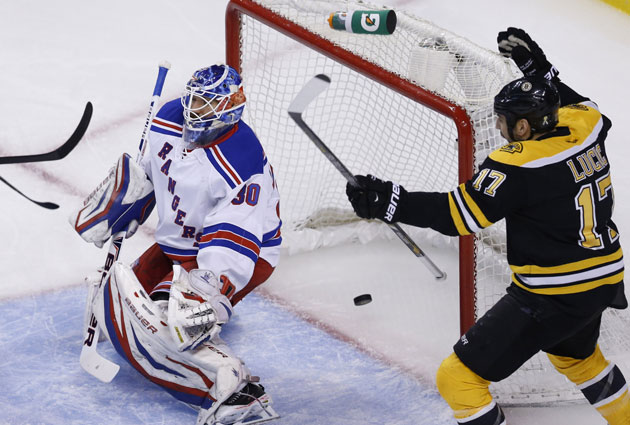 More NHL Playoffs: Scores | TV Schedule | Expert Picks | Odds | Mock Draft | Rumors
| Team | Grade | Analysis |
| --- | --- | --- |
| | A- | The Bruins aren't a team that typically plays an up-tempo style with end-to-end action, but it seemed to suit them pretty well in a 5-2 win. The defensemen were aggressive, and for the most part that led to good things. The Rangers did have some break chances, and there was little excuse for the poor backchecking on Ryan Callahan's first-period score, but there's not a whole lot to complain about. |
| | D | The good news was that they had some sign of an offense in Game 2, at least at times. The bad news: The power play still stunk, going 0 for 5. More bad news: The defense was bad. Very bad. How about Dan Girardi being on the ice for all five goals against, Michael Del Zotto for four? It was an ugly game for the Rangers that got worse as it went along. |
| | A+ | You could have picked a lot of Bruins for individual recognition that would have earned a grade like this, as they were so solid up and down the lineup Sunday. Patrice Bergeron was just doing what he does best, setting up goals with some beautiful feeds, winning more than half of his faceoffs. There's a reason why a lot of people say Bergeron is their best player. |
| | C- | That was not a vintage Henrik Lundqvist performance. True, his defensemen didn't do a ton to help him out Sunday, but he could have been better, too. In 31 starts before Game 2 against Boston, Lundqvist had never surrendered more than three goals. He gave up five on Sunday. Lundqvist will rebound, you know he will, but that was as rough of a game as you'll see him have. |
| | B+ | They don't call them the Pesky Sens for no reason. That was worthy of every "plucky" adjective you can use. They kept pushing in the third period when the Pens seemed to sit back a bit and it finally paid off. You can't say enough about Craig Anderson in net who was back to playing as his usual, stellar self from this season. Still, need more offense. |
| | B- | The Penguins were probably the better team for the majority of the game but they couldn't beat Anderson. More importantly, they seemed to sit back too much with the lead in this game, especially in the closing minutes of regulation. It's inexcusable to let somebody that wide open when you are on the power play in a the final minute of a game. Still, they played a pretty good road game, the final result just didn't go their way. |
| | A+ | Craig Anderson was back to his usual self from this season on Sunday, a game after being pulled midway through the game. He was nearly perfect, stopping 49 of 50 shots in the game, which is no small task with the lineup the Penguins can ice. He did a very good job with his rebound control and was everything the Senators needed him to be, which is to say spectacular. Fact is, he has to be that good for the Sens to win in this series and in Game 3 he was. The only goal against came in a bad D-zone turnover by the guys in front of him. |
| | A- | The only reason why Evgeni Malkin didn't not receive a straight A is because of the gaffe he had in the final minute but letting Daniel Alfredsson sneak behind him for the game-tying goal. The fact that he still gets an A- even with that shows how strong he was in this game, particularly in the first overtime period. When he's on he is simply amazing to watch and on Sunday night, he was on. |
Los Angeles isn't rushing to sign the 45-year-old forward any time soon

The University of Denver star and Hobey Baker Award winner is drawing interest

Intrigue is high in Arizona after a wild offseason, but expectations should still be tempe...
Players are set to give personalized messages for Adidas' former hockey equipment brand

The 40-year-old center is returning to the Wild after a successful run in Pittsburgh

Edmonton locks up its 21-year-old RFA a month after McDavid's historic extension