NHL Playoffs: Grades for night 34
The Los Angeles Kings needed a win to keep themselves in the Western Conference finals, and they came out with an 'A' effort.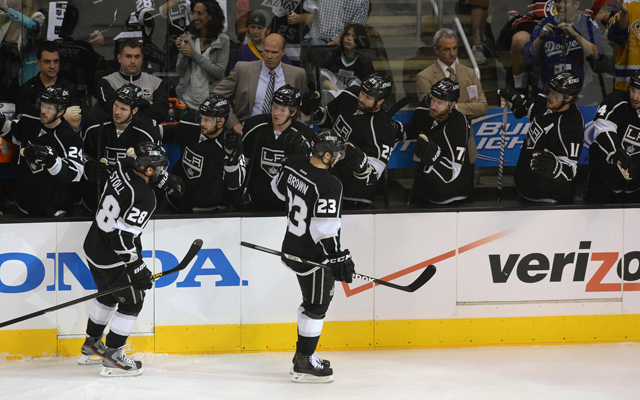 More NHL Playoffs: Scores | TV Schedule | Expert Picks | Odds | Mock Draft | Rumors
Team
Grade
Analysis
A
It turns out all the Kings needed was a little home cooking to get themselves back into the Western Conference finals against Chicago. Los Angeles continued its home dominance on Tuesday with a 3-1 win over the Blackhawks to avoid falling into a 3-0 series hole. It was a pretty complete effort by the Kings as they found the aggressive forecheck and sustained offensive zone pressure that they had been lacking the first two games.

 

Jonathan Quick was also fantastic after being pulled in Game 2.
C+
It wasn't a terrible showing for the Blackhawks, but they came out of the gate a little flat. They had a few chances late in the game and nearly tied the score on more than one occassion in the third period but couldn't break through on Quick. They still have the series lead, but the pressure only increases in Game 4, when the Kings will have the chance to even it.
 A
After getting pulled in Game 2 and facing the prospect of potentially falling into a 3-0 series hole, the Kings needed a big game from Jonathan Quick on Tuesday. He more than gave it to them, stopping 19 of the 20 shots that he faced, including a highlight-reel blocker save on Bryan Bickell late in the third period.
A
Justin Williams continued to show why he's one of the Kings' best players -- and one of the most underrated players in the NHL -- with yet another goal on Tuesday, opening the scoring in the first period. The goal was the finishing touch on a fantastic shift that saw him outwork several Blackhawks, create a turnover and keep the play alive in the offensive zone before finishing with his sixth goal of the playoffs.
The 45-year-old free agent is taking things patiently as September approaches

The playoff drought might not end immediately, but something is brewing in restocked Buffa...

Former Lightning standout will be guarding the net in style in 2017-18
Devils are still in rebuilding mode, but they have reason for hope thanks to young additio...

Buffalo is in the midst of contract extension talks with Jack Eichel, and the payout could...

Los Angeles isn't rushing to sign the 45-year-old forward any time soon